Horrifying, But Still Fabulous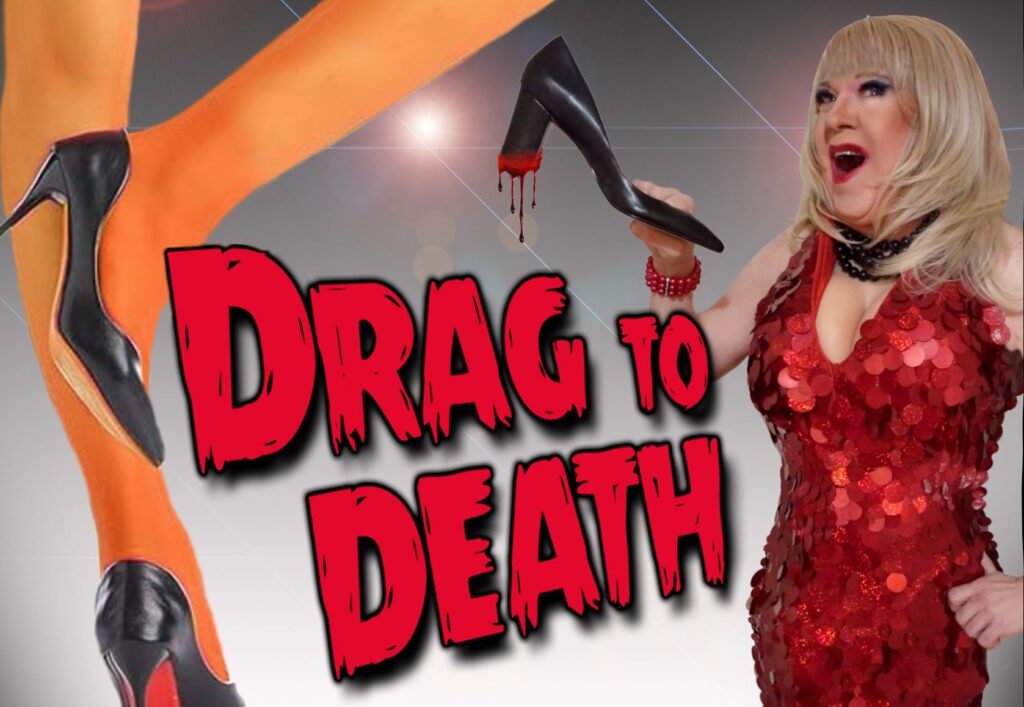 Photos by: Dana Bryan
Horror film monsters, serial slashers and villains do not have to always be masculine. The new indie, horror short film DRAG TO DEATH is proof of this in a very off-the-wall way! DRAG TO DEATH, written by and starring drag performer Clover Welsh, will have its world premiere on Wednesday November 15th at RockBar, 185 Christopher Street, New York City at 9 PM. This will follow the FINAL EXAM Horror Trivia event hosted by FANGORIA horror and cult magazine at 7 PM on the same night. DRAG TO DEATH will also be broadcast by the TV series RYAN REPORTING on MNN, Manhattan Neighborhood Network cable station, while being globally streamed on MNN Culture Channel 4 on November 27th at 10 PM. 
The plot involves a drag queen who gets someone to impersonate her to provide a false alibi when murdering her husband. But makeup can't mask the horrors in heels that unfold. "Horror and drag work very well together" says Welsh, who also goes by the name Lady Clover Honey. "Both are outrageous, campy, over-the-top and aren't afraid to go beyond the viewers' comfort level." DRAG TO DEATH gets inspiration from ALL ABOUT EVE, DRESSED TO KILL and obviously (when you see Welsh's breasts) ELVIRA'S HAUNTED HILLS.  
Cross-dressing and gender non-conforming characters have been part of the horror genre since PSYCHO in 1960. And continuing with HOMICIDAL, THE COMEBACK, DRESSED TO KILL, TERROR TRAIN, DEADLY BLESSING, SLEEPAWAY CAMP and others. Also worth mentioning are the infamous horror drag personas in Ryan Murphy's AMERICAN HORROR STORY–HOTEL, Charles Busch's DIE, MOMMY DIE, Lloyd Kaufman's TERROR FIRMER and most notably, THE ROCKY HORROR PICTURE SHOW.
Appearing in DRAG TO DEATH is filmmaker/journalist/actor Jed Ryan (LAVENDER AFTER DARK), who previously collaborated with Welsh on the award-winning comedy short film MODEST MALE EXPOSURE, a mockumentary about public nudity. Actors Ryan Wolowaki and Anu Singh, who also appeared in MODEST MALE EXPOSURE, are again with Welsh and Ryan in DRAG TO DEATH. Wolowski also brings us RYAN REPORTING, an event/nightlife TV series on Manhattan Neighborhood Network since 2006. Also in the cast is Gladiola Gladrags, known for being a Sister of Perpetual Indulgence who was in MORE TALES OF THE CITY. Rounding out the cast are Ike Avelli (LOOSE LIPS), Wendy Stuart (IF THESE WALLS COULD TALK) and Tym Moss (LOOSE LIPS and IF THESE WALLS COULD TALK), who are actors as well as comedians and talk-show hosts. Avelli and Moss additionally bring us the renowned live comedy/variety cabaret showcase 50 SHADES OF GAY. Stuart is also the author of the best-selling memoir SHE'S THE LAST MODEL STANDING. 
DRAG TO DEATH has cinematography, editing, graphics and F/X by Dana Bryan, aka Brian Brennan, who is known as the creator of the original Latino Fan Club, male adult entertainment videos. Bryan and Welsh also recently created ATTACK OF THE AMAZING COLOSSAL STUD, a sci-fi, horror parody with Welsh in drag introducing a classic story with archival Fan Club footage. COLOSSAL STUD contains no penetration or sex acts, but has nudity, comedy and larger-than-life visuals.  
DRAG TO DEATH, filmed in New York City and Jersey City, provides entertainment to thrill-seeking horror fans, as well as cult, comedy, underground film and drag aficionados.
Photo Credit: Dana Bryan
Actors in the Pics are:
Clover Welsh with Drag to Death title graphic
Gladiola Gladrags (being choked with boa) Clover Welsh
Jed Ryan (dead in blood)
Ike Avelli with Clover Welsh
Tym Moss (falling)
Wendy Stuart
Anu Singh and Clover Welsh
Ryan Wolowski, Anu Singh, Clover Welsh, Gladiola Gladrags, Tym Moss, Ike Avelli