Tens of thousands of drag lovers will descend upon the Javitz Center this weekend for RuPaul's DragCon.   Celebrating "the art of drag, queer culture and self-expression for all", the convention, which has had three previous editions in Los Angeles,  will feature panels, parties, plenty of vendors and appearances from the people who've worked and starred on RuPaul's Drag Race, plus some beloved local performers.
Think Comic-Con, but for drag queens.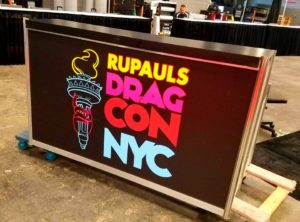 "We're excited to bring DragCon to NYC where our queens will prance proudly in the city of Stonewall, under the watchful eye of the fiercest queen of all – Lady Liberty," says producer and World of Wonder co-founder Fenton Bailey.
One of the most exciting tables will be in booth 376.  That's where local drag phenomenon Yvonne Lame, the owner of Lips, New York's ultimate drag show palace, restaurant and dining experience, will be holding court.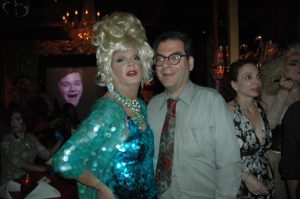 Has the RuPaul's Drag Race fan frenzy increased business at Lips?
Yvonne Lame:  RuPaul's Drag Race has made drag bigger then ever.  Everyone loves to watch the show, or at least most people do.  The show has turned many queens into stars and has made drag more popular and that's certainly been good for business.
Have any of your drag performers appeared on Drag Race? 
Yvonne Lame: Oh yes, Rebecca Glasscock, Malin, Jasmine Masters, Mimi Imfurst, Nicole Page Brooks, Phoenix, Peppermint and the winner of Drag Race, Violet Chachki, have all appeared at Lips.  Like Drag Race, we always have our eyes wide open in search for fabulous new queens.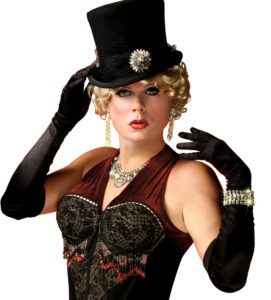 Why did you decide to participate in DragCon in NYC this weekend? 
Yvonne Lame:  Darling, it's the biggest party in town!  God knows, one would not want to be the only one not at the ball. Also, DragCon has been a huge event in LA and we all know NYC will be bigger and grander.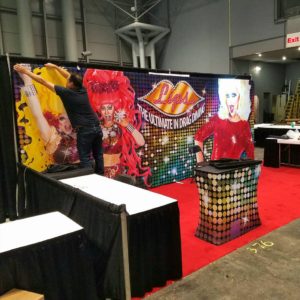 Which Lips performers from will be in your booth? 
Yvonne Lame:  From Atlanta: Katie Cakes.  From Fort Lauderdale Lips: Twat LaRouge and Chocalatta.  From NYC: Evangeline, Morgan Royal, Blackie O and a few special guests.  Also, the old queen Yvonne Lame.  Yes, me, darling, but out of drag.
Visit Lips' website.