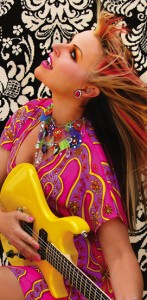 Kristine W – an international dance music icon since the late '90s – is finding exciting new ways to share the power of music with the release of Straight Up with a Twist, an ambitious, 4-years-in-the-making double-CD that marks her highly anticipated contemporary jazz debut.
What may come as a surprise to Kristine's legions of dance fans is that jazz has been one of her greatest passions since early childhood. Growing up in Tri-Cities, Washington, her grandmother—a pianist, classical violinist and guitarist—exposed Kristine to singers like Ella Fitzgerald and Carmen McRae.
Kristine's mother raised a family of five by singing jazz and standards in local juke joints. By age 9, Kristine was singing with her mother. Soon, she was competing in local beauty pageants and some years later, it was her rendition of "Summertime" that won her the talent competition at the Miss America Pageant.
Why release a jazz album?
I wanted to return to my roots. Growing up, I sang gospel in church and then joined the glee club in junior high. We were an award-winning jazz choir, and I was the lead vocalist.
How did you decide on the first single release, "Feel What You Want"?
I didn't. My smooth jazz radio promoter, who knew very little about my dance career, told me it should be the first release. He didn't know the dance version was my very first Billboard #1.
It's a dance classic.
I remember recording the track back in the day. It was me and some engineers in a London studio with a baby grand piano. I was cutting the vocals when a producer said we needed to bring in the background singers. I had to prove I could do all the harmonies myself, so I just kept stacking harmonies until it sounded like the church choir I grew up singing in. The song blew up in the UK. The reviews called it the new gospel house sound.
What is your favorite song on the album?
"Some Lovin"
The theme song for the "Queer As Folk" series?
You would not believe how different the jazz/blues arrangement is from the original floor stomper. It takes people a while to figure out why they know it. It's fun to watch them realize that it's the same song they used to sweat to.
What song on the album has the most meaning to you?
I started writing "Dream On" when I was in college. I never finished it until this project. It is super special because I recorded my daughter, Elizabeth, laughing in the studio and we put it into the song. She has a gorgeous laugh.
What do you hope fans will experience when they listen to Straight Up with a Twist?
I know they will experience music that will nurture their souls. Disc one is perfect for a groovy dinner party. Then, when you need a touch more energy, put on disc two, grab a martini and move the party out to the hot tub.
For more info, visit KristineW.com.
– Trent Farber