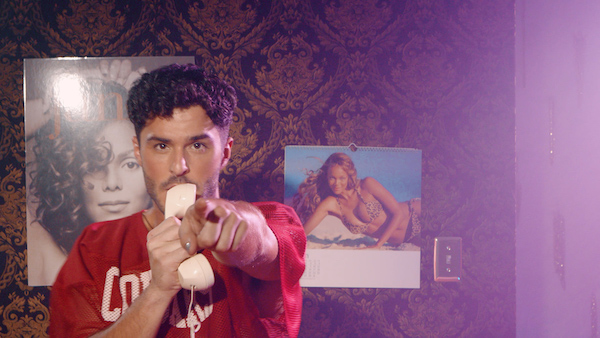 John Duff's "Do It" may harken back to early 2000's house music but its message is pertinent today. It is a call-to-action to the many people who are afraid to pursue their dreams out of fear of public perception. "As a thirty-one-year-old gay man making music, I understand the optics. 'Are people going to laugh at me?' Probably… but then I don't lose anything if they do. If I give up, however: I do lose something. I lose time, I lose opportunity."
The song's verses are a series of questions we should all be asking ourselves. Am I living in my authentic truth? Am I actively playing a positive role in my own destiny? What do I have to lose? Who is stopping me?
Says Duff, "I have a lot to prove – but only to myself. I'm a science experiment. I am here to prove that I can keep coming out, falling on my face, and surviving. I'm here to prove that the human soul is more resilient than plastic."
The "Do It" video was shot at his own home. "Essentially, I told the crew to come over and film me for a day. I wanted it to feel carefree and fun, like life should be. When I was a kid, I would sit alone in my basement all day learning songs and dancing with laser lights and fog machines. The video was a way for me to get in touch with that part of my self.
"One thing these months of quarantine have taught me is that I'm happy in solitude. I really only want to come out of my room to perform. That's all I live for. Socializing is draining, monotonous, and boring."
John Duff grew up in a suburb outside of Baltimore, Maryland. After graduating college, he made his way to NYC where he competed on The X Factor. He lost because the judges felt he was too flamboyant. Simon Cowell even implied that he should consider a sex change.
He hopes "Do It" will motivate listeners to do something good for themselves. "Maybe they'll hear it and think, 'Ugh, that guy is so annoying,'" Duff reflects. "Whatever emotion they get from the song, I hope they feel it to the fullest. Is there anything worse than leaving no impression?"
John Duff's "Do It" is being distributed independently and is available on Apple Music, Spotify and all digital platforms. Its video is available on YouTube.
Follow John Duff on Facebook and Instagram
@ iamjohnduff.