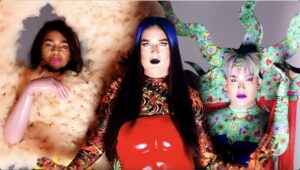 Leo, Kayvon and Josh, better known as the band, N0t Listed, will bring their Bop Shop to New Jersey City Pride on August 21st.
BopShop is their debut EP and it dishes dance, pop and R&B songs that can be cranked at the club or while in mirrors at home preparing for a late-night kiki.  "We wanted the mood of this EP to be the three F's: Fun, Fierce and Fab," says Kayvon.
BopShop delves into all aspects of relationships with an ultimate message that love wins. "Ridin' This Wave," a single they released last winter, mixes 80's and 90's nostalgia with feminine iconology.   It is a down cast electronic pop song about the magic of instant attraction and it flawlessly combines R&B vocals with fierce house beats.
"Close My Eyes," the EP's second single, is the moodiest and darkest on BopShop.   It serves the drama with heavy electro-dance and ethereal vocals.  The chaotic and intense sound of the song is reflected in the music video, directed by Mike Ruiz. "The concept behind the video is based on a dream sequence," explains Ruiz.   "I compiled visual ideas that reflected a non-linear, abstract world that is the stuff of dreams and nightmares."
Leo, Kayvon and Josh met in NYC's underground queer circuit. Each falls under a different classification of the LGBTQIA umbrella; Josh identifies as gay, Leo as bisexual and Kayvon identifies as non-binary and pansexual.
In uniting as N0t Listed,  the guys wanted to create a project that  embraced their individuality and celebrated their queerness.  Says Josh, "We hope to inspire others to feel powerful in their authentic skin, clear in the understanding that if an African American, Mexican American, and Iranian American can be werking it in times like these, they can too."
See N0t Listed perform tracks from their debut EP, Bop Shop, LIVE at Jersey City Pride on August 21st.  More information at JerseyCityPride.com