Jason Walker will debut "I'm in Love with You", his latest euphoric dance anthem, at NYC Pride.  It is his third song with Tony Moran.  The power house duo's previous tracks, "So Happy" and "Say Yes," both reached the #1 spot on the Billboard club charts last year.
"There's so much turmoil in the world right now, the dance floor needs a song like 'I'm in Love with You,'" says Jason Walker. "It's a positive number with a great beat to lift spirits up."
"'I'm in Love with You' is meant to be a bold declaration of the love we hold in our hearts for those who matter most to us," says Moran, who produced the track and also co-wrote it with Ryan Shaw and Mike Greenly.  "It's also a reminder that — yes, people! —message counts. It's important to tell those closest to us how much they mean."
Jason doesn't hold back the love he feels for Karl Giant, the acclaimed artist who shot the song's music video.  "I could write a book about my love for Karl," he says. "There is no one else like him.  And he believes in me.  He believes in my voice."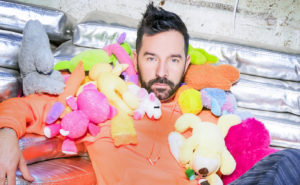 The video was primarily shot in Randy Polumbo's 4,000-square-foot warehouse studio. Polumbo's work has been exhibited at the Bass Museum in Miami, Art Basel Miami Beach, Burning Man and Coachella.
The other location was the "The RINK" at Brookfield Place in NYC, with figure skater Jeremy Abbott, a four-time US national champion and Olympic bronze medalist.
"The set was like a playground with art everywhere, an elevated RV, blow torches, an ice rink… It was simply magical," recalls Jason. He says he is thrilled with the end result, calling it a masterpiece of motion and color.
According to Tony, the true masterpiece is Jason's voice. "The song starts with a steady continuum that reflects a steadfast love. It then breaks out into a joyous enthusiasm that embraces today's electronic music and provides a platform for Jason to really let loose," he says.
Jason Walker will perform "I'm in Love with You" live at Junior Vasquez's party on June 23rd.
Follow Jason Walker on Facebook, Instagram and Twitter.