Annabella Lwin "The Original Lead Singer Of Bow Wow Wow at The Ridgefield Playhouse November 1st"
Annabella Lwin , the original lead singer of the 80's sensation Bow Wow Wow, will be appearing at the Ridgefield Playhouse, along with Martha Davis & The Motels on Wednesday, November 1, at 8:00 PM, located at 80 E Ridge Red, Ridgefield, CT. (ridgefieldplayhouse.org).
Annabella Lwin, singer, songwriter, and record producer, was born in Ragoon, to an English mother and Burmese dad. At age 13 she was yanked from her parents dry-cleaning store after Malcolm McLaren, (Sex Pistol manager), heard her sing. He transported her to instant stardom as the lead singer for his new band, Bow Wow Wow. Known with hits such as, "I Want Candy", and "Go Wild in the Country".
Every guys pin-up girl, Annabella embarked on a solo career after leaving Bow Wow Wow,  and has been singing, performing and writing ever since. She is a practicing (Soka Gakkai International) Buddhist, and an extremely incredible and talented personality.
We did an interview last year if you recall, and I'm wondering what you've been up to since we last spoke?
The interview last year was for the "Rewind" tour? It's been a year or so of more transitioning things for me. I've recorded some tracks, but mainly I'm working on some new songs. Plan on going into the studio to record at some point provided I could get everyone organized. I'm actually going to be putting out some songs that the world has not heard. I've been just doing a lot of live work. I went back to the UK a few times, because I did a tour in 2016. I was there for a few weeks, and that was brilliant. Everybody that attended those shows were just fabulous. We did a two week tour in the UK and I've just been trying to keep the live shows going with the band.
What can the audience look forward to hearing at the Ridgefield Playhouse?
The same thing I've always done, I love the audiences. I know that people critique me for saying that, but I don't really give a damn quite frankly. Every show is different so when you say what can we expect a part from obviously attending, it's difficult, because I think every show is very, very different. It all depends on the audience for me. It all depends on if they like what we're doing, or if they don't like what we're doing. I'm very, very critical of myself. Especially when you get to a certain age as a performer you have to keep on top of things. That's what I'm basically doing, the same thing I've always been doing. I love singing, it's my life, it's who I am. It's everything.
I'm happy to hear that you were recording some new stuff.
I've got to get some new stuff out there, but I'm not signed to a label. I've got some great songs that I have already recorded, songs the world hasn't heard. When we last spoke I was just about to embark on the UK tour. I think we were about to go to Rewind. Scotland was the first show, I love the Scottish fans. I love England, don't get me wrong I love England it's just that I had to leave England because I wasn't getting any work as a singer there effectively. The bottom line is I've been traveling ever since I was 14 anyway so it's not about that, it's about where you are most needed I think. I love the idea of just touring, but I also love the idea of having something just to say. Writing is a process that we need to take some time out to do. Last year was like the bigger year for me live wise because I was going out and traveling here, there and everywhere to keep in the public eye if you'd like. That's all I'm trying to do now, is keep moving forward.
I don't think you are really ever out of the public eye.
Really? I thought everybody forgot about me. When they do those TV awards I never get any of those. I don't know what that's about. Obviously they put, "I Want Candy" on the map, and I always make a point of saying that whenever we do this song, or try to at least. I'm not your typical Hollywood singer I guess, because I'm a child of two worlds. I've come a long way to do it and it chose me. This world of music, it chose me.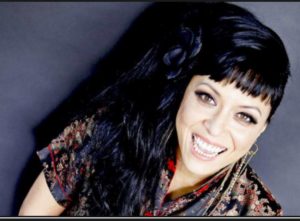 We've had this conversation and I agreed with you then and I still do.
Well don't say that until you see me live, and hear what other people think. You know I have a thing about that. I'm a very simplistic kind of lady. I'd like to try to keep things as real as possible. I don't try, I just do. You know how people think that they have to be nice even if I suck? I'm not about that. I like to hear the real deal. I like to hear what people really, really think. If they think I need to work on something then please let me know. Mainly it's about making music for the people. I think this was in my last interview, if people think I really, really suck and I'm really, really bad, then maybe it's time I start to think about doing something else for the rest of my life. It's taken me this long to get here, and I haven't even done that much, because there's so many causes that I really feel very strongly about. I still need help with what I do, and obviously am a practicing Buddhist. So it goes hand-in-hand. I'm a vegan so it's all very relevant, as what I'm doing in my art is who I am. It's not like I'm trying to be someone I'm not, I am who I am. It's kind of interesting to note that over the years I've seen a lot of different situations and artists. I don't know why but I'm just waiting for that window to open a little wider. 
Those artists that are really talented tend to be more critical of themselves.
Well you have to be. You've got to be as an artist. I am my own worst critic. But that's ok. It's a good thing I think. We the artists are messengers in a lot of ways. I was a 14 year old wanting to be an air stewardess then I was suddenly thrown into the music business. As everybody in their lives we have ups and downs. We go through different challenges and different situations, but it's through those situations that make us who we are today. Hopefully we've improved. I do believe there's a movie that I recommend, it's a brilliant movie called, " How to Defend Your Life", with Meryl Streep and Albert Brooks. It's very true on another level. So is "Conversations With God". It's based on a true experience of being a homeless person and then becoming a best-selling novelist. The point being, we can never take for granted anything that appears in our lives that might be the worst thing that's going on, but also we have to appreciate where we are at and where we're coming from in any given situation. It's very important for me as an artist for people to be comfortable with my newer songs. So they are all songs here and there in the set that I do, but much more Bow Wow material still, but I do throw in the newer songs. 
Any other new things coming up for you that you'd like to promote?
Ive got a very small, if you blink you'll miss me, appearance in something that I was totally thrilled to be asked to do. It was one of my favorite movies as a child with the late great Gene Wilder. It's "Willie Wonka and the Chocolate Factory". It's at the Hollywood Bowl, a really cool idea. It's happening on November 4, a Saturday. There's a bunch of people in it like John Stamos, and "Weird Al" Yankovic. I've always wanted to meet him. He did a great take on " Born This Way", and I'm going to ask him why he hasn't done one of me. If "Weird Al" Yankovic has done it, then you know you have made it.
For more information:
Annabellalwin.com