The Drag Superstar and Out Rapper Launch New Podcast, 'It's a Mess'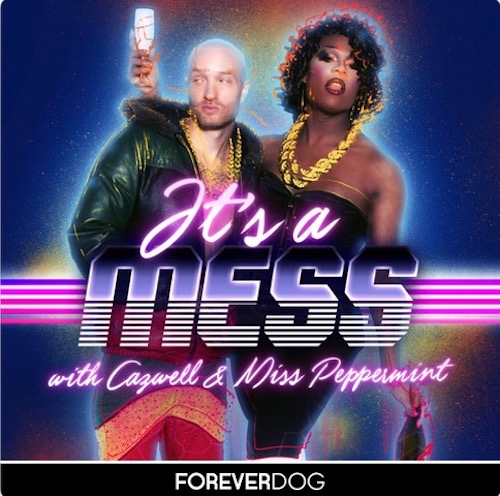 Miss Peppermint and Cazwell both launched their careers in the New York underground. Peppermint rose to national fame competing on the ninth season of "RuPaul's Drag Race," where she finished as runner-up. She then made her Broadway debut last year in The Go-Go's-inspired musical Head Over Heels, becoming the first trans woman to originate a principal role on Broadway.
Cazwell made a name for himself with a steady flow of danceable hip-hop and club tracks that impressively showcase his hypomanic take on pop culture. Hits include "Ice Cream Truck," "I Seen Beyoncé at Burger King," "¡Spicy!," "Cakes," "Rice & Beans" and his latest release, "I Love You."
Now the pair are joining forces on an exciting new venture, the "It's a Mess" podcast. It's an advice show that covers everything from how to tell your coworker their breath smells to how to get revenge on the boss that f-ed you over. It also touches on more serious topics like trans rights and gay adoption. Cazwell explains more.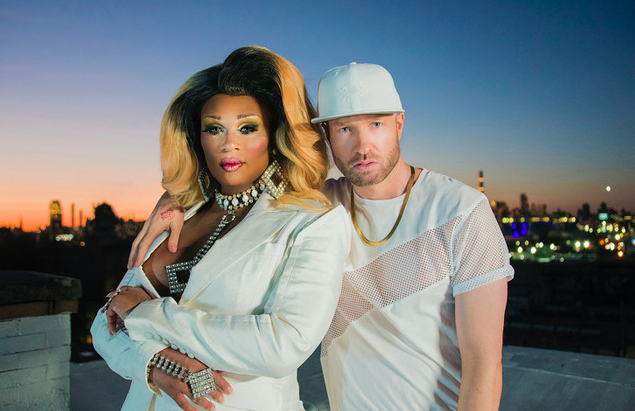 How did you and Miss Peppermint become BFFs?
Cazwell: Me and Pep met a long, long, long time ago. I got booked for a gig at NYC's Tunnel nightclub, and I was told to meet a drag queen named Peppermint in the Lower East Side to help me find dancers for my show. Peppermint seemed like a very warm, sweet and extremely helpful person since the first time I met her, and I knew we would become good friends.

"It's a Mess" isn't the first time you two worked together on a project.
Cazwell: We threw a gay hip-hop party called "Do the Right Thing" every Thursday at the Ritz in New York. We've also featured each other in our musical projects.

Most notably, the "Blend" EP.
Cazwell: "Blend" gave us the opportunity to actually produce music together and combine both of our tastes. I also got to write Peppermint an anthem that helped tell the story of her transition. We're both very proud of what we accomplished with that EP.
What inspired you both to create a podcast?
Cazwell: Since I moved to Los Angeles three years ago, I missed working with her. I thought that if we start a podcast, it would be a great opportunity for us to be able to touch base every single week. When your best friend gets on "Drag Race," they become so busy with touring, you kind of have to create new opportunities to actually have a conversation for more than 10 minutes.
What topics are you covering on "It's A Mess"?
Cazwell: A lot of crazy, fun sh*t, but also some serious topics like trans rights and gay adoption. It's an advice podcast. Our listeners write in with their issues, so we get a variety of questions they need advice for.

Do you and Peppermint often share the same opinion on the right way to solve a problem?
Cazwell: Me and Pep often have very different views. She is sweet and tends to find common ground when there is a conflict. I tend to be more argumentative. Our dynamic definitely gives our listeners more than one point of view.
How is "It's a Mess" different from all of the other podcast shows out there?
Cazwell: One of the major differences is that you get the perspective of not only a gay man but also a trans woman of color. Trans people of color don't get their voices heard enough in the gay community.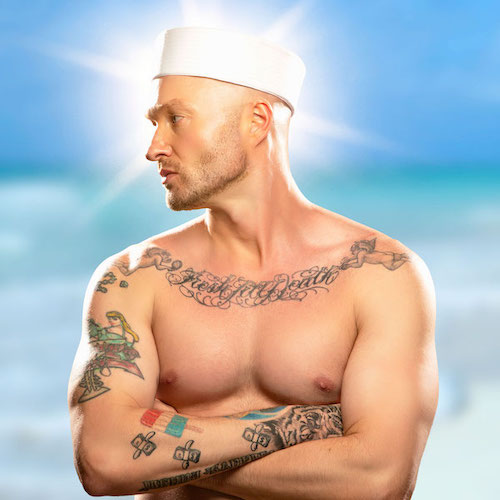 Will the show feature celebrity guests?
Cazwell: We have special guests read the questions that come in from our listeners. In our first episode, Willam from "Drag Race" read one of our listener's questions. This week we had Bob the Drag Queen on the show. We want to start integrating more interviews with celebrities into the podcast.
What do you hope listeners take away from "It's a Mess"?
Cazwell: We hope that our listeners are entertained. I'm pretty sure they will get a few laughs out of our banter. But then again, we also hit on serious topics and offer real relationship advice, so I guess we hope our listeners get a good chuckle but also learn something.
If you need advice from Cazwell and Miss Peppermint, hit them up at askcazandpep@gmail.com.
New episodes of "It's a Mess" release every Thursday on Apple Podcasts Spotify and all popular podcast platforms. Visit
https://foreverdogproductions.com/fdpn/podcasts/its-a-mess/.