By Johanne Millet-Stanziale
As you probably know, Fire Island is a very popular vacation spot for the LGBT community—and if you are reading this, chances are you've already been there many times to enjoy the beauty and freedom it offers.

What you might not know—and it's a shame!—is that there is an LGBT volleyball tournament for women that is hosted every summer on the beaches of Cherry Grove, Fire Island: LezVolley.

LezVolley is the most popular weekend for women on Fire Island! Whether you decide to come for the day or stay for the weekend, it is one of the most fun events you can attend in summer. It brings together the hottest women from the tri-state area, with a crowd that reaches over 500 people each year. Boys, don't worry, everyone is welcome to join the fun and enjoy the entertainment!

This year, LezVolley celebrates its 9th year anniversary and offers special hotel and restaurant discounts to all visitors—another reason not to miss it!
They will also host their first beach raffle and donate the profits to The Stonewall Inn Gives Back Initiative, a 501(c)(3) charitable organization committed to eliminating the social intolerance that is profoundly impacting the lives of LGBTQ citizens throughout America and abroad.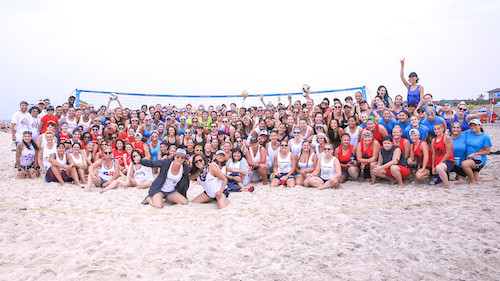 EVENT OFFERING
The LezVolley weekend includes:
· Friday night: Opening party at Cherry's on The Bay
· Saturday: Tournament day (all visitors are welcome!)
         – 25 teams
         – Prizes for the winning teams
         – Giveaways
· Saturday night: Official after party at Cherry's on the Bay
· Sunday: Brunch & Tea dance
If you plan on joining the tournament, you have to sign up your team before July 28. On Saturday, there will be a tent set up for the players to check in at 10 a.m. on the beach by the restaurant Sand Castle on the Ocean.
The games start at 12 p.m. and will go on until 4 p.m.. Everyone is then welcome to attend the official after party at Cherry's on the Bay from 5 p.m. to 4 a.m. ($10 at the door/free for all players).

SIGN UP
Go to the sign-up page and fill out the form. You can sign up a full team (seven players minimum) or solo. If you sign up solo, the organizers will do the best they can to find you a team. More information on www.lezvolley.com.