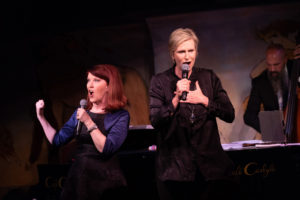 In an uproarious display of song and comedy, Jane Lynch and Kate Flannery celebrated their Café Carlyle debut with "Two Lost Souls". The eloquent venue had an intimate sold out crowd who thoroughly enjoyed the show from beginning to end….and with good reason! These ladies can sing, and their band can play!
Emmy winner Jane Lynch is recognized for her starring role as Sue Sylvester, the obnoxious gym teacher on the award winning series Glee, and two time Emmy winning host of Hollywood Game Night. She is currently appearing on CBS's The Good Fight and Amazon's The Amazing Miss Maisel. Kate Flannery is best known for her 9 season portrayal of Meredith the drunk on NBC's, The Office. Together the two have been touring along with Tim Davis. Their holiday album, A Swingin' Little Christmas, hit billboards top 10.
Their band and music director Tony Guerrero, who also played piano and trumpet, along with Mark Visher on saxophone and flute, Rich Zurkowski an stand-up bass and Sean McDaniel playing the drums was one of the tightest factions I have heard in a while. They too were funny and extremely talented, and looked as though they enjoyed their time on stage. As a matter of fact they opened the show, and it set the scene for an upbeat and entertaining evening.
I knew that Jane could sing….obviously "Glee", however I was pleasantly surprised at the vocal ability of Kate. Her harmonies were magnificent, and the two were a perfect singing match. They showcased a diverse selection from "Two Lost Souls" to "Bei Mir Bist Du Shon" to "This Could Be The Start of Something Big". None of which is music I would usually listen to or enjoy, however the manner in which they performed the tunes was completely entertaining. My favorite was a folk song entitled, "Blood on the Coals", as they left the song several times for a quick comic relief and then picked up where they left off. "Love Song Medley" was also a tremendous highlight. There is essentially something for everyone. The final two songs which I will not divulge, so as not to ruin the surprise was indeed a vibrant surprise. I will say this: Jane can rap!!
Jane and Kate as well as the band were happy to hang with fans after the finale. If you haven't gotten your tickets yet, hurry. When word gets out you will be scrambling! The show was captivating, the comedy spectacular, and the vibe was absolutely precious.
Tickets can be obtained at 212-744-1600 or online at Ticketweb. Shows will presented from Tuesday through Saturday at 8:45 at Café Carlyle, 35 E. 76 street at Madison Avenue in Manhattan.
Photo Credits: David Andrako