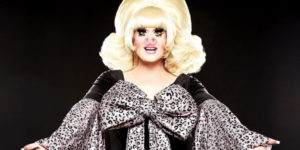 This Sunday at 5pm, America's favorite sow in a smock will perform her hit comedy show, Pig in a Wig, at the drive-in theatre at Westfield Garden State Plaza in Paramus.   "Don't bring the kids!" she warns.
While some drag queens read children's stories, and others, like RuPaul, give self-help advice, Lady Bunny's celebrated act is filthy, demented and 100% hilarious — right when we all need a good ol' belly laugh the most.
In Pig in a Wig, Bunny turns chart toppers like Ariane Grande's "Thank U, Next" into a riotous "Thank U, PrEP."  Audiences will clap along to raunchy reworkings of Bruno Mars, Adele and Missy Elliot.  Elton John's classic gets a twist with "Don't Let Your Son Go Down on Me."  Even Broadway isn't safe from her song parodies with Bun-Bun performing "All That Jizz" and an unforgettable nod to Gypsy.
Expect lots of brand-new material and some raucous classics so old that only the dead will recall it. Throw in Bunny's notorious one-liners, costume changes, go-go dancing and her Laugh-In-style joke routine, and you'll chuckle all the way home with plenty of new jokes in tow to unleash on the work gang, whenever they are gathered around the water cooler again.
Lady Bunny stars in Pig in a Wig, Sunday, July 19th at 5pm at Westfield Garden State Plaza in Paramus.  General admission tickets are $49 per car (2 people) at  VossEvents.com.   Additional passengers are $25 each. VIP tickets also available.