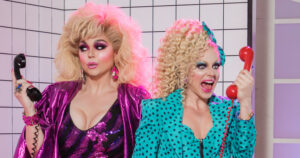 Drag sisters in crime, Courtney Act and Vanity, are out now with their new podcast, Brenda, Call Me!
On the weekly show, the ladies chat all things drag, dishing on what's got them fired up in their lives and in the world around them.  From the political to the downright silly, no topic is off limits. They'll even call up a celebrity friend along the way to help them nut it out.
The show is high energy camp, featuring plenty of sass and wild entertainment.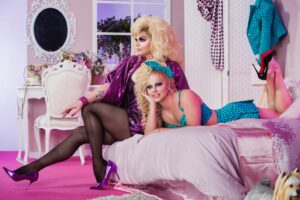 "We are super excited for (fans) to listen in on our best friend conversations," says Courtney.  "We're just glad (shows) are not live and the legal department will be reviewing them before they hit your ear drums."
"We thought we were going to be recording this podcast on opposite sides of the world, but Ms. Rona has reunited us and we're super excited to be sitting face-to-face giving our unsolicited drag opinions on all sorts of topics," says Vanity.
Courtney and Vanity met twenty years ago at the infamous Sydney drag nightclub, Stonewall.  Courtney was 18-years-old at the time and viewed Vanity as "the supermodel of Sydney drag". Vanity took Courtney under her wing.
"I didn't have the heart to tell her to f* off," she explains.  "I was like 'come on, let me show you the way child.'
So was the beginning of a beautiful friendship that will now play out weekly on their podcast show.
Brenda, Call Me! is available on the Nova Podcast Network, with new episodes launching every Thursday. Available wherever you get your podcasts.