Will Sheridan #GIANT made the first announcement, via all social media, about the first ever GIANT Fest. This two day, all inclusive queer music festival takes place Friday & Saturday, August 30th & 31st, at 3 Dollar Bill, Brooklyn. Located ?in the heart of East Williamsburg, approximately a 3 minute walk from the Montrose Avenue Station (L Train). GIANT Fest is the perfect break for music aficionados who want to experience great original LIVE music by queer artists ?within a space that represents our commitment to incluson and the celebration of queer identities.
In an effort to build a new awareness and embrace for queer music artists, Will Sheridan has released a short documentary about a weekend glimpse of his fabulous New York City life during World Pride, called "A Weekend with Giant" (Watch here – ?https://bit.ly/2GZz284)? . Following the documentary is "The Small Talk Series"(Watch here h?ttps://bit.ly/2OZQyiK? ),a series of 12 interviews of 11 queer music artists, and 1 drag artist, on a personal Q & A of their life, career, and relationship with curator WIll Sheridan #GIANT. "The Small Talk Series" began August 9th 2019 with a new episode release almost every other day leading up to the opening night of GIANT FEST 2019.
During the festival, guests will be greeted by none other then Glam Award Best Nightlife Blogger, Th0tyssey, who will be filmed live interviewing in a style almost reminiscent of TV personality Joan and Melissa Rivers at the red carpet. In the concert area, guests will experience a jam packed 2 day lineup featuring some of the best queer music talent BK & NY nightlife has to offer. Located at the back of their venue, 3 Dollar Bill is also the proud home of Del Sur Cocina. Del Sur will be serving tacos, burritos and burgers, jam packed with flavor, to guests at such an affordable cost. From the state of the art sound and lighting to the full live music set up with stage, Will Sheridan aims to truly maximize the queer music experience.
Debuting in one of the largest queer venues in Brooklyn, GIANT Fest at 3 Dollar Bill is the ideal queer music festival for music & entertainment lovers of all kinds. To expand the options for our guest, GIANT Fest provides a wide variety of social and artistic encounters; from a live painting art installation, to trendy local vendors, virtual reality games, live tattoos, tarot card readings, photoshoot booth and many more. This disneyland-style programming, in the sense of curating a space with multiple happenings, was specifically designed so guests could either watch great music or enjoy some pop ups and live art. Keeping the mental health of the queer community as a top priority, GIANT Fest plans to use the large outdoor patio as an area for therapy, homemade body products, crochet and clothing, meditation, & more.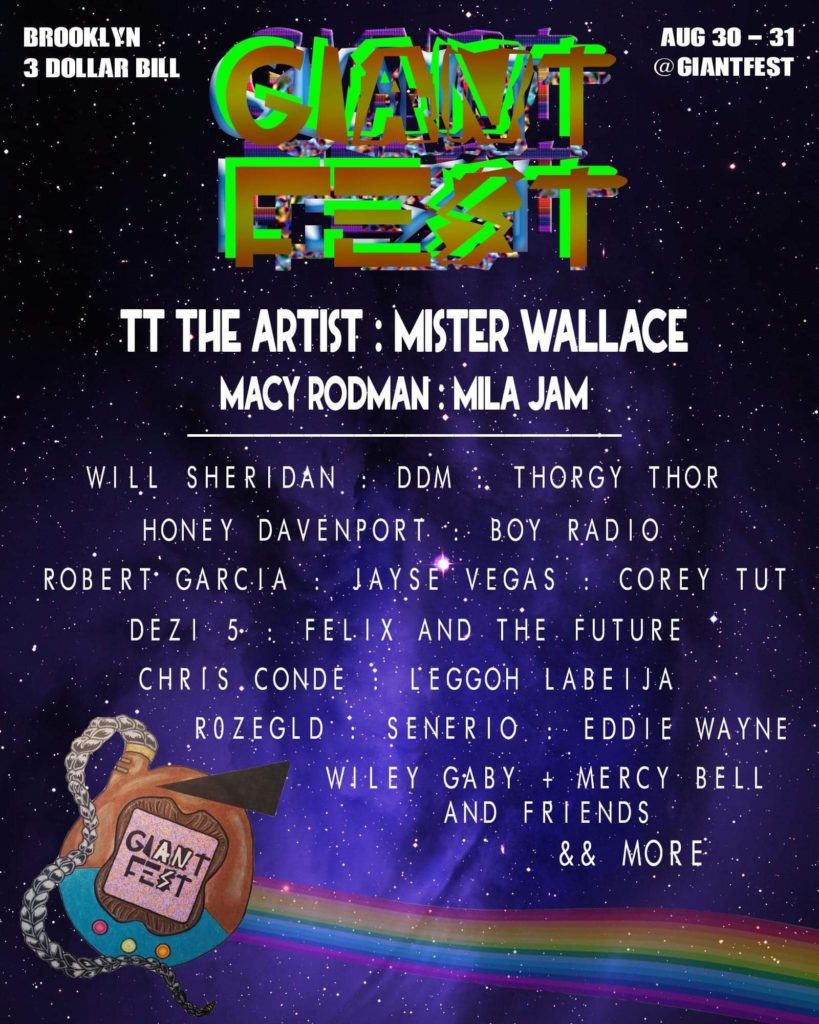 More information about GIANT Fest can be found at:
Instagram: https://www.instagram.com/giantfest/
Facebook Event Page: https://www.facebook.com/events/368893623798261/
Will Sheridan and friends will perform at GIANT Fest on Friday & Saturday, August 30th & 31st, from 4pm-4am both days. Tickets range from $35 – $75 and can be purchased at https://giantfest2019.eventbrite.com? or in person at 3 Dollar Bill at 260 Meserole Street.
GIANT FEST 2019
Friday & Saturday, August 30 & 31, 2019
3 Dollar Bill
260 Meserole Street
Brooklyn, NY 11206
For tickets and more info: ?https://giantfest2019.eventbrite.com