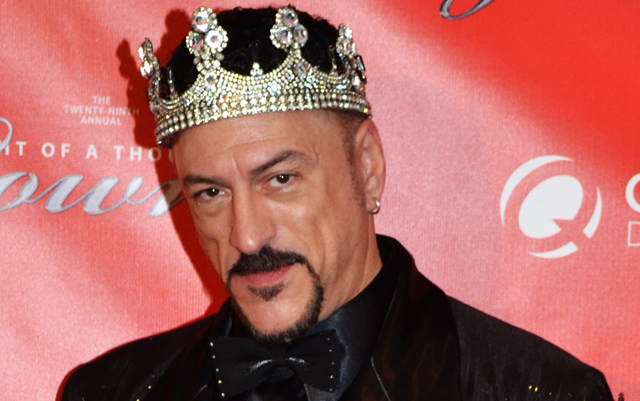 Gary Cosgrove, the current president of the Imperial Court of New York, will be honored this year with the Legendary Icon Award presented by Get Out! magazine for his charitable efforts in the gay community. 
Congrats on your Get Out! Magazine Award! So what is the most exciting thing about being the president of The Imperial Court of New York?
Why thank you, Eileen! I am totally humbled by receiving this award. When you have been involved in non-profit work as long as I have, receiving an award is usually the furthest from your mind. The most exciting thing about being president is working with so many amazing people who have the same passion and drive for our mission to help our community as I do. It's from all of our members, especially our Queen Mother of New York, Coco LaChine, and my longtime mentor, Emperor Steven Frear, that I learn something new all the time. I also hope our members have learned something from me over the years.
What do you do for fun in your private life, when you aren't working or having court responsibilities?
I have the most wonderful husband who has had to put up with all my time with the ICNY. Being with Damian for over 18 years is what keeps me going. He is also part of the Court and is a past Emperor. But when the crowns are off, we love to be homebodies with our two dogs. Spending as much time as we can together is what has kept us together for all these years. That and a deep love for each other!

When do you start planning for next year's Night of a Thousand Gowns?
When? We already have! Committees are being formed early this year as we prepare for our milestone 30th anniversary.
Tell me a little about Gary. Where were you born and raised?
Oh Eileen, I never like to talk about myself, but since you asked so nicely, I'll make an exception! I was born and raised in New Jersey and grew up in the small southern Bergen County town of Wood-Ridge. I was a Jersey Shore Guido long before the TV show! My family existed of mom, dad, a sister and a brother—all Democrats, by the way! I learned about politics from my dad and followed in his footsteps, and was the youngest elected Democratic councilman in the town back in 1983. After my dad passed in 1983, we moved out of town, and I struggled with addiction for a few years, but in 1985 I got clean and sober and came out of the closet. I am proud to say that in June I will have been clean and sober for 30 years. In 1996 I met Damian through a mutual friend, and it was love at first sight! I bought my first home in Lodi, New Jersey, and we have lived here for 22 years. I'll stop here—I can hear the ZZZZZs now!
How did you become so involved with the community and the court?
I attended my first Night of a Thousand Gowns in 1993 as part of an entourage. After seeing how magnificent and what royal fun everyone was having, I had to be apart of this organization. I did my research, and I discovered the ICNY, which is a 501c3, was formed as a response to the AIDS crisis of the '80s. I knew this is where I wanted to be. I had lost several close friends to the disease, and I needed to help put an end to the scourge in my own way. Twenty-one years later, my passion for helping those that live with HIV/AIDS has not wavered. Add to that our homeless LGBTQ youth, our forgotten seniors or homebound LGBT community members and there is so much to still do! I want to be part of the solution, so I give as much as I can, when I can!
Where do you get your magnificent costumes?
Many of my emperor's clothing is made by Jeremey Stuart de-Fishberg of Houx Creatifs, a longtime member of the ICNY. Crowns and crown jewels by such creative stars like Farrah Moans, Robert Sorrell and David Mandel. All are amazing jewelry designers and members! I have also found some fabulous Gothic stores online, which is my preferred style of clothing.

If you could change places with anyone—and I mean anyone—who would you choose and why?
That's a very hard question. I have always wanted to be Cher, but I don't think that's a good idea! I would say the philanthropic Bill Clinton. President Clinton has done so much in the fight against AIDS that I would love to have the impact he has had.
What is your biggest dream?
My biggest dream is to live long enough to see the eradication of AIDS.
How would one become a member of the court?
We have open membership meetings on the first Wednesday of every month at the LGBT Center on W. 13th St. beginning at 7:30 p.m. We welcome one and all to come see what we do, see what a safe place it is to be yourself and learn about all the fun we put into fundraising. We play the game of royal dress up. We are everyday people. You don't have to be rich to be a part of the court. I am certainly not! If you have a passion for helping others and having fun while doing it, then the Imperial Court of New York is for you, and we welcome you with crowns and gowns on!