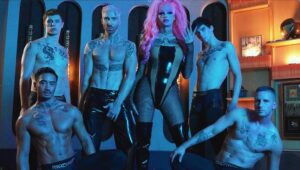 "Freak," the new single and music video from Bobby Newberry, is a duet with drag star Rhea Litre about the odd beasts we all have inside.  In it, the duo encourages listeners to release their inner freaks and let 'em fly; be authentic and unapologetic in yourself. The song also motivates listeners to dance, sweat and have a fun time. 
"While 'Ride' had that cute ease-your-way-into-a-day-party vibe," says Newberry, referring to the single he released earlier this summer, "'Freak' is a full night-out-2am club record!"  The energy of the track is echoed in the accompanying music video, co-directed by Newberry and Beno Anastacio.  It showcases Newberry's dancing prowess in a high-octane clip that features him and Rhea Litre bumping and grinding alongside an all-male cast of dancers.  
Produced by Sam J Garfield and mastered by Jaimie Velez (best known for his work with Ariana Grande and Lizzo), Bobby Newberry's "Freak" featuring Rhea Litre is available on Apple Music, Spotify, and all digital platforms.  
"I've never done a full dance record like this", continues Newberry from his Los Angeles home.  "Freak is my first."  He wrote the hook and melodies for "Freak" himself and then worked with Litre on her verse.  "We had such so much fun in the collaboration.  Rhea sings, raps, and talks on the track and she smashes it!  'Freak' may just be the ultimate party jam for Halloween!
The video was shot at the Peppermint Club in LA.   "We filmed on Friday the 13th which was a little spooky for superstitious me but Rhea said "no, this is freak honey, let's do it!"
Newberry and Litre set out to bring the heated passion of the song into the video. There's no real story being told; it's meant to offer a peek into an exclusive members-only underground show experience.    "We all worked so hard on the visual," Newberry says.  "Marco Marco killed with the costuming.  Sean Boyd was the Director of Photography and his lighting in the video is simply amazing.  I can't wait for everyone to see this!"
Freak is the second single from Bobby's upcoming EP.    The dancers in the "Freak" music video are Robbie Blue, Adam Vesperman, Michael Metuakore and Mackenzie Green.  Glam and grooming by Dalton Heinrich.
"The choreography was so intense, I literally ripped my pants completely down the crotch and had no time to do anything about it," laughs Newberry.   "I was like, well, it is what it is."  If viewers look closely in a few shots towards the end of the video, they will see Bobby's pants are, indeed, fully ripped.  
Follow Bobby Newberry on Instagram @ bobbynewberry