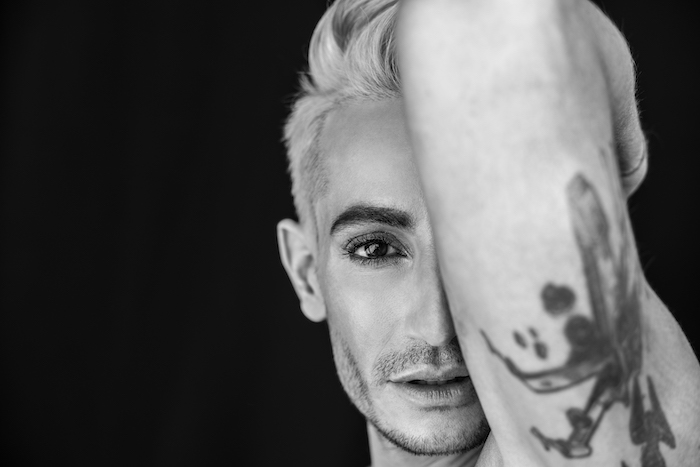 Actor, singer, activist, producer, and reality show star, the effervescently fabulous Frankie Grande makes his motion picture debut in the horribly funny queer thriller-comedy flick "Summoning Sylvia." He will star alongside Michael Urie and Travis Coles. The film is set to release this spring.
Just having done off-Broadway's hilarious musical spoof "Titanique the Musical", Frankie Grande is forever dancing on the rim of a dazzling volcano spilling glowing lava of orange and pink neon lighting, conquering the blackness that engulfs the night. Frankie made his Broadway debut in "Mamma Mia!" and was then in "Rock of Ages". He is also part of Nickelodeon's "Henry Danger" and was acclaimed as a true reality star on "Big Brother".
As an artist and now a film star, Frankie has a vested interest in our believing in the flash of revelation and the inspiration that animates him and carries him away to irresistibly seek his own light. We had a conversation regarding the movie and his excitement over his film debut.
Hi, Frankie. I'm so excited that you're a movie star now.
Me too! It's so exciting, and I'm so grateful. I'm so excited for the world to see the film and for them to see me do something that they've never seen me do before. 
What kind of role do you play?
His name is Nico. I love him. It's about a bachelor party. Gay friends go up to a haunted house, because we love haunted things, and Nico is the witchiest of them all. He's the one that instigates the séance and the contacting of spirits from beyond.
Of course.
Of course. He thinks he's a witch, and it's really fun. I get to play someone who is a very large character, but very different than who I am as a person. That was exciting.
Do you get to be effervescent and fun?
I get to be kind of snarky and slicing, which is very interesting for me. I get to be more like the tip of the spear, whereas I'm usually the flag on the end of the baton. In this role, I am more like a weapon, which is really fun. It's very different than who I am, so I guess that's the acting part. 
That's why they call it acting, Frankie.
Exactly. I am trying to show the world I can do that.
How did you get the role? I'm so excited that you're doing this.
Thank you. I know you are, Eileen. You've been so supportive and we've talked about everything. Since "Big Brother", I've had kind of an uphill battle proving to the world again that I actually am an actor and was originally trained as an actor. On that show, I became so famous for my personality, so I started getting roles based on my personality. That was it. I'm very grateful to the directors Wesley Taylor and Alex Wyse, who originally cast me on their TV show "Indoor Boys." I think in the beginning, they just wanted to see what Frankie could do. That was season one, where I had a little cameo. Then they wrote me a larger part in season two and an even larger part in season three. Then I won an award for the best guest appearance on a streaming TV show. They kind of had faith in me that was growing from all the years on the TV show. When they wrote this movie, they had me in mind for the role and they contacted me and said that they really wanted me to play Nico. I was so grateful and excited. This is my first lead role in a feature film, and I wouldn't have gotten it without those two boys believing in me and working with me over the years. They have been really incredible.
Michael Urie is in it with you. He's so nice.
Yes! What an angel. He's truly an angel of a human being. We've been friends for years, and this is our first time working together. Ironically, we had no scenes together, but I still got to see him on set and ever since then, we've been even closer. The other boys are really great, too. I want to shout out to co-stars Travis Coles, Noah Ricketts, and Troy Iwata–they are phenomenal. Us four boys are like the four horsemen. I was thinking about the four horsemen of the apocalypse. They were all fantastic, and it was such a delight working with them. We are all Broadway trained actors. The directors are also Broadway trained as well. It was really nice to have that kind of energy and that kind of focus and dedication on set from everyone. Several scenes we did, when they were shot, it was like a full act of a play. We shot it straight through for like 11 minutes. I've never done anything like that, so we just treated it like it was a play, and with very little rehearsal. We were flying by the seat of our pants. But we got it done. 
Do you get to die in it or anything interesting like that? 
Not die, but I really do get to fight. I get to fight and I get to flirt. I get to do all of those things in the film, which is also new to me.
I don't know how long queer horror has been around, but what's your take on it? 
LGBTQ+ people have always been drawn to horror because it's very often about an outcast or someone who has been really cut off from society, whether that's the victim or the victor. It is something that we can just always relate to, the characters that are in horror. And queer horror has been around for a long time. "Nightmare on Elm Street 2" started it, maybe. That was the gayest movie ever made, and it was horror. It's been around for a long time and it's been appreciated by the community, so it's nice to make an actual queer horror film, where all the creatives are queer–the writers are queer and the directors are queer and almost the entire crew is queer too. It was an amazing environment. We filmed this during Pride of 2021, so we spent our Pride month making this film. I think when the world sees it, it will be a beautiful representation of the LGBT+ community for the entire world to see. I think it's a huge step forward in representation for the LGBT+ community. We just need more queer characters and films. And gay camp horror is an absolute thriller. I think more thriller than horror. Gay camp horror is an absolute great genre to do it.
Well said, and totally. Horror is fun.
Horror is mine and my husband's favorite genre to watch. We will watch any horror movie that is streaming on any single platform. We are nuts about it. It is that adrenaline rush. And drama doesn't give you that. I was really into horror my whole life.
You'd never know it from the parts you've played.
Yeah, it's really a different side of me, which is very exciting for me as an actor. As I said, I've been getting typecast for a very long time. It was great having Alex and Wes work with me on the set 
because it took some time to find the character. It's such a departure from who I normally am and who I normally play.
Are you nervous?
Yes. Absolutely. It was my first big feature film, so there were definitely nerves. But the nice thing is, I didn't have time to really be nervous. We shot the whole movie in less than a month, I think it was three weeks. So we barely had rehearsal. We were just grounding and put the pedal to the metal. So, even though I was nervous, I didn't really get a chance to be nervous; we just had to go. 
The "Summoning Sylvia" is set to release in April in select theaters and available for rental and purchase on most major streaming platforms. 
IG – @frankiejgrande
TikTok – @frankiejgrande