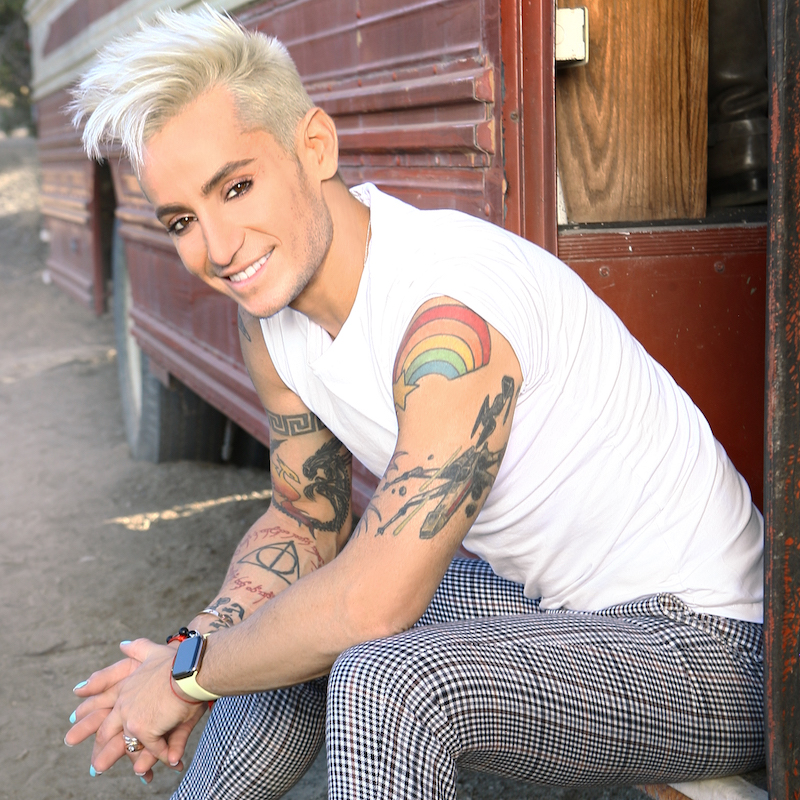 Frankie Grande is a well known Broadway performer and TV personality (and Ariana Grande's brother), and he is coming to the Asylum Theater (307 W. 26th Street) for a run in Titanique. It's a hilarious romp of a musical using Celine Dion songs to tell the Titanic story, but in a very queer and satirical way that no iceberg can interupt! In a conversation with the recently married actor and singer during a rehearsal break, we spoke to Frankie about Titanique and what a thrill it was for him to be cast, as well as some of the backstage fun he's having.
Hello, Frankie. So let's talk about your new off-Broadway show, Titanique. I know it's a spoof, so what role do you play?
It is a parody of the film Titanic. I play Victor Garber, who in our version is basically the captain, the owner and the builder all in one role, lovingly called Victor Garber, which is just hysterical. I also get to play Luigi from Mario Karts, which is our version of Fabrizio from the opening–Leo DiCaprio's best friend. 
So how did you get involved with this?
I've been really good friends with Constantine Rousouli, who wrote the show with Marla Mindelle [and Tye Blue], for many years. I was doing Cruel Intentions off-Broadway with Constantine when they were looking to do a reading of the show.  He was like, "Listen, I've got this role. It's a Celine Dion musical, it's Titanic, you get to play the captain, you get to crash the ship into an iceberg while singing 'I Drove All Night'. Are you in?" I was like, "Absolutely." We are in rehearsals now and it is just so much fun. I get to smile and laugh with my friends all day long. And it is just a joy. The cast is phenomenal. Constantine and Marla have really written something that I think people are going to love. They're going to really flock to it. I think we need this kind of theater at this time. I think we need some escapism. I think we need some joy. It is so queer and it couldn't have been more perfectly timed for Pride. It is the gayest show I've ever been in by far.
Do you get to be a little bit of yourself in it?
I definitely have added a lot of Frankie-isms. People are going to think, "Oh wow, Frankie was really acting in this." I play two very strong characters that are not like me. But I do add a lot of my Frankie Grande flare to it, which is great. The way they directed us is kind of like we are retelling the story. So there are elements of us in these characters as well because we are like an echo of the past. You'll see me, Frankie, out a few times. It is a wild role.
I cannot wait to see it. What is your favorite part?
My number, "I Drove All Night", is pretty wonderful. I think I like when we transform into our characters when we do our reveal in the beginning. It's when you are introduced to all of our characters. I really think it's a very magical moment. I think my favorite part is when Celine does anything. When you see Marla as Celine Dion, you're going to lose your mind. She is so talented and so funny. Her impersonation is so wonderful. I honestly think Celine would love this show.
How long is the show running? 
We are currently selling through the end of September. We open on June 14th [June 23 is the official opening]. We have done this show four different times and every time we've had like three days of rehearsal. It has been amazing to have a month of rehearsals this time. That is what we were missing. When we do a staged reading, you don't get to do dance numbers. This has been very exciting and I can't wait for the people that have already experienced it as a reading to experience it as a fully staged musical.
Aside from this, are you working on any other projects?
I am still doing my SpongeBob podcast, SpongeBob BingePants, and those episodes come out weekly on Thursdays, wherever you get your podcasts. We are just wrapping up season one–the episodes are still coming out. Pride is going to be a very busy month for me. I'm going to be everywhere. So look out for me because I will be around as a newly married man. [Frankie and Hale Leon tied the knot in May.] I love this city so much. I've been seeing so much theater, which is great because I haven't seen a show since before the pandemic. I am happy to be back in the city and happy to see that New York is thriving again.