A Romance of a Lifetime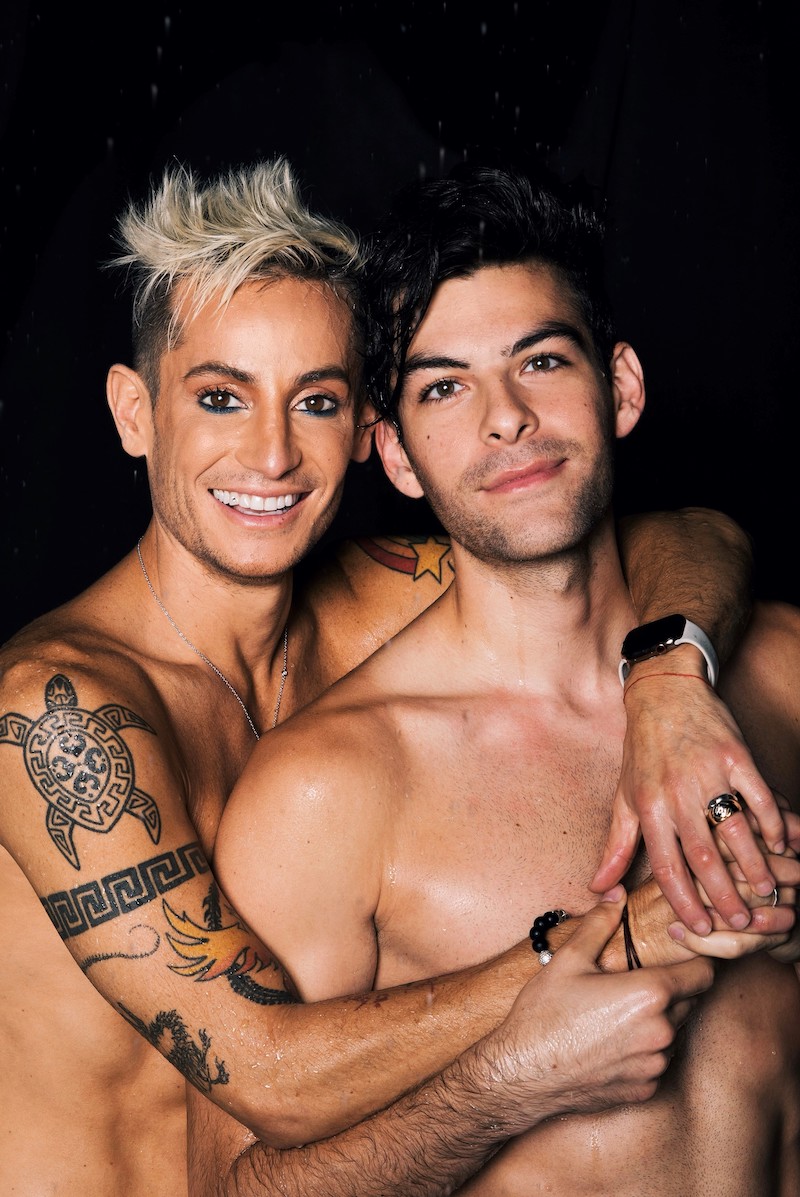 Frankie Grande—the effervescent, talented, handsome and flamboyantly confident actor, singer, dancer and producer— the lovably shy, poised, commercial ACTOR HALE LEON, who looks like he stepped out of a Giorgio Armani advertisement, agreed without reservation to reveal the intimate actualities of their adored and fiery relationship.
Grande is recognized for his role as Franz in the Broadway musical Rock of Ages, as well as in Mamma Mia and several roles off-Broadway. He was also a contestant on the U.S. reality show "Big Brother" and "Celebrity Big Brother" in the U.K. Grande was also a judge on "America's Best Dance Crew" and a co-host on the live Amazon fashion show, "Style Code Live." He is also known for his philanthropic work as co-founder of Broadway in South Africa, and just happens to be the brother of singer Ariana Grande.
Frankie will be starring as Franz once again in an immersive production of Rock of Ages, beginning this fall in LA. The show has never been done this way and promises to be wild, but then again, whatever Frankie does sparkles!
Leon is a model, actor, social media influencer and Instagram star. He has been in several productions, including Sweet and Sour, My Piano Lesson and The Gay Police. He is also a serious gamer and works at developing apps.
In between kisses, the two explained how they met, how much they are in love and why it's a perfect relationship.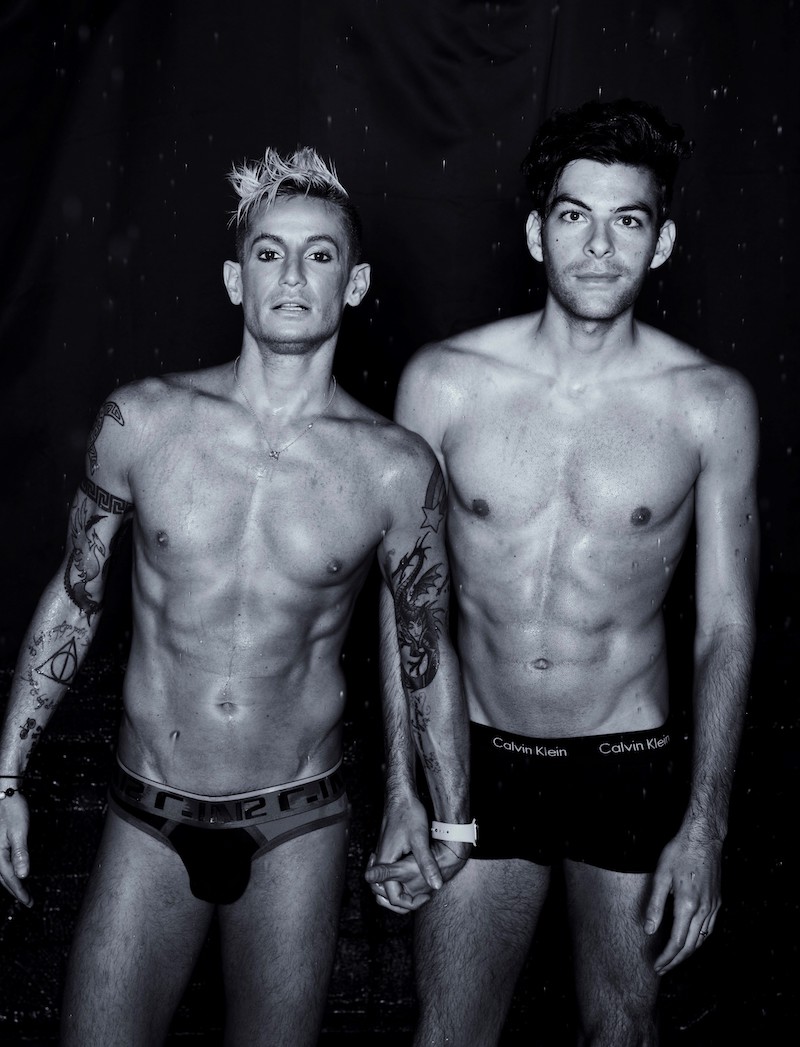 Frankie, first of all, aside from Hale, what's going on?
Frankie: My big project that I am excited about coming up is I've been rehearsing for Rock of Ages. I'm going to be playing Franz in Rock of Ages in a new, immersive production in Los Angeles. It's going to be at the Bourbon Room, so we are actually building a space that is going to be like a bar, and Todd English is going to serve the food, and then it will be an immersive production of Rock of Ages inside of this space. It's going to be really cool. I got to close the show as Franz on Broadway; now I get to open the show in Los Angeles. It's returning to the Hollywood strip. I'm super, super excited about it.
When will it open?
Frankie: Rock Of Ages – Hollywood opens Fall 2019, tickets available at Ticketmaster.com, and then it will be here forever. I'll definitely be in it through February, so we've got some time for you to come and see it.
I'll be there in January, and I wouldn't miss it. That's so exciting. So when you say immersive, how will the audience be involved?
Frankie: It's more like because there is no fourth wall. We are going to be in the audience doing the show, dancing next to the tables. We will be able to interact with the crowd. This has never been done. Rock of Ages has always been interactive with the audience, but this time we're going to be in the crowd with people. We're going to be able to grab their drinks off the table and directly address people. We have poles in the audience for pole dancing. It's going to be very cool. The audience is going to feel like they are truly part of the show, in a way that's never, ever been done. It's so much fun!
So now it's your turn Hale. What are you up to?
Hale: In terms of my profession, I'm an actor, but I am currently coming up with a couple of endeavors that Frankie and I are doing together. We have a lot of things to look forward to. I am a commercial actor primarily. I'm a huge nerd. I've developed apps. Just anything to do with technology is what I involve myself in. I have a massive pop collection.
Frankie: I do too.
OK, now let's have some fun. How did you meet?
Frankie: Oh, that's a fun story. We can tag team it. I was going out a lot to the Abbey and to West Hollywood. I was going out all the time, and I was getting so tired and bored of the scene, and I met these really nice guys there, and they invited me to a place called Oil Can Harry's in the Valley where they do line dancing. I had already decided that I was not going to meet anyone that I wanted to date in West Hollywood; it was just not going to happen. I thought maybe I needed to go hang out in the library or something or sit at a GameStop and look for nerdy people. So I decided to go line dancing. There was a big crew of people at the Oil Can that were line dancing. I saw Hale—he was dancing up on the stage, because he is a prolific line dancer. There was just such an instant attraction, and I thought he was definitely the man for me. It was so weird. I haven't felt like that in a while. But then there was this other guy trying to talk to me, and literally I told him, "I can't talk to you, I have to go look at this person." So I ran after him, but he had disappeared.
Hale: I've been a line dancer for two years now, and I go to Oil Can Harry's every Friday, but even sometimes two days per week. That Friday it was extra packed. That's because Frankie brought his whole crew, and everyone was there. I was there with all of my friends, and I was wondering why it was so packed today. I was doing my thing, I was on the stage, and he saw me. After that I ran to the bathroom, because I have this crazy thing where I have to check my hair every five seconds.
Frankie: Have you seen his hair? It's quite amazing.
Hale: When I go line dancing I sweat, so I get a little crazy about it, so I ran to the bathroom after that song, and while I was checking my hair I turned around and there was Mr. Frankie.
Frankie: So the first time when he went away, I didn't know where he went. I couldn't find him again for another half hour. That was annoying, and I wanted to talk to him.
So the second time he went and ran off the dance floor, I followed him. I saw him running to the bathroom, and that's where we met. I chased him into the bathroom, because I wasn't letting that person out of my sight.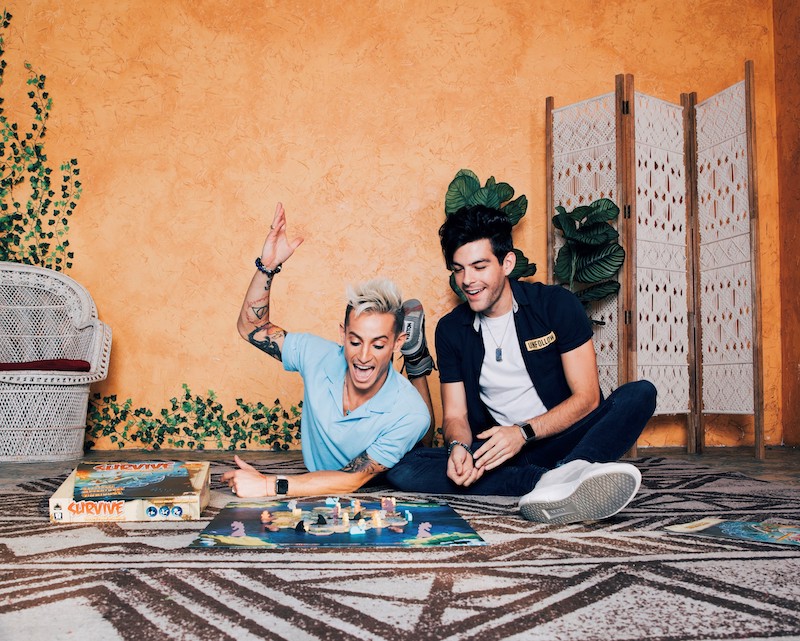 So who said what first?
Hale: I'm definitely the more reserved person. I'm pretty shy. So Frankie ran in there…
Frankie: I said, "Hello, I'm Frankie, nice to meet you, what's your name?" He said, "Hale," and I asked, "Are you are professional dancer?" He said, "Absolutely not." I said, "Wow, I think you're really cute, we should dance together." He was so nervous, so adorable, so shy, so I had to literally woo him. Hale was not someone that was immediately into it. I had to convince him that my intentions were pure, and that I was really in it for him as a person, and it was really cute. On that first date when we were dancing together he was so shy, even about kissing me on our first meeting together.
Hale: I'm very traditional. I have my moments where I get crazy, but in most situations I'm not very boisterous. Frankie was very upfront though, and I thought, "Oh God, what do I do?" So I panicked a bit.
How'd he finally convince you?
Hale: He convinced me because after talking a bit, I was nervous, and for some defensive way, however I said it, I came out with, "I'm a nerd," and then he told me he played Nintendo Switch. That immediately caught my attention, because I would never have thought of him as someone who played video games.
Me neither.
Hale: Yeah, I know, right.
Frankie: I am a huge video game freak and fanatic. And I've got skills too! So basically once I started talking about Switch, we started talking about games and asking each other questions like, "What's your best Super Smash Bros. character?" I had all of the answers to all of his questions.
Hale: He passed the initial test for sure.
Frankie: And if you look at Hale, you wouldn't think he was a nerd; he looks like a damn Versace model. On the first minute we met we both realized about each other that there was way more than meets the eye. It was really intriguing to both of us I think.
Hale: It was definitely really eye-opening for sure. I would've never thought that he was into video games, but then I looked at his arms and he has loads of tattoos that definitely are evidence of that. It's just crazy that two individuals were brought together. I would've never thought we had so much common ground, but we were literally so similar. It's such a beautiful, amazing thing to happen.
Frankie: And we met at country line dancing. How did that happen? It was definitely the universe.
How long have you been together?
Frankie: We just had our six-month anniversary last week.
Do you fight ever?
Frankie: Our fights are more like a passionate discussion. I've actually never been in a relationship that was so supportive, and Hale is so grounded. So when I get dramatic, he doesn't dial into me. That quickly neutralizes my dramatics. I will be honest, I have a flair for the drama, I definitely do. He doesn't dial into it, and so it passes really quickly. We don't really disagree very much.
Hale: In terms of our arguments, honestly, the way I describe this relationship is it's so easy. There is hardly ever any problem. There were no struggles and conflicts, and it's just easy and fun. It's just so crazy, I didn't know this could exist.
I think the two of you are the cutest couple ever. I had no clue that you are both nerds.
Hale: The foundation of our relationship is it was built on literally us board gaming together. I have a massive collection, over 100 games. I introduced him to so many games, and that's all I ever wanted, someone to just share that with me. It's just so cool. Frankie is just totally down for all the nerd stuff, and gives me competition too! He beats me, and I love it and I want to play again.
Frankie: He kept saying from the beginning of the relationship, "Are you lying to me, or are you really having fun?" I said, "Hale, not only am I having fun, I'm kicking your ass!"
Hale: I didn't believe him. It took forever to actually accept it.
I wouldn't have believed it from either of you.
Hale: Don't judge a book, right?
Do you have any future plans together that you can disclose?
Frankie: Hale has moved in, which is awesome. So we're living together now, and from this point forward we're just going to start doing the deal of living our lives. I've never lived with someone in my life, so that's where we are right now. That's where we'll stay until the next thing comes along with the next phase of our relationship. We're going real good and strong right now. Believe me, when there's a ring you will know. Everyone will know. It will not be a secret.
Hale, when Frankie travels, do you go with him?
Hale: I've actually been joining him in a lot of his travels. We were just in New York; actually, that's where I met you. We go on these random little journeys for work, which is great for me, because I am someone who actually doesn't travel much. I'm a huge homebody. I love staying home and being by myself half the time and just doing whatever. So he's been showing me the world, and I just see all these amazing places, which I love. So yeah, it's been great.
What do you like best about each other?
Frankie: For me, the thing that I love the most about Hale is he makes me smile all the time. I've never been in a relationship with someone who does the littlest thing and it just gives me so much joy. Just last night we were going to bed and I said, "I love you very much," and he said to me, "I love you more than very much." It was just the cutest thing, and I literally thought about it and I smiled for 20 minutes before I fell asleep. It just was so adorable and sweet. It's the little things that bring me so much joy. Also, he likes to set up elaborate pranks on me, and I love it so much. It makes me so happy. I don't stop smiling when he's around me. He's so playful. I think that's the thing that I like. That's what it is.
Hale, you're up.
Hale: This is going to make me sound like I'm copying him. Fundamentally, when I think about this relationship, why am so happy in it, it's literally because I get to wake up every day with him and play and have fun. He is such a fun spirit, a loving spirit, and so smart. I get to joke around with him and smile, and I've never laughed so much in a relationship. I laugh all the time. Stuff that comes out of his mouth, I just sit there and laugh. It makes me so happy. I found someone that I get to have fun with and play with for the rest of my life. That right there is essentially… that's all I could ever ask for. He does everything for me. He's so caring and puts me first. It's crazy how much he puts me first and makes sure I'm comfortable when I'm not. Fundamentally, I have such a fun time with him.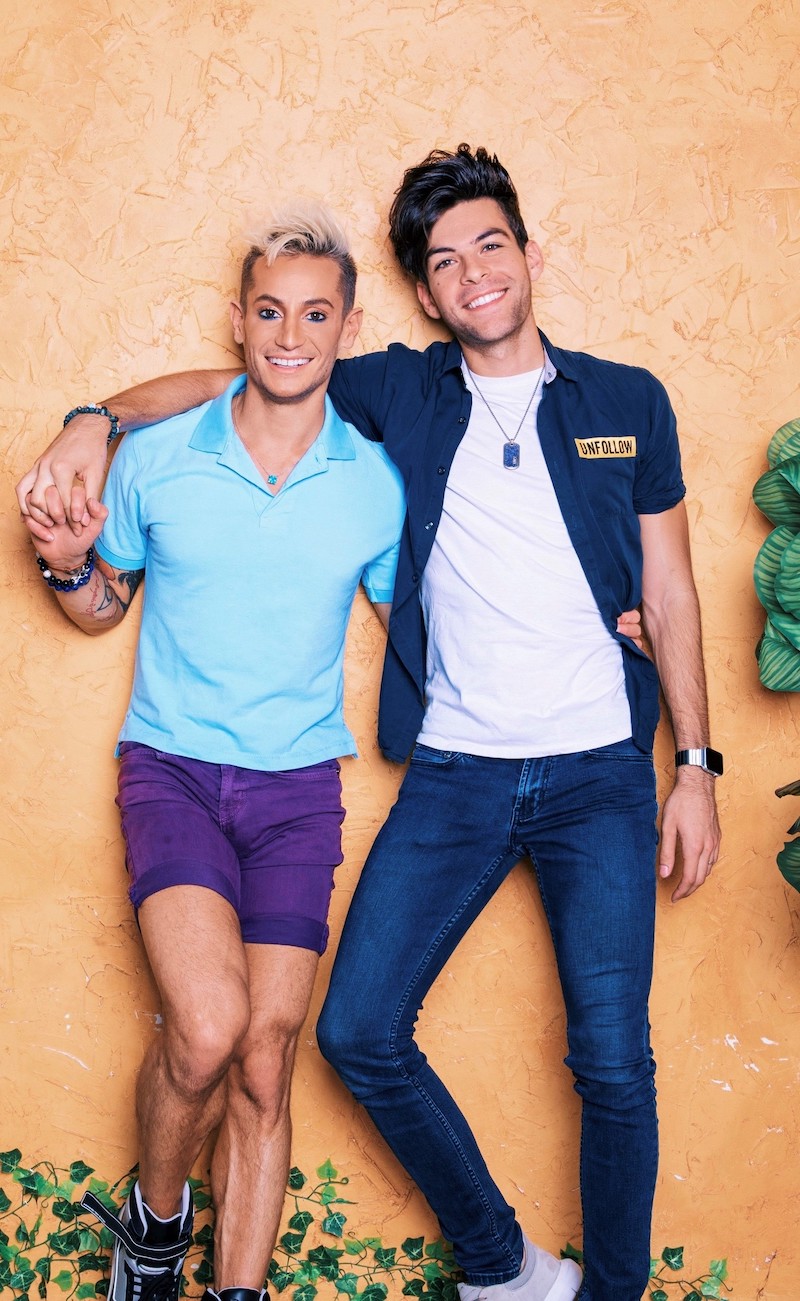 I'm just so glad you guys opened up about your relationship together.
Frankie: I loved this too, because I don't think many people know about this side of our gaming and all the nerd stuff, and that it was that and country line dancing that was initially what brought us together. I feel that it's nice that we get to represent another perspective of LGBT love. We are both sober, by the way, which is kind of cool. I've been sober for two years, and Hale has been sober for his whole life.
Hale: I've never actually drank or touched any drugs before. It's amazing that I found someone that is sober. That alone is something also that bonded us.
That's a big deal in the gay community.
Frankie: We know! I meet sober people all the time, but it's not when I'm out. It's usually at meetings or something. He's sober just because he has been his whole life. It's made the relationship so much easier that we're both sober. Crazy how much easier it is.
Hale, where do you come from?
Hale: I know, I'm very spiritual. I have a strong faith in God, so my entire life has always been revolving around that. I decided when I was very young that God doesn't want me to do drugs, and so I stuck to that my entire life. It's just how I live my life. All my friends around me all drink, but I've always stood by my choices. I've never touched anything. I love it, and I think it's made me a very good and unique individual. It's everything to me.
Frankie: I introduced him to a bunch of sober people. He said, "What do you mean your friends don't drink?" I told him they were sober and they don't drink. He thought that was so weird, and he didn't know that there were people that don't drink. I was like, "Yes, Rose."