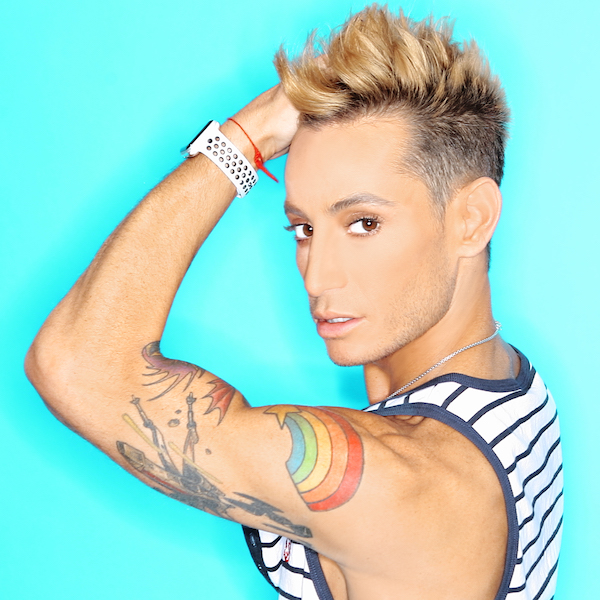 With the sun shining amidst the weather perfect, I had a chat with the talented, whimsical and effervescent dancer, actor, singer, producer, TV personality and YouTube guru Frankie Grande while he was celebrating a tan in The Pines at Fire Island, following an appearance at The Ice Place.
The social media phenom has appeared on Broadway in Rock of Ages and Mamma Mia! as well as in several Off-Broadway productions; he also has produced shows for Broadway as well. He appeared on "Celebrity Big Brother U.K." and was one of the judges on "America's Best Dance Crew."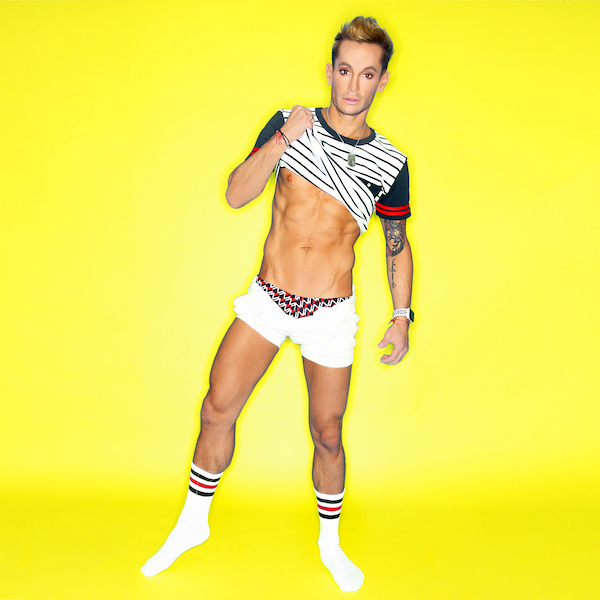 More recently, Grande starred in The Unauthorized Musical Parody of Rocky at Rockwell Table and Stage in L.A., portrayed Frank-n-Furter in Rocky Horror and appeared as a guest on "RuPaul's Drag Race." Played Victor Garber in Titanique: In Concert, a parody jukebox musical based on the music of Celine Dion. He is also about to release a new single and video called "The Mad Ones." He has also produced his own one-man show.
The brother of singer Ariana Grande, Frankie is also recognized as a huge philanthropist. His charitable endeavors include creating Broadway in South Africa, an organization designed to teach disadvantaged youth the performing arts (which has merged with buildOn, an organization building schools in Malawi). He participated in Broadway Cares/Equity Fights AIDS and Broadway Sings for Pride.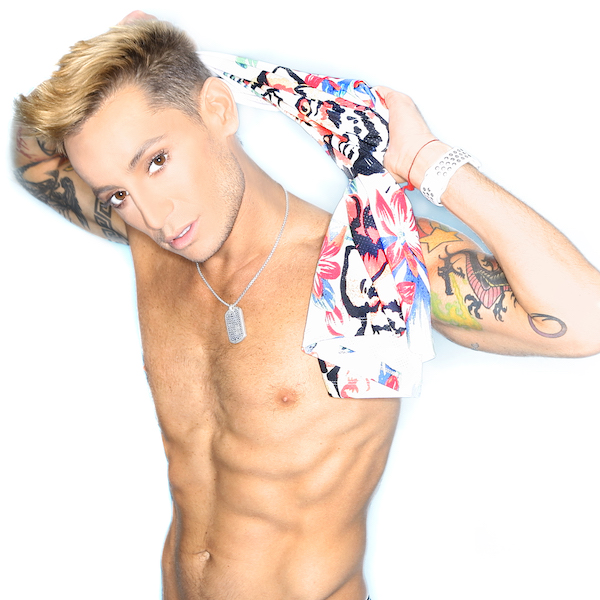 Hey Frankie, how are you?
Hi, Eileen. I'm wonderful. I'm laying out and absorbing the sun. It's so nice. I'm in the harbor right now on Fire Island. OMG, it's so lovely.
I'm so jealous! What are you up to over on the island?
I wish you were here. I performed at the Ice Palace last night. There's a show called Broadway Sessions. I've been doing it for about 10 years. They bring out Broadway performers from New York City to Fire Island, and we do a little set. I did a mini set of my one-man show, and it was really cool.
You are so Broadway! Did you like Head Over Heels?
I am! I loved Head Over Heels. I thought it was fantastic. The comedy was great, the costumes were great, the voices were amazing. The Shakespeare I thought was so clever, the medieval style; I thought it was so relevant. I thought it was awesome.
Yes, it was. So aside from performing at Fire Island, what are you up to?
I'm going to be performing in Titanique, the musical, if you want to come see it.
I do!
Then I have a TV show I've been working on for about a year now. I'm going to have to give that some extra attention when I go back to L.A. I have a bunch of different things on my plate coming up. I have my TV show development that I have to dedicate some more time to, Titanique, and of course all my charity work. Basically I'm just living, and it's so lovely. I love that. I show up. I get asked to do something, and I go and I do it, and I do it well, and then I do the next thing. It's very nice.
So you just appear and be you—I love that. I just found out that you appeared in "Big Brother U.K." That a big deal there.
Yeah, "Celebrity Big Brother U.K." It was a really fun, crazy part of my life.
Did you win? Do you win anything?
People win, but you don't win anything. There's no prize. I was a finalist. I went all the way to the end. Like every other reality TV show that I do, I always get to the end, but I never win. But it's fun, and I keep doing it. I like the game anyway. It's so much fun.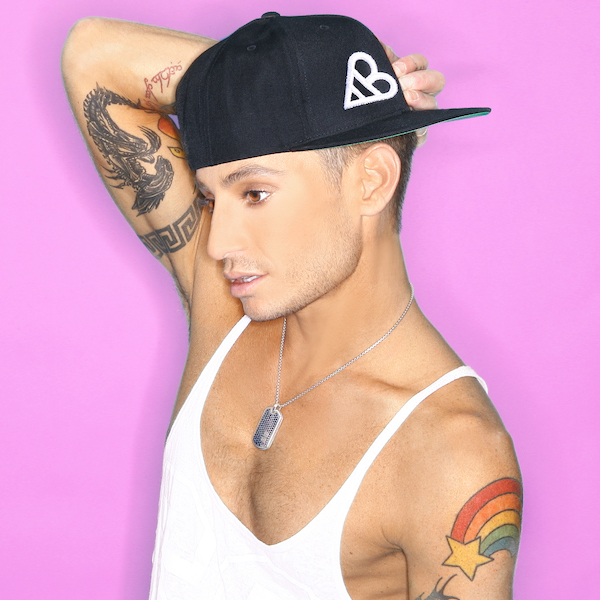 I know you probably can't tell me about your TV show, but can you tell me about your charity work?
I'm just finishing the AIDS/LifeCycle, which is 545 miles from San Francisco to L.A. I raised $39,000, and all that money goes to the L.A. LGBT Center, which is an incredible organization. It provides housing for homeless gay youth in L.A. and senior citizens. They totally medically support them. They have therapists for people who are dealing with being kicked out of their homes, people who are dealing with coming to terms with their own sexuality. They have a full medical staff. They have AIDS testing, prevention—even if you have a cold they help you. I am now working with The Ali Forney Center, which is a homeless, gay LGBT center in New York City. I've been working there for 10 years. They are the ones who put on the Mr. Broadway pageant that I won in 2007. So I'm going full circle. Everything is full circle in my life. One thing starts, the next thing begins. I have music coming out. I can talk to you about that.
Tell me.
I'm doing a dance/pop record with my best friend Emma, and it's called "The Mad Ones." It's a beautiful song. It's got a message. I think you will enjoy it. It has a great music video directed by my friend Ben. Debuts September 10th, and I'm so excited.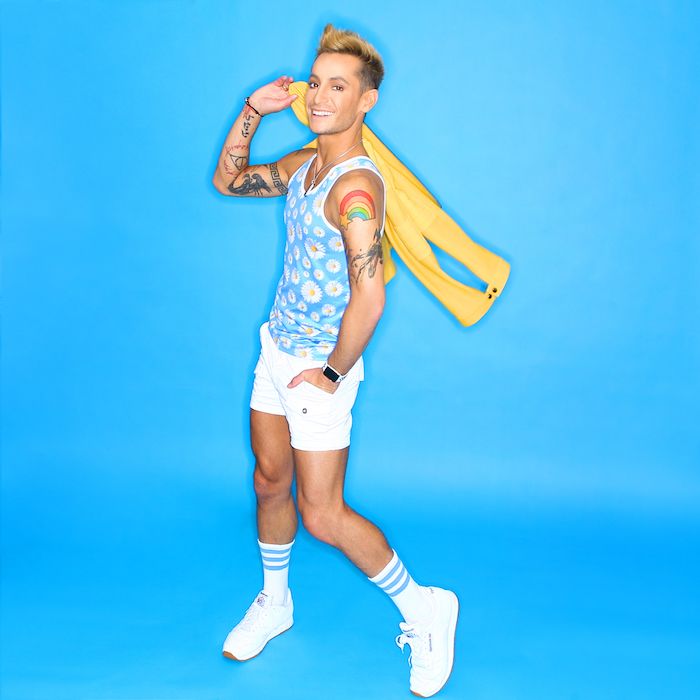 We're working on a project for World Pride and Stonewall's charity. I'll send that to you.
I love that. I was Stonewall's ambassador this year. You know, I do everything I can for the LGBT community. I think it's so important. I feel like I've worked so hard to live this out and this proud, I have to help those people that are still struggling to find help in their quest. I feel it's so important. Even when you do find it, it's hard to stick to it. That's the biggest challenge. Every time someone tells you you're wrong, there is so much pressure; you say, "OK, I'll go back into the closet, I'll tone it down." That's what we can't do. I think it definitely has a lot to do with our current administration, but also people don't like being told "that thing." So when I go on my Instagram, and I see the one comment that says "faggot," immediately I think, "Oh, shit, I shouldn't have posted that photo, it's too revealing." That was four years ago, but I've come to terms with the fact that, you know, that's not my problem—it's their problem. It's a huge reflection of their unhappiness, their misery. They are sad people, and you know what, I pray for them. When I see someone saying something mean on my photos, I think, "Wow, they are in a really horrible place in order to be that mean." I hope and I pray that they find happiness. Then I move on.
Catch up with Frankie Grande FROM THE RED CARPETS + BEYOND
FACEBOOK:
Frankie J. Grande
TWITTER:
@frankiejgrande
INSTAGRAM:
@frankiejgrande