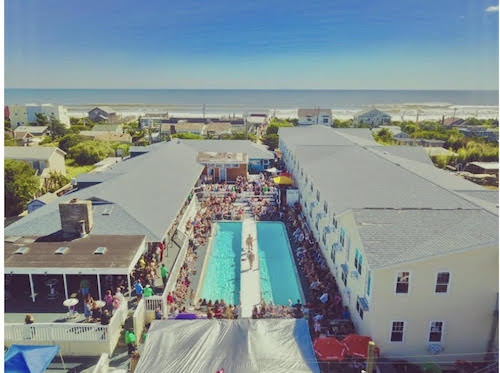 SPLASH INTO A NEW CIRCUIT FESTIVAL
The weekend of August 21-22, the boys will once again descend onto Cherry Grove, Fire Island for a full two-day, three-party experience run by some of the top DJs from the circuit world and surrounded by the beautiful scenery the island has to offer. World-famous producer DJ Aron, who has been spinning the largest circuit parties around the world for over 20 years, will headline Gostoso, the main event Saturday August 21st at the largest dance floor on the island, The Ice Palace Nightclub.
Backed by some of the biggest DJ names in the industry and ready to take over Fire Island, producer Maurico Lagreca and his partner and team are ready to bring their high-quality productions to the island, just as they have been producing in their events in Rio de Janeiro, Miami and NYC for the last five years, They promise to bring high-level quality production, state-of-the-art sound and lighting and dynamic performances to all three party venues.

In addition to the main event, the festival will kick off Saturday from 1-9 PM with the Guapo Pool Party at the Grove Hotel, which will transform its pool and deck into an oasis for the hottest boys to play and dance to the beats of Brazilian DJ Paulo Fragoso and DJ Arno Diem from Los Angeles. The main event, Gostoso, will start right at 10 PM at the Ice Palace Nightclub, where the boys will frolic the night away to the beats of opening DJs Binho Uckermann and Thiago Layber, followed by superstar DJ Aron. A night of pure sexiness and happiness is guaranteed.
To end the festival on a stellar note, the closing sunset Mystiko Party, which takes place at the Belvedere Hotel deck overlooking the stunning bay, will go from 3 PM to midnight and will be a preview of the Mystiko Circuit Festival, which will take place in Tulum later this year. Be ready to be transported to the sights, sounds and sensations of an oasis. Headlining this event will be DJ Alex Acosta, DJ Alex Lo from Mexico and DJ Carlos Rojas from Miami. Be ready to be connected with the universe at sunset!
Splash Weekend Festival will take place on August 21st-22nd in Fire Island, NY. Tickets are being sold as a three-party combo or individually for each event. A portion of all ticket sales will be donated to the Cherry Grove Community House & Theater and Out My Closet.
For more information and details regarding the event please
visit www.splashfireisland.com