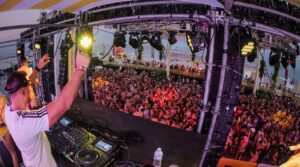 "After the massive success of last year's Thanksgiving festival, we are excited to do it all over again, bigger and better than ever before," says party producer Hilton Wolman.  He and Luis Morera and Billy Kemp are bringing back URGE Miami Festival, a massive three-day party taking this Thanksgiving weekend on the sands of South Beach.    The weekend will feature a list of the world's most famous circuit DJs including Alex Lo, Dan Slater, Edu Quintas, Enrico Meloni, Jerac, Joe Gauthreaux, Marvin Ayy, Mauro Mozart, Paulo Fragoso, Suri and Tom Stephan, with more to be announced soon.
URGE Miami Festival kicks off Friday, November 25 with Matinee Pervert XXL.  DJ's Tom Stephan and Alex Lo will take over the decks at Miami's newest nightclub, M2 Nightclub, for their raunchiest production ever.  At 35,000 square feet,  this will be the largest party ever thrown by URGE. Matinee Group is promising a level of production seldom seen before and they are flying in some of the hottest dancers from Spain and Europe to keep the dancefloor shaking into the wee morning hours.
At 2pm on Saturday is the Royal Palm South Beach pool party, presented by Eliad Cohen as part of his Papa World Tour.  DJs Dan Slater and Paulo Fragoso will raise the temps with their high energy beats, making extensive use of the incredible facilities offered by Royal Palm.  Expect plenty of wet and wild, splish and splashy fun and gorgeous men in skimpy bikinis.
The weekend's Saturday night Main Event, URGE Warrior, will take place at one of Miami's premier film studios, home to some of the biggest blockbusters on HBO Max and Netflix, on their largest sound stage. DJs Suri and Mauro Mozart will battle it out with incredible beats in a spectacular production, sure to amaze.
It leads to the signature event of the weekend:  the long-established Sunday Beach Party on the sands of South Beach. The sandblast begins at 2pm with DJ's Enrico Meloni and Joe Gauthreaux. Kidd Madonny and his company, 3DX, are building the decor for the party.
"Circuit fans come from all over the world to experience one of America's biggest LGBTQ beach parties," Hilton Wolman explains.  "We will not disappoint."
This year's host hotel is the Royal Palm South Beach.  Special $249 room rates are available while supplies last.
A portion of the proceeds from URGE Miami Festival will once again benefit Miami Beach Pride.
Tickets for URGE Miami Festival are available now on the website.  GA and VIP tickets are available, as is the popular 24-hour pass that includes the Sunday Beach Party, Sunday night event and Monday morning Afterhours event.