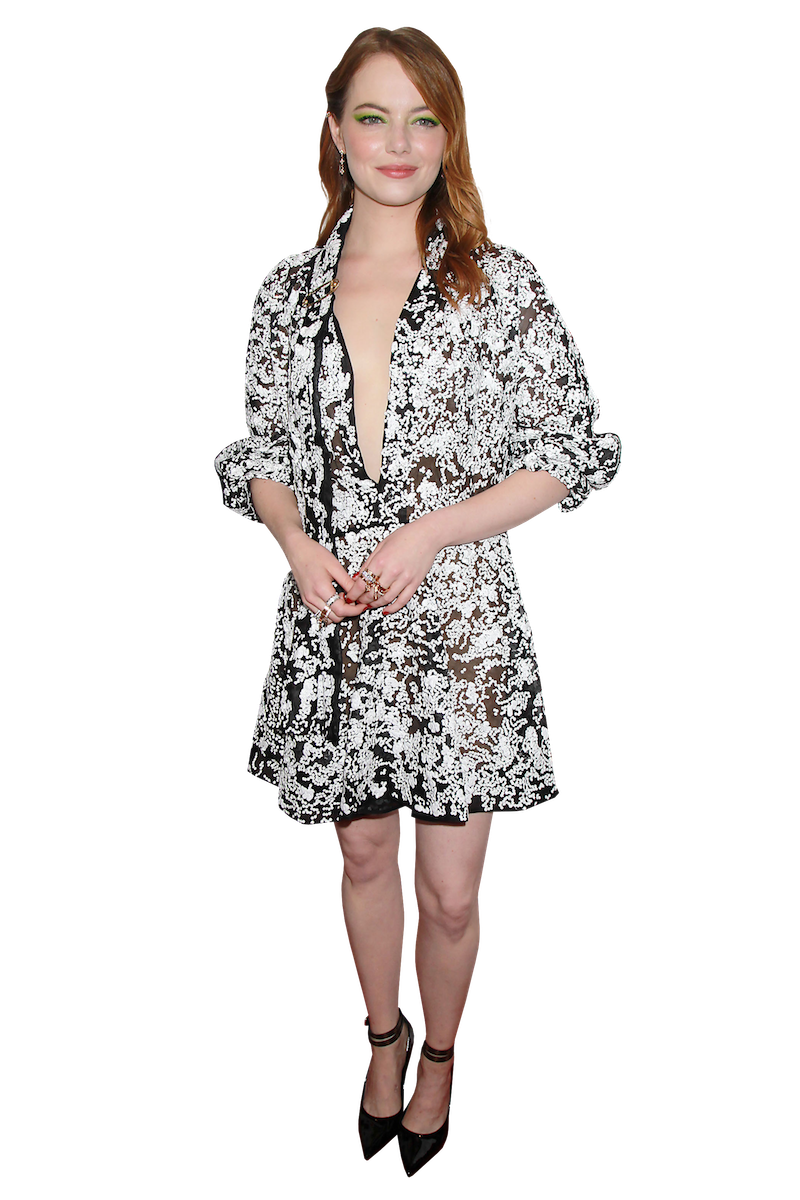 "The Favourite," which undoubtedly will be applauded as one of the best films of the year, is set to celebrate its release in theaters on November 23. The movie stars some of the biggest actors on the planet including Emma Stone, Rachel Weisz, Olivia Colman, Nicholas Hoult, Joe Alwyn, James Smith and Mark Gatiss and is flawlessly directed by accomplished director Yorgos Lanthimos, with writing by Deborah Davis and Tony McNamara.
"The Favourite" embraces every aspect and ingredient that bestows and subscribes to the excellence of a film, incorporating power, love, lust, romance, danger, suspense, darkness, comedy and a hint of madness.
Oscar, Golden Globe and BAFTA-winning actress Stone portrays the role of a strong, confident, charismatic and manipulating spirit, struggling for aristocratic status. The animated actress, known for her roles in "La La Land," "Birdman," "The Amazing Spider-Man," "The Help" and "Battle of the Sexes" (to name a few) has been dubbed one of the 100 most influential people in the world by Time.
She strolled into the hotel suite with a gleam of mischief in her eyes and a flamboyant sparkle in her persona.

Congratulations on the movie and all your continuous success. How did you prepare for this role, which is probably unlike anything you've done before?
I worked on the dialects, I took some etiquette lessons, I tried to research a bit of the history—that didn't really matter too much, because the actual history was combined with the fiction. I spent a lot of time with the cast. I spent a lot of time with Yorgos. That was pretty much it.

Did you feel like an outsider because you were the only non-British one in the cast? Your character was also coming in to a new place, like an outsider.
I agree with that. She does feel a little bit out of place. I did too in a way, although I'm a real Englander. I didn't feel that out of place, because I tend to really like British humor. But I did use a little of that, trying to fit in and trying to sound authentic. I think in a way it follows Abigail's journey.
How did you perfect your British accent?
I had a really, really good dialect coach. It was hard, because when I first was practicing the British accent to audition for Yorgos I was working on RP, which is like the queen's type of English. That was too English next to Olivia and Rachel, who are much more modern and obviously British themselves. So Yorgos asked me to change it to make it sound more like theirs. So I sort of started listening to some more modern accents, like Carey Mulligan's accent. She has a deep voice, and I love her, so it was easy to watch her interviews. I'm not trying to talk like her, it's just keeping that depth and the cadence. When people try to do a British accent they tend to want to talk up here, and Yorgos wanted me to keep it low, so it was interesting listening to people who spoke in a lower cadence. For the most part I just tried to put my hat on and try to go into Ubers and taxis and try to speak the accent.
Is there any portion of Abigail's persona that is synonymous with yours?
Yeah, there is a lot. I'm not going to tell you one.
With your choices of roles that you've taken, like Billie Jean King, do you find yourself getting excited about these really, really strong women that are making their stamp in history, no matter if it's real or not?
For sure, yeah. It's definitely very exciting to get to play emotionally, complex, layered women. It is a real joy. I didn't always realize, like, why am I so happy? Like Billie Jean, she's devastated for most of that movie. But it was an incredible movie, and I was so happy to be there, because it's truthful. It's not like I'm grinning with wide eyes and being charming for charming's sake. Even Abigail, she is charming, and she is very sweet, but for a reason, not just because it's pleasant to watch a woman be that way. So it's a joy; I really love it. My argument for Abigail is that I think she's a survivor. I can understand a lot of what she's doing, even though I wouldn't do it myself. I can understand the depth of trauma that she's been in and that she needs to get out of. There is only really one moment that I cannot redeem of hers. You can probably guess what that is. Do you know which one it is?
Stepping on the bunny.
The rabbit. There was no reason there. She has the power. There is no reason that she has to roll over a being that's helpless…no reason. Nobody is watching. She doesn't know the queen is watching. Someone at an earlier interview asked me did she go in knowing that she was going to do this or was she responding to her circumstances? Was she this before, or did she become this?
This is fun for people to have their own interpretation of this. I don't want to answer what my opinion of this is. The same with Sarah, and the same with the queen. Does she love the queen, or does she love political power? Is it both, are they combined? Was she devastated to lose her because she still wanted to be in power? There are so many great questions about what makes these people tick, as in our own life. We don't fully understand all the motivation that is around us, and it's really great to see the three women who have some ideas but are not totally sure.
So when you did the movie you were really thinking that?
Yeah, all the time. That's what makes every day so fun, to tell that story. It's very realistic even though it's a set of outside circumstances. Also, something Rachel has continued to talk about is the stakes are so high. A country hangs in the balance. It's not just like a love triangle: England hangs in the balance. That's what also makes it really rich. These women have the power in their hands, literally.
Wasn't that the queen that put the U.K. together as we know it today?
Yeah. She was the first queen of the United Kingdom.

How does Olivia Coleman measure up as a love interest for you, as opposed to other love interests you've had in other movies?
She is such a dreamboat. She measures up incredibly well.
Shooting the film versus when you really got to see it on screen, what was your reaction?
Well, I did know what it was going to look like, because I'm a bit of a camera nerd. So I wanted to see what every lens was, what every shot was. Yorgos was very supportive of my love of cameras. He would let me look at the monitor a lot. So I did kind of know what it was going to look like. I did know how we were being shot from below, and that we all had different sizes on us. I don't know if you noticed, but each of the characters have different close-up sizes. So it's really fascinating. So he was, like, shaping it while shooting it, so I loved following it. I didn't know it was going to be in chapters. I didn't know what the music was going to be like. Still, I thought, "What am I watching?" the first time I watched it. By the second time I thought, "OK, I can watch the movie now."
Is that curiosity leading to some day stepping behind the camera and directing?
We'll see. I mean, just being on sets… I've been on sets for 13 years now. I can go back to my trailer and stay on my cell phone, or I can figure out what is actually happening here. Like, what does that look like, and why does it look like that? It's more cinematography than anything. I think the cinematography is just so cool.
What is the driving force behind choosing a role, aside from the money?
I think that all three have to come together in a way that makes sense: the director, the script, the character. In the past I didn't necessarily understand how to choose. I was very drawn to the story in the beginning. Then it moved really strongly into character. Then it moves really strongly into director without the other things necessarily being there.
Then I thought, wait a second, it's got to be all of it. Also, the ability to choose is new. When you are off with different things at different periods in your career, you feel you have to say yes to it for a plethora of reasons, whether it's financial or it's emotional reasons. So just recently, I would say in the past four years, I really learned that it all needs to come together and that I am incredibly lucky in making a choice. I don't assume that it will be the truth forever. I know how rare it is for an actor to get to do that, and I know I've made mistakes based on certain ways of choosing. I know I will continue to make mistakes in ways of choosing, but the best I can do is just try to have all the pieces of the puzzle in place or not do it.
Do you feel more liberated or do you feel a responsibility to yourself?
I feel a responsibility externally and internally. I didn't fully understand that my choices had impact before. It's very weird to get to, because I have a lot of insecurities. For me, when I was in my early 20s, it was a very difficult time in my life. I understand a lot more now at 30 than I did at earlier times in my life. I do think I kind of know the full scope of it now. That's just part of growing in any job. Right now it's all those pieces in place. I don't want to be that kind of person that gets hippo skin. I want to keep my skin thin always, because that is the only way to be a creative person, and try to be authentic. I just want to be more of a real person, but I struggle with that too.

Chances are you are going to find yourself in Oscar contention again. What does it feel like to be continuously well regarded and respected in an industry that is sometimes really mean?
Listen, that's not always the case. I don't always feel that I'm well regarded. I've talked about success, failures, mistakes, and I've had really amazing experiences, but I value the times when that's not the case. I don't know what will happen with award stuff. I don't know what's going to happen next year. Experiences like "La La Land"—it was an amazing year, but the next year when "Battle of the Sexes" wasn't everywhere, the people were like, "I've got to go talk to someone else." You have to hold it so lightly, because it's so… It makes you want to hang out with your family and the people you love so much more. But, this stuff is awesome, and it's so exciting when it happens. I try to enjoy it, because next year it might be, "Who are you?"