Interview By Ben Nelson / Photos By: Chadwick Fowler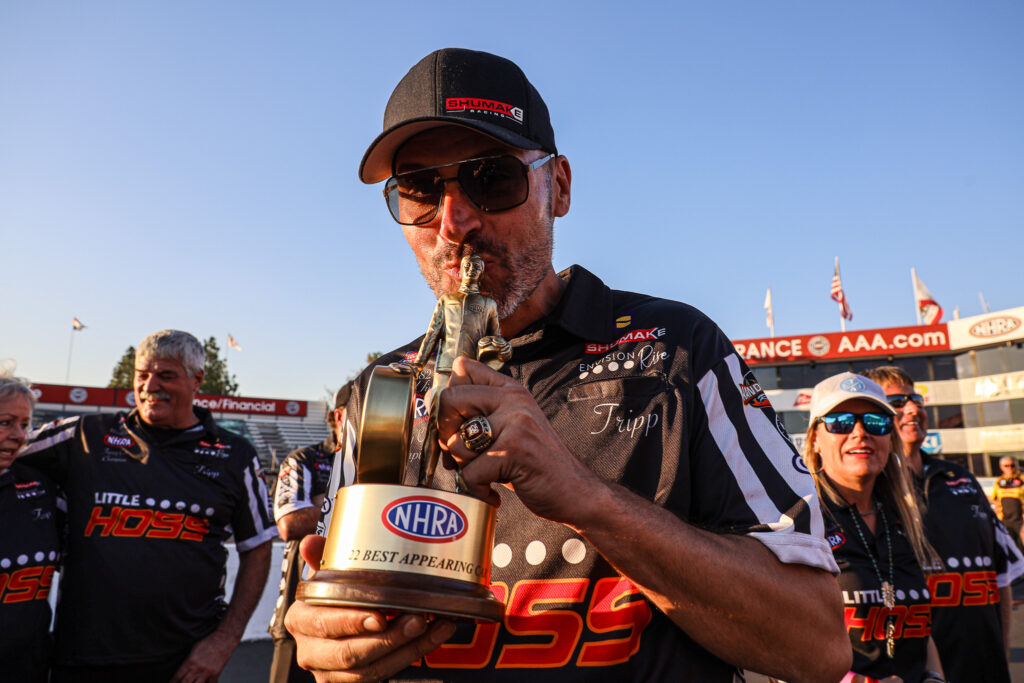 "People cannot wrap their heads around drag racing being something that is not drag queen related," reflects NHRA racer Travis Shumake.  
He has the distinction of being the fastest gay driver in motorsports history, and last month, Travis Shumake took several steps in his journey to being the first openly-gay owner of a major American motorsports team. He purchased his own hot rod (that he named Judith Light!), as well as a truck and race hauler, and moved into a race shop space in Brownsburg, Indiana. 
Home for Shumake remains NYC. He and his partner Daryl moved here five years ago and love that they can eat dinner at Arriba Arriba, finish a bottle of wine at Elmo and even dance at Hush without ever being recognized. We spoke with Travis Shumake from his apartment in the financial district. 
Hello, Travis. Congratulations on being named the fastest LGBTQ+ driver in motorsports history!
My sport is the fastest, by almost 100 MPH. It takes 24 NASCAR engines or 12 Formula One engines to match the power of my single engine. 
Who did you beat out?
The next fastest driver would be Zach Herrin, who races at around 200 MPH, so 120 MPH less than my 319 MPH record.
Is there a camaraderie between LGBTQ+ racers? 
There are different forms of racing and motorsports around the world. There's Formula 1, IndyCar, NASCAR, and NHRA drag racing, which I am a part of. We help each other out. I help other racers with sponsorship materials and I share outreach strategies and ideas for their social medias. It's amazing to have friends to talk to who are experiencing the same challenges on and off the track. 
What are some of the challenges?
The biggest hurdle is the sponsors. There is a lot of lip service to the LGBTQ+ community when it comes to corporate spending. 
Motorsports is a three-trillion-dollar industry and, looking to 2024, I am currently completely unsponsored. I have a sports agent, a publicist, everything a straight guy would have to get sponsors and I have yet to crack the door open on a big corporate check. Motorsports sponsors don't want to take a risk on pissing off their consumer base by putting their name on my car. Thanks, Bud Light!
As a gay man, do you feel welcome in racing?
For a lot of folks, I'm their introduction to the gay community.  I was protested by the Westboro Baptist Church last year. That raised a lot of eyebrows, but didn't bother me at all. I asked if I could keep the signs!  My fellow competitors understand the value I bring to the growth of our sport. While they may not agree politically, they support me being there. 
Did your being gay play a role in your decision to become a team owner? 
When I was told by my previous team owner that I needed to tone down the gay and stop using my signature rainbow parachutes, it lit a fire in me like never before. I felt like Elle Woods in Legally Blonde: "I'll show you how valuable Elle Woods can be!" and I stomped out of the race shop. Now, as the first openly gay owner of a major American motorsports team, I can do whatever I want for the LGBTQ+ community. I can auction off experiences for non-profits, I can bring the dragster to Pride events, I can hire LGBTQ+ crew members, I can be sponsored by Gun Oil…It's my ship now, baby!
You named your car Judith Light.  Does that make you the Danny Pintauro of the raceway?
I guess it does! Everyone names their cars something stupid like "El Guapo" or "Terminator 5." Judith popped up on an episode of Poker Face and I knew instantly it was my new dragster's name. Ms. Light is an icon and she uses her power and influence to support the LGBTQ+ community, as I plan to do.

Follow Travis on Instagram @Travieshu