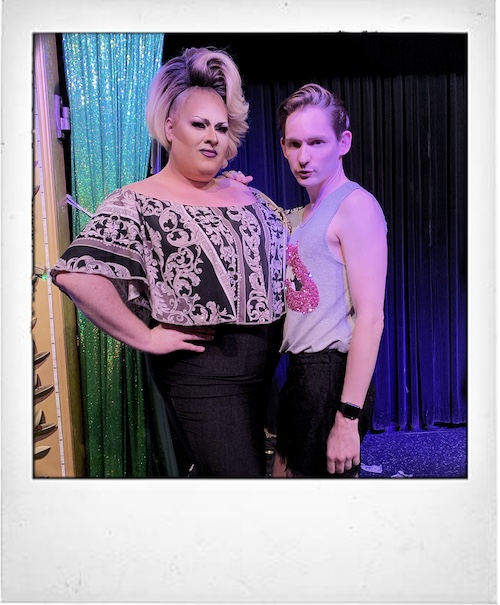 When thinking of mandatory Pride Month activities, one thing comes straight (pun intended) to my mind: drag brunch.
My first five years in New York, I worked every weekend and never got to brunch anywhere. In the last two years of having my weekends back, I just haven't made it. I know there are plenty of restaurants that host drag brunch, especially in Hell's Kitchen, but I wanted my first experience to be at Lips on East 56th Street.
I'd been to Lips once before, a few years ago when I interviewed the winners of The Glam Awards. It was just like I remembered: giant high-heel chandeliers by the bar, plastic legs (also in the highest of high heels) coming out of the wall and a giant pair of sparkly gold lips over the stage.
I met my boyfriend and two friends, Jack and Michael, for the 12:00 show: I was 15 minutes late, which our waitress (one of the performers) Lauren Ordair, was quick to comment on. "You know," she told me with a smile, hugging me from behind, "they have this amazing new app for smartphones—it's called CLOCK, and this other amazing app called GOOGLE MAPS that tells you how long it takes to get places! You should check it out." I knew we'd gotten the best waitress immediately.
Two pitchers were already on the table, mimosas and Bloody Marys. I poured myself a Bloody Mary: One sip and I already felt tipsy. "These are strong!" I said, taking a larger sip.
The theme was Broadway Brunch, all of the food named after musicals like Phantom of the Opera (Belgian Waffles), Wicked (Eggs Benedict) and Mary Poppins (Buttermilk Pancakes). I opted to split Les Miserables (Chicken Sandwich) and Hairspray (Cheeseburger) with Jack, while Michael ordered Sister Act (Salmon Benedict), and my boyfriend ordered Cats (Ham & Cheese Omelet).
The food was delicious, and Lauren Ordair came by frequently to refill our pitchers and remind me that I was late.
Just as we finished our food (big portions that were delicious), our hostess Ginger Snap took the stage, and the show began. (She did a medley from The Sound of Music, with the disclaimer, "I don't look like fucking Maria—I look like I ate the bitch!") Every song was Broadway, and we all lived for every moment: Lauren Ordair was the second to perform, and we died for every outfit reveal and cartwheel.
I noticed that most of the people there were in large groups, celebrating birthdays and bachelorette parties—most of the patrons women, with several of their boyfriends scattered here and there. (I decided this was absolutely what I wanted to do for my next birthday.) At the end of the show, Ginger Snap told us, "You don't have to be gay to celebrate Pride," which received a standing ovation from everyone there.
Regardless of your gender, sexual orientation or anything else: I'll see you at drag brunch—and don't be late!
@laurenordair
@officiallygingersnap
@lipsnyc