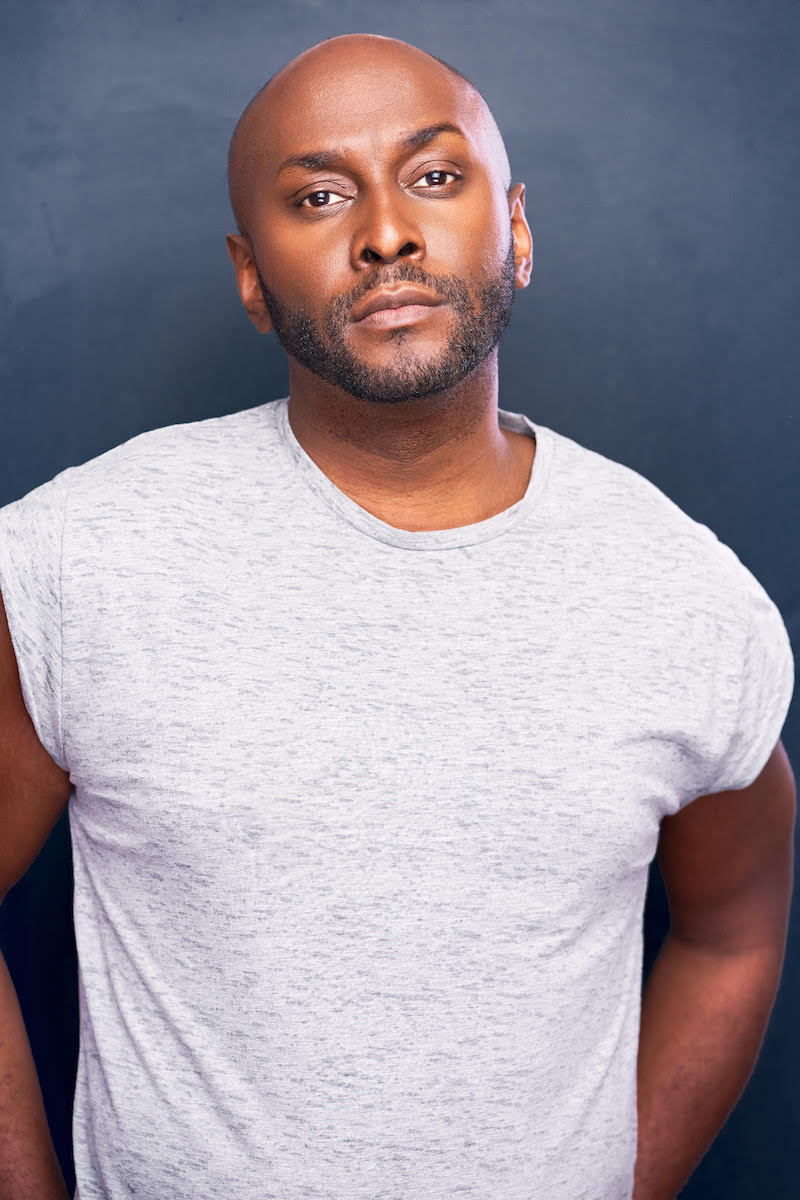 Welcome back to Broadway, Douglas Lyons. The actor, playwright, director and composer is premiering his new family comedy, Chicken & Biscuits, currently at Circle in the Square. However, Dougles is no stranger to the lights of Broadway, as he's appeared in Beautiful and The Book of Mormon. He has also toured with Rent and Dreamgirls and has written for television, including Fraggle Rock. His acting and writing credits seem endless, but this time on Broadway, he is debuting as a playwright.
Chicken & Biscuits is a hilarious comedy following the Jenkins family and a reunion that begins to unravel when a family secret is revealed at the patriarch's funeral service. I was fortunate to speak to Douglas about the play, as he revealed some of the "unravels" and secrets. It's black, it's queer, it's interracial…it's sometime funny and very different.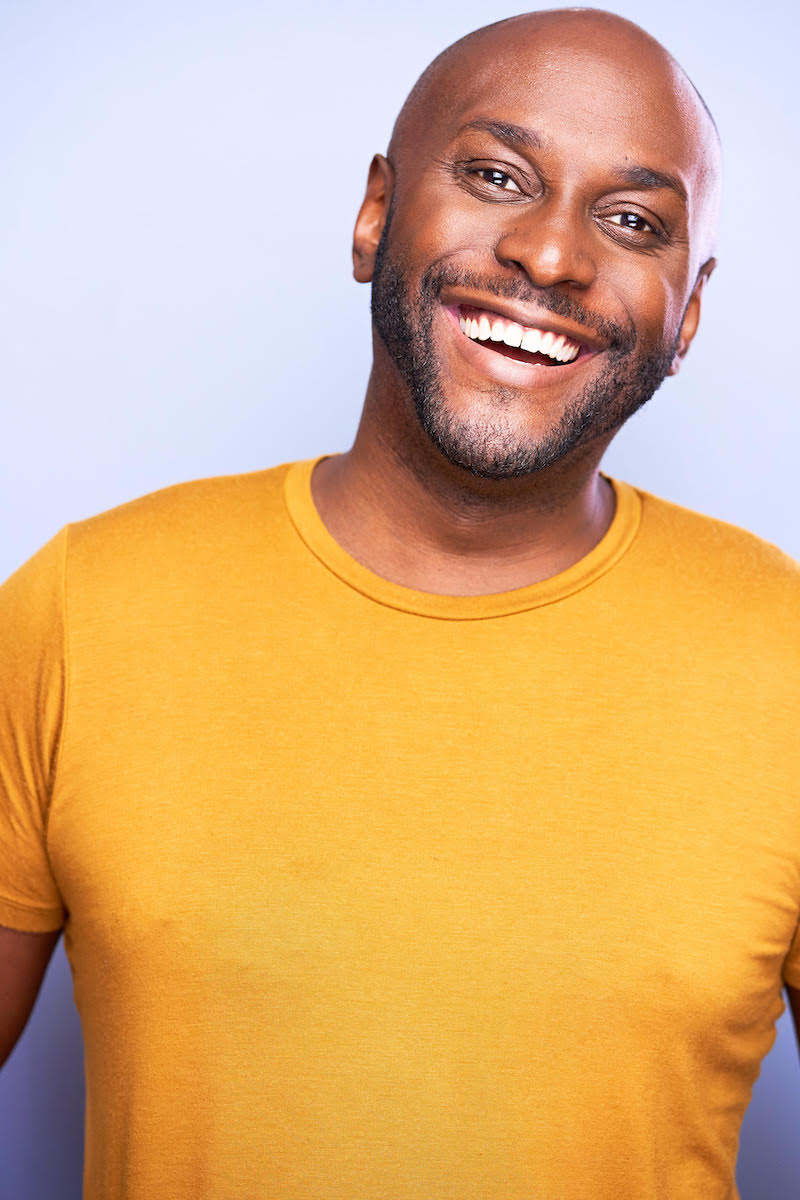 Hello, Douglas. Broadway is opening up now. Are you so excited?
I'm grateful. I'm less excited and just more grateful that we made it through this moment, having spent almost 19 months in my apartment. There was a moment when I thought, "I don't know if it's gonna make it back. I don't know if people will be responsible enough" and we didn't have a vaccine for a long time, so I'm just grateful–grateful to return to a space that none of us will ever take for granted again.
Tell me about your new play, Chicken & Biscuits.
It's a comedy centering around a black family burying the patriarch of their family, and their two sisters, Baneatta and Beverly, don't necessarily get along and all the extended family parts come together in a very messy but beautiful kaleidoscope of what it is to heal and to  laugh and to reunite and to push forward. It's a comedy, but it's also black and it's very queer as well. It's just a good time after a hard time. I would say Chicken & Biscuits would be a good laugh for anyone who has family.
What inspired the story?
A mixture of personal life and just studying behavior. I am a writer that likes to study interesting characters and moments that happen. So there was a moment that happened at my grandmother's funeral where my aunt very dramatically fell out and that ended up in the play. So I like to study really theatrical moments in life and then I sort of figure out a way to put them in my narrative.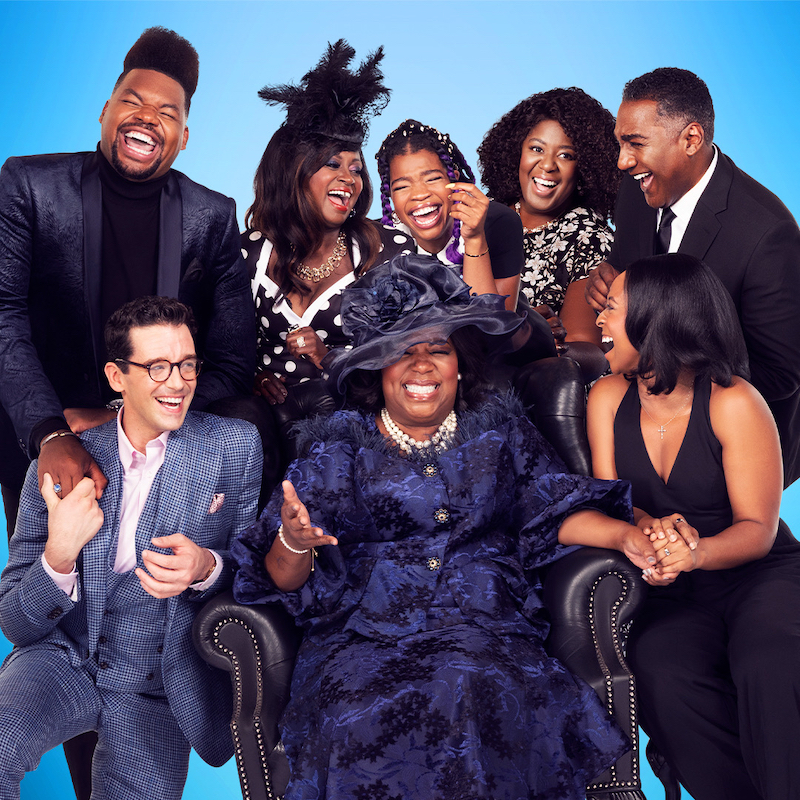 You've acted on Broadway already, so what motivated you to write a play?
I'm a composer and lyricist as well. I started writing musical projects in 2013 and I've been doing that for eight years now. But I really didn't start writing plays until 2017 or 2018. I think part of it was I had a lot of time backstage in the Carole King musical and I saw the impact I could make when I wrote things and I didn't have to act in them, and also having the time when I could write three or four different projects at the same time. So that opened my mind to a little bit of freedom and then, with curiosity and life happening, I figured I had nothing to lose by experimenting with the stories, so let me go for it. I typically write 10 to 15 pages at a time. So I'll write a script, I'll write the first 10 pages, and then people come in and I had a lot of Zoom readings because we were not in person, and then I push forward with the next thing. I take that process for three or four years, which led me to where we are now…the seventh draft of the play and a Broadway bow.
When you were writing this play or actually when you write anything, do you picture yourself as a character?
It's so funny that you asked. In my process of writing, I act everything out. So if you were watching me write and hearing me mouthing the words, I don't allow a line to be concrete until I feel that it sounds good out of my mouth. I will spend five minutes on one phrase because I want to make sure that it feels good as an actor, technically, and also that it does match the character I'm writing about. Some characters will say "Hello", some characters will say "Hola", some characters will say "What's up?", so I pay specific attention to the characterization and the language that I really studied. I act out every line as I write it, which takes me so long. Hopefully by the time it's gotten to an actor, it feels natural.
What other challenges did you face in writing this?
The challenges were people felt that they had "seen something like this already" because it's a black family comedy with the older black women, and people I don't think were necessarily open to what they thought to be the narrative. The title disrupted some people because of the very understandable attachment to chicken and biscuits and the history of what that means in a stereotype. But I think the beauty of the play is that I found it's not just the food itself, it's the imagery of us eating the food, it's the tradition, the laughter, the healing, and the joy that takes place over the food that the play is addressing. It hasn't always been easy trying to get the play out there and to get people to even read it when you are a new writer. They think, "He is an actor and now he's writing, so OK I'll wait a bit. He'll learn and then maybe we'll meet." So getting people to read the work was initially difficult, but I found a really great producer that believed in it and is taking it to the next level.
There's a gay couple in the play?
There is a gay, interracial couple in the play. Baneatta and Beverly are sisters that are burying their father and Baneatta's youngest child's name is Kenny. Kenny is a queer black man bringing Logan, his white, Jewish partner, to meet his extended black family for the first time, over his grandfather's funeral.
I already love the play.
There ya go. And his partner's very nervous because Baneatta is an upstanding Christian woman who has already made it clear that Logan is not welcome, but Kenny has brought him anyway. Every time she meets Logan, she calls him a different name or doesn't actually acknowledge him, which is sort of a running thing throughout the play. You're watching this very perky white guy being shoved around and maneuvering this black family at a very critical moment.
Is this something that actually happened to you?
No, it's not biographical, necessarily. That did not happen to me, but I think as a writer creating moments that we would love to see, that we would love to dream and laugh about…just the imagery of a white, queer, Jewish, neurotic guy showing up at a black funeral…the imagery of that is already dramatic and entertaining. Those are the pinpoints I like to pull from when I'm creating something new. I like juicy things. For example, there are two sisters burying a father and one of them knows they have a half sister because he had an affair, but the audience doesn't know what this character knows. So we're watching this character with a secret that she has not released until the secret shows up and she has to deal with it. So I like juicy things and then figuring out how to create a story that earns that juicy thing.
You're involved in something called "the Next Wave Initiative". What exactly is that?
It's a scholarship program that I created in the summer of 2020 that gives small scholarships and awards to up-and-coming artists in four different categories. There is the Alvin Ailey dance scholarship, the Hattie McDaniel acting scholarship, the Lorraine Hansberry writing scholarship and the Spike Lee directing scholarship. So every year, we have a sort of open submission for African American college students in those disciplines, and the winners receive financial support. Our inaugural year was last year, and I'm really proud to invest in and encourage and support young black artists in a way that I didn't necessarily get, so that by the time they graduate college, they will already be award-winning artists. I think that's a special thing, to acknowledge them in the world that may never see their full potential.
Is there a favorite role that you've played?
That's so hard. I think one of my favorite shows, because of the on and off stage, was Beautiful. I got the full Broadway experience when I joined The Book of Mormon on the 2011 Tony Award nomination day. It had opened, but I was creating a new swing track and I got to the Tonys and all of that. But with Beautiful, I was there from the out of town tryouts to the Broadway transfer to the albums and the Tonys, and I originated a role on Broadway. I had my own song featured and that was really cool. Doing a story about a writer's coming of age somehow encouraged me to go for it, and then I ultimately wrote four different projects offstage at Beautiful.
Have you had your ultimate stage fantasy yet?
You know what? I don't know that I've had an ultimate stage fantasy. You know, being in a Broadway show is a dream come true and that is, I think, the largest fantasy. But I think what I'm most excited about now is exposing the world, the theater world, to these kinds of different characters that they don't ordinarily see in this space. And I think we're going to see these little black girls that are inspired when they see characters like La'trice, who is a nosy cousin asking too many questions that nobody wants to answer. That moment of young black girls coming into the theater and seeing someone that looks like them is a dream come true. That's a fantasy come true.
Is there anything that I didn't cover that you'd like to talk about?
I just think when it comes to the queer community, this play also deals with what it is to grow up as a queer person and to navigate family and to be embraced by family, misunderstood by family, and that is rarely seen on a Broadway stage in a black community. I think it's reaching out to young black queer boys.