Holding a copy of this magazine, my boyfriend J's eyes lit up as he began to read "Kiss Me," a romantic telling of the night we first kissed.
We were having a frozen rosé, coined "Brosé," at REBAR on a Tuesday night, sitting in a booth and watching a buff 20-something in a jockstrap pose for a dozen or so aspiring sketchers. I was taken by how seriously everyone took themselves.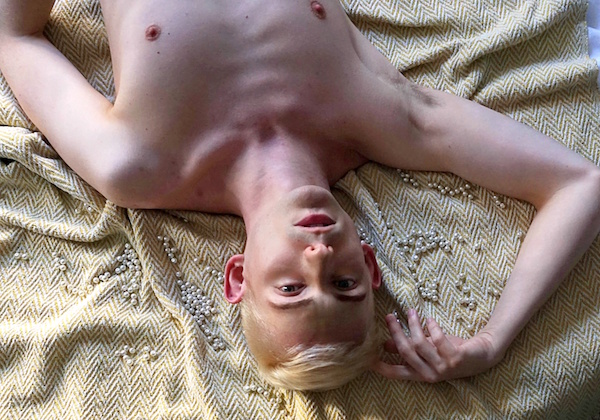 Finishing, his face fell. "That's not the karaoke song we sang," he said. "It was 'Don't You Want Me Baby.'"
This was not the first time I'd made a karaoke mistake. The first time was back in Iowa, when a very drunk me sang a rendition of "Love Shack." I can still hear myself, shrieking "LOVE SHACK BABY" at the top of my lungs.
When my boyfriend corrected my already-published column, I immediately knew he was right—I remember standing there, awaiting what song a co-worker had picked for us to sing, and thinking, "Oh, I know this song—they used to play it once an hour, on a loop, when I worked at Abercrombie & Fitch."
So, we were a couple that had a song—and I'd gotten it wrong.
With that in mind, we had dinner at Cafeteria on Pride Friday. The restaurant was packed, but they didn't rush us along as we ordered Cafeteria Cosmo after Cafeteria Cosmo. Drunk on love—but also mostly delicious orange cocktails—we wandered downtown to Stonewall.
J had never been to Stonewall, so it seemed the perfect way to start off our first Pride as a couple. We got a drink downstairs, crowded with more straight people than I'd ever seen at Stonewall, and I waited a while before showing him upstairs.
"There's an upstairs?" he said, excited. My plan to impress worked. But upstairs, the straight people weren't just drinking around the bar—they'd set up a stage, and guests were singing karaoke.
J put in a song to sing, begging me to do so too. I knew it was my time to atone for getting our song wrong in my column. After slipping a twenty to the DJ, he called our names next for a surprise
duet performance of "Don't You Want Me Baby."
We were just drunk enough to get into it, but not so drunk that our performance was messy. Well, too messy, anyway. During a far-too-long music break, I sat down on the stage and did an imitation-death-drop. The straights were not impressed.
All the same, our drunken love buzz followed us all the way back to my apartment, where we had sex twice before passing out in each other's arms, "Don't You Want Me Baby" still ringing in my ears.
I'd resisted my feelings for J for so long—nearly two years. The song wasn't a duet as much as it was from him to me: "You know I don't believe it when you say that you don't need me… Don't you want me, baby?"
Finally, I'd admitted yes. And it felt so, so good.