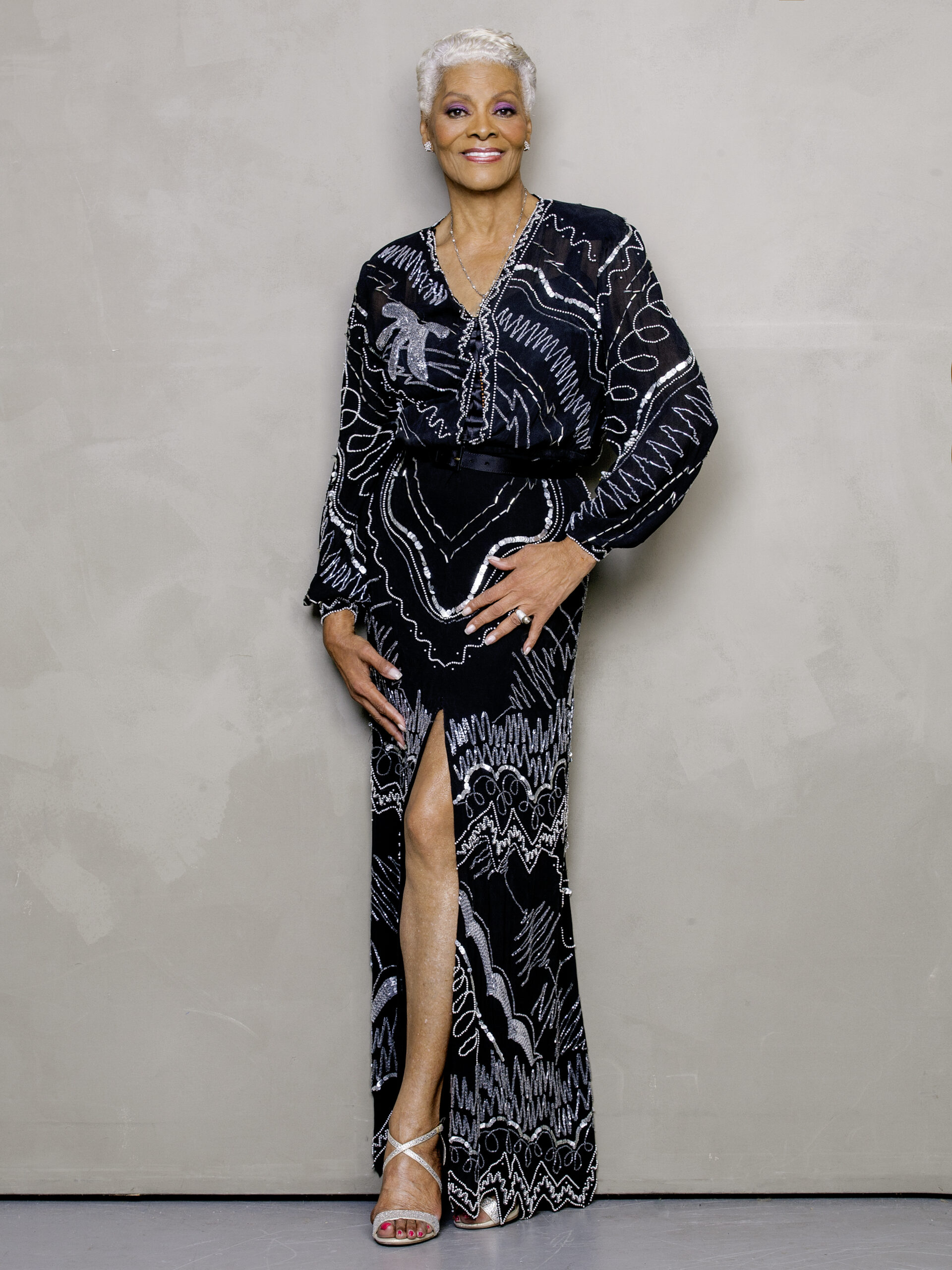 Grammy Lifetime Achievement Award Winner and "Twitter Goddess" Dionne Warwick has just released an exhilarating and inspiring new song and video entitled "Power In The Name," along with two other powerful names in the music industry–Krayzie Bone (Bones Thugs-n-Harmony) and NomaD (aka Damon Elliott, music producer). The song comes to us via the "Kind Music Group" label, and the proceeds of the song will be benefiting charities that provide shelter and clothing.
"Power In The Name" comes at a time when the planet is mending and adjusting to a time where heaven had been engulfed in flames and frost found its way under all of our doorsteps. The song is uplifting and powerful…a spiritual quest where God himself propels the chariot.
Ms. Warwick has recently come off her last hit single, "Nothing Is Impossible", featuring Chance the Rapper, which was a result of a Twitter collaboration. She has recently appeared on Good Morning America, Late Night With Seth Meyers and Saturday Night Live. She has also performed in Las Vegas during the holidays at the Raiders/Colts game and had a seat on the Masked Singer Rose Parade float. Ms. Warwick continues to reinvent herself, as well as her future.
INTERVIEW>>>
Hello, Dionne. I love your new song so much!
Wonderful, that's good to hear. Thank you.
I have a feeling Damon wrote it?
Yes, he did. He and Krazie wrote it, many years ago. I think it's needed, for one thing. As it turns out, Krazie and Damon reconnected after many years of knowing each other and Damon called me and said he'd just spoken with Krazie and that Krazie reminded him of that song. He felt that it really, really needed to be done now.
It's so perfect for now.
No doubt. These are words that need to be heard and felt, and I'm so proud of those two young boys. I really am.
Damon has a really beautiful voice.
Yeah, he does. I'm discovering that both of them are able to sing. It was an epiphany. Where did all of this come from?
Damon's voice and your outfit in the video surprised me most of all. Aside from the uplifting and inspirational vibes, what are you hoping that the listener takes with them after hearing the song?
That they'll practice what is being said. Getting back to being like human beings and caring about each other. Doing for and with each other, these are the things that we have to do. We are people. All of a sudden, it becomes complete chaos, and it can be turned around. It can be with positive words, prayer, praise–it's necessary. I certainly hope that it touches people in that fashion. There is power in the name of Jesus…there is! Fortunately, I feel that this is a song whose words are far beyond race, color, religion, creed. I think it has the ability to sing to people generally.
Wouldn't that be nice.
Yeah, it really would. I am so hopeful that is the case with this particular song.
When are you running for President? Not a bad idea.
Yeah, the Queen of Twitter announces she's going to run for President…Why not?
You are always reinventing yourself and your future, and that's so great. So, first of all, where is all the inspiration coming from in doing all of these songs lately with these really cool rappers?
You know, I was the one, and I singularly say "I". I decided to give spankings to all these little rappers, with this so-called "gangster rap" and let them know how I felt personally and how it's permeating the entire world. All of these things they were saying about people, it just was not nice. I thought, "No, we have to do something about this. Let us talk." So, I was the one–and everyone thought I lost my mind–who went up against these rappers. But it wasn't a case of where I was talking against them. I had several meetings with a lot of them over the years. I told them, "If I didn't care about you, I wouldn't even take time to talk with you. But there are some changes that you need to make on your own or with a little bit of guidance, and I think I'm old enough to give you just a little bit of that." And they started listening to me. They finally understood that I was not dissing them.
I wanted to know what dissing meant, and finally either Snoop or Krazie told me that it meant disrespect. I said to them, "So then, why not say that?" That's when they understood that a grownup was in their presence and that I had something to say to them, and I wanted them to speak to me. It finally got to the point where there came a mutual respect and understanding of each other. It seemed like a natural evolution that I would open myself to them. In fact, I did that long before my association with these kids today. We re-recorded "What The World Needs Now is Love". It was wonderful. Both the East Coast and the West Coast were all in the same room with us doing "What The World Needs Now", and it was a magical, magical moment. It just let you know how things could be and should be. So my relationship with these babies today is only the extension of what I started many years ago.
Good for you. I'm liking this running for President thing more and more. Secondly, all of a sudden you became a Twitter superstar, and I think that you take Twitter more seriously than most. How did that come about?
I do take it very seriously. I had my nieces and nephews over one afternoon. They were in my living room, giggling away. They were just laughing and having the best time. I came out of the bedroom and said, "What's all the laughing about?" Brittany, the eldest of the nieces at that time, told me they were on Twitter. So I asked her what Twitter was. She explained it to me and she showed me what they were laughing about. I looked at it and I was not that pleased with what I was seeing, what was being said on this thing called Twitter. I said, "Show me how to do it. I want to laugh too." She said, "You really want to know?" I said, "Yeah, I do." So she showed me how to do it and I finally decided on my first one, to just make my presence known. I kind of put it out there that there's a grownup in the room now and what I'm seeing put out there, I'm not pleased with. I'm going to start asking questions, and I expect to get answers. I want you to also know that you can ask me questions and you will get answers. That really was the genesis of it. I started getting responses from these kids asking all kinds of questions, having basically to do with the business. Then there were some serious questions regarding their parents and what their parents thought, and I would respond to them. I would let them know that their parents were exactly that, their parents! So, that respect should be given. I just wanted to give you that ounce of knowledge, so that hopefully you would use it. That started the ball rolling. I would always end whatever I do, and I do this in general life, in conversations, in meetings or anything of that nature, with a smile. I wanted them to understand that. You can say what you gotta say–however, remember to end it with a smile.
Knowing everything that you know now, what advice would you give to baby Dionne?
Exactly the advice that she was given as a baby. I practiced that, too. I was always told, "You be who you are. You can't be anyone other than who you are." I truly believe that.
That's actually true and really good advice. So how did you wind up on Saturday Night Live?
Well, they decided that they wanted to do a parody on Dionne Warwick with The Dionne Warwick Show. It really came as a surprise to me that they wanted me to come on as a guest. It was a bunch of fun. One of my friends called me and was watching Saturday Night Live. She told me to turn it on. I told her it was so late and I was going to sleep. She insisted that I turn it on. I turned it on and there I was. I think I laughed louder than the audience did. It was just so much fun, and it was a wonderful thank you to me. It just kept Dionne Warwick in people's faces. That was wonderful. They did it in such a wonderful and classy way. It was fun and it was easy and there was nothing for me not to like.
You are an idol to so many people. There is no one on the planet who doesn't know your name or at least one of your songs. So I was wondering: Do you have an idol?
Oh, my goodness. Do you know somebody asked me that a long, long, long time ago? The first word out of my mouth was, "Yes, my mother." She was and still is my idol. She is the lady I was around 24/7. She is the one who gave me the reason for being, for doing what I do. She spoke to me in a fashion as a parent, but also as a loving friend. She played both parts. I revered her. That's the truth.
What projects do you have for 2022 and beyond?
I'm going to do a gospel CD and the genesis of that is "Power In The Name." I'm hopeful that I'll be able to call upon esteemed gospel friends to be a part of it. I've already spoken to Kirk Franklin and we're speaking to Don McClurkin, and I think it's going to be a very powerful project. Again, that is necessary. People need to hear some positive words coming out of music today.