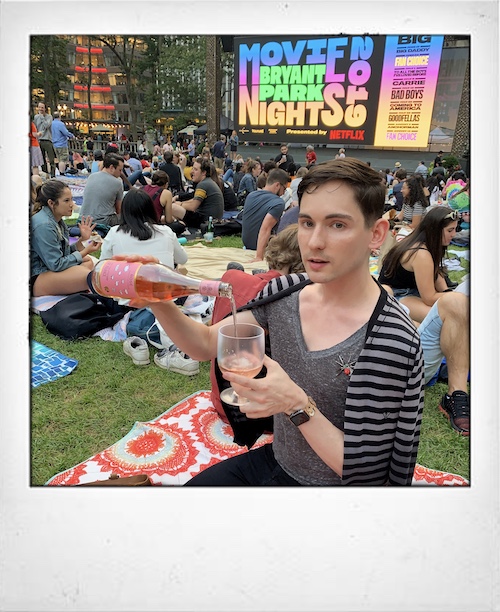 My favorite thing about summer in New York City: how many outdoor activities there are, a lot of them being free!
This week's free activity: Movie Nights at Bryant Park. Every Monday during the summer, Bryant Park puts up a big screen, packs the lawn and shows a movie. The movie I couldn't miss? "Carrie" (1976, the original, naturally).
I've always been a big fan of scary movies, especially from the 70s: My first scary movie obsession was 1974's "The Texas Chainsaw Massacre," and 1973's "The Exorcist" gives me nightmares to this day. But "Carrie" holds a special place in my heart: I think a lot of LGBTQ+ gravitate toward Carrie, because we relate to her, we know what it's like to be different, to be made fun of, and—most importantly for me—to not feel comfortable going to the prom. (I don't think there was a single same-sex couple at my senior prom—I took a female foreign exchange student.)
You want to arrive to Bryant Park before 4:30, when everyone makes a mad dash to claim their spot. "Carrie" was sponsored by Netflix, and the lawn was littered with gift bags: My boyfriend grabbed one that had a beautiful red notebook. We spread out our blanket and waited for sunset, when the movie begins.
Essential item to bring #1: a game to play. We brought several decks of cards, but (depending on how big your picnic blanket is) you could also bring any board game you wanted. You have to come early if you want a good spot, but then you have several hours to pass the time before the movie begins.
Essential item #2: snacks, or even a full dinner. I stocked up on Doritos (Spicy Sweet Chili, my favorite), Goldfish crackers and the like while my boyfriend brought deli sandwiches and pasta salad.
Essential item #3: wine! I guess you could bring any drink of choice, but if you're going to Bryant Park with me, there's going to be wine. If you forget, or just don't feel like trekking several heavy bottles of wine all over the city, there's plenty of wine stores near the park. Essential item #3.5: plastic cups, no glass on the lawn!
Just before the sun set, Netflix's Brendan Scannell ("Bonding") came out in a bloodied prom dress to play Carrie trivia. (I'm not saying I would have won if I got to go up there, but…) As soon as trivia was over, the movie began.
We laughed when Carrie made the bully on his bike fall, we watched in silence as she was crowned and we cheered when she flipped the car. 10/10 will be back to Bryant Park for the rest of their movies!
Check out bryantpark.org/programs/movie-nights to see what's playing!