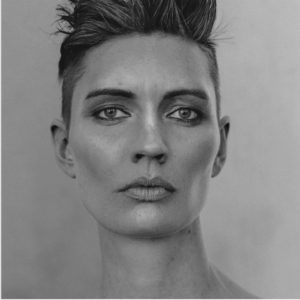 Toronto based recording artist, singer/songwriter Dinah Thorpe has just released an audaciously haunting and beautiful new EP entitled,"The Body Wants", via FemmeKraft Records. The lead track, "The Body Wants", is similar to having an outer body experience in the best possible way.
Thorpe has been compared to artists such as Portishead, Natalie Merchant and Grace Jones, although her style and vocals clearly belong to only her. She has received two JUNO Awards of the year for Recording Package of the Year and an Independent Music Award nomination.
I spoke to Dinah Thorpe and found her creative and impressive. Thorpe is an artist with a musical future, an artist who makes you tremble inside when hearing her song.
I love your music, it's intruding, yet pretty.
Thank you. It's weird but listenable…
But in the best way possible. When did you start singing?
I have been singing all of my life. But seriously since I've been writing music, about 10 years.
What motivated you to choose this career ?
I did a bit of sound school when I finished university. I took a few sound school courses and learned a little bit about production. The first time I sang with beats it was like love. I think it's the closest thing of what I've found to falling in love, aside from falling in love in real life. I feel like when you write something you're happy with, inhabiting it in a whole way, you feel totally alive.
I get that from writing. Where would you hope to be musically in five years?
I think that there are two sides to that question. I think that one side is the side that is the work itself, in terms of what do I want my work to sound like. My hope for my work is that it continues to get better, and more interesting and evolve and change, and that I continue to offer myself new tools. Then there was the other side of things which is, the making a career of it side, which really is about what we were just talking about in terms of whether this is a terrible life choice or not. I think that for me in order to stay sane it has been important to separate those two things, like the making the work and and then the making the career making the work. In an ideal world I think that I would continue to evolve in both places, and continue to feel like my work is getting better and I am hoping to be able to do this with most of my days. But if I had to choose one or the other it would be to continue to be happy with my work.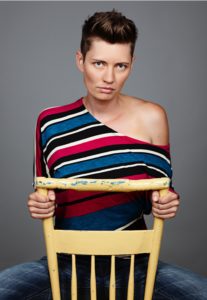 Hopefully you won't have to choose.
Yeah, and also there were very practical considerations in terms of it's hard to evolve when you have only two days a week to do this. There is kind of a seriously practical access to resources that happens when you start to make a career out of this. I feel like that kind of stuff is just starting to happen for me.
You're all the way in Toronto, how did you manage to be signed by FemmeKraft all the way in New York?
So I haven't met Tyler in real life. My hope is to meet Tyler in real life soon. I have some plans to make my way to New York in 2018. I had only met Tyler on the Internet. I saw that he started FemmeKraft which seemed like a home made for me in terms of record labels. I watched the Charlie Sheens video, and thought this is a person I want to be on a label with. Also just in terms of being very progressive in gender expression and doing crazy shit with music.
Do you perform live in Toronto?
So I spend the majority of my time writing and producing in my studio, but I play shows here in Toronto. I also travel for shows when I can afford to. Mostly that's for festivals and then I will sometimes try to string the few shows together. I have a job three days a week so I am relatively tied to here, so to purchase a van and start living in it all the time…… I would be very, very happy to tour. It's something that I am very curious about as to how it would go for me. In reference to what I was talking about before about having access to resources, money is one of them. It's a rather expensive endeavor for somebody like me to take on.
website: www.dinahthorpe.com
facebook: www.facebook.com/dinahthorpemusic
instagram: https://www.instagram.com/dinah.thorpe/
twitter: @dinahthorpe33