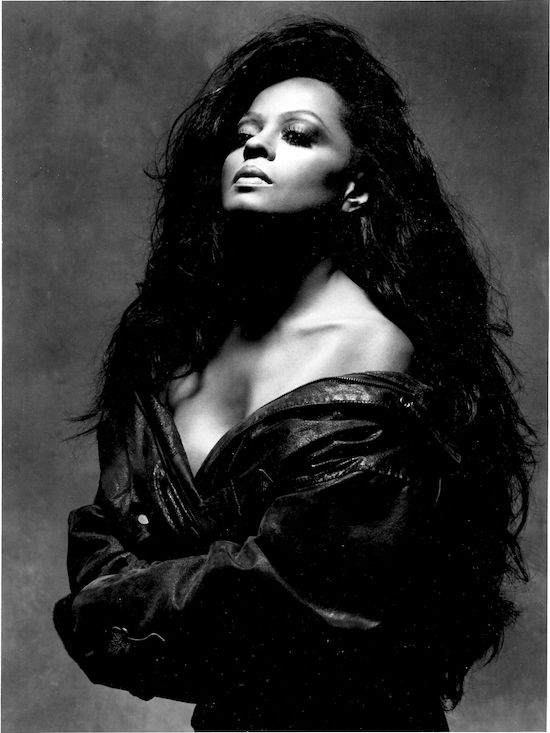 There are no words in the English language worthy of describing the remarkable person and career of one of the most glamorous, epic and iconic Goddesses that has ever graced the music industry. Billboard's "Female Entertainer of the Century" Diana Ross will be appearing at the New York City Center for a five-night concert series on April 24-29, showcasing her "Endless Memories" tour.
With a musical, songwriting,
acting and producing career that spans over four decades, Ross
has in influenced numerous artists, including Beyonce?, Michael Jackson, Taylor Swift, Katy Perry, Jennifer Lopez and countless others. Celebrating an endless legacy, Ross has earned the Presidential Medal of Freedom, the highest civilian honor, Kennedy Center Honor, two stars on Walk of Fame, and was declared the most successful female artist in history by the "Guinness Book of World Records." She also has been inducted into the Rock and Roll Hall of Fame and received the Grammy Lifetime Achievement Award. As a Supreme, she helped pave the way for other R&B stars to perform mainstream. Her music and talent has touched the lives of people across the planet.
Diane Ross was born and raised in Detroit, where she joined the Primettes at age 15, along with Mary Wilson, Florence Ballard and Betty McGlown. The journey began following a talent competition victory in Ontario, followed by the group then auditioning for Motown Records. According to a biography by Berry Gordy, he recalled heading to a meeting when he heard Ross singing "There Goes My Baby." Although he said "I stopped in my tracks," he advised them to come back after graduation because of their ages. In 1961, Gordy signed them to the label on the condition that they change the name of the group. Ballard picked The Supremes, and during the '60s they became Motown's most successful act. To this day they remain one of the world's best-selling female groups. As the Supremes, the group en- joyed 12 #1 hit singles, including "Where Did Our Love Go," "You Can't Hurry Love," "You Keep Me Hanging On," "Love Child" and "Stop! In the Name of Love."
In 1970, Ross left the group and began an epic solo career, singing hits such as "Ain't No Mountain High Enough," "Touch Me in the Morning," "I'm Coming Out" and "Upside Down." She also embarked on an acting career, where she was nominated for an Academy Award for her performance in the film "Lady Sings the Blues." She also starred in "Mahogany," where the costumes were designed by Ross herself, and "The Wiz."
In 1974, Ross became the first African-American woman to co-host the 46 Academy Awards. She also sang the "Star Spangled Banner" at the Super Bowl XVl. Motown 25 in 1983 aired as a monumental television special honoring Motown, with Diana Ross introducing Berry Gordy. It included landmark performances by artists such as Marvin Gaye, Michael Jackson, Lionel Richie, Smokey Robinson and Adam Ant, who danced with Ross during his showcase of "Where Did Our Love Go."
In 1984, Ross recorded "Missing You," a tribute to Marvin Gaye, who had died that year. It became an international hit. She was also anointed by Michael Jackson to be an alternate guardian for his children. Her final hit for Motown became a collaboration with Lionel Richie on the theme song for the film "Endless Love."
Aside from the fame and glory, Ross has also raised ve children,
including her daughter Tracee Ellis Ross, who recently won a Golden Globe Award. Ross also has four grandchildren.
"The Queen of Motown" is still loved and cherished by all. She has been saluted at Oprah Winfrey's Legends Ball, a three-day event celebrating contributions to art and entertainment. Ross was one
of 25 African-American women saluted. She was also named one of the Five Mighty Pop Divas of the '60s. After her famous concert in Central Park for a Showtime special, a playground was named in her honor called Diana Ross Playground Located inside Central Park at West 81st Street and Central Park West.
The concert's proceeds were set to build that playground; however, it was rained out in the middle, and although Ross tried to continue, the torrential downpour made it impossible. Ross made sure people left the venue safely, and promised to do it over the next day, and she held true to her word. She also wound up paying the $150,000 required to build it, as the pro ts were absorbed by having to repeat the concert the following day.
Now New York is fortunate to have her back in the city for
very special nights of magical splendor at New York City Center for an astounding and eloquent journey of "Endless Memories." Needless to say, one of the high points of my career happened when I was honored to be able to interview Ross about her upcoming performance.
It was quite refreshing when sharing questions and answers with her, because she didn't go on about herself. I feel it showed great confidence in the fact that she really knew who she was and didn't have to prove anything different.
INTERVIEW
The very thought of your upcoming appearance at the New York Center is turning all of New York "Upside Down." Can you give us a tiny hint of what your fans can expect?
Pure, authentic Diana Ross.
You're an iconic singer coming to an iconic city. After your famous concert in Central Park, is there any special connection that you have to New York?
I love New York! Remember the song "New York State of Mind?" New York is an energy. It's a classy sophistication. It's alive 24/7. It's magical. I think it's true that this city never sleeps. You can be out at 4 a.m. in the morning, and the streets are filled with people going somewhere and doing things. Fantastic! I do love the diversity and the different cultures of New York. I love all the museums. The great restaurants, so many variations. I really love going to the theater. Going shopping. I love Rizzoli's bookstore. I love the art world. And, of course, I love the fashion world! I really love that you can be a celebrity and walk down the streets of New York, and you're just one of the millions of people moving through the energy.
How would someone in the New York audience get your "special attention"?
Let your hair down! And have fun. Don't be shy. Dance if you feel like it. I see you, you see me!
How is it that at a time when today's pop crop can't stay relevant for 50 minutes, you have managed to remain relevant for 50 years? What is your secret to long-term success?
What secret? I don't know. Your questions make me laugh.
Do you believe that your career would have ended up as it did had you have started out today as a new artist trying to make it in today's Internet and social media world?
That, I don't know.
You have been honored with many awards,
from the Presidential Medal of Freedom to having two stars on the Hollywood Walk of Fame to being named "Female Entertainer of the Century." You are a singer, an actress, a producer, a mom, a grandmother. Is there anything that you haven't accomplished that you still dream of doing?
Yep!
Is there any song or musical passage that never fails to evoke emotion?
The word "LOVE " and all its meanings.
Speaking of "Endless Memories," what do you feel was the instance that changed the trajectory of your life? I've always been on my path.
The journey has been absolutely incredible.
Do you recall the proudest moment of your career?
Oh, my! I've been singing and dancing and loving music all my life.
TICKET INFORMATION
Tickets, $59.50, $99.50, $149.50 (plus applicable service fees) available at www.nycitycenter.org or by calling CityTix at 212.581.1212 and in person at the New York City Center Box Office located on 55th St. (6th & 7th Ave).
SCHEDULE
Monday, April 24, 2017 at 7:30pm
Tuesday, April 25, 2017 at 7:30pm
Wednesday, April 26, 2017 at 7:30pm
Friday, April 28, 2017 at 8:00pm
Saturday, April 29, 2017 at 8:00pm