By John Stein
Downtown Artist Releases Pulsating New Single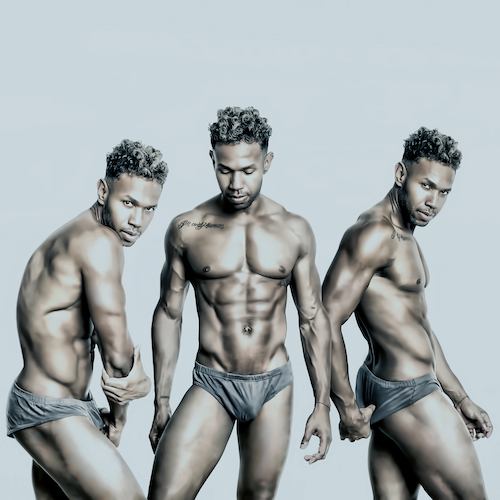 At night, Deney Adam is one of the funky, freshest dance acts in clubland.
During the daytime, however, his full-time gig is as a makeup artist in New York City. Not just any makeup. You won't find him behind the counter at Macy's. Deney's celebrity clientele includes Susanne Bartsch, Lady Gaga, Daya and Kiiara. He works with top designers like François Nar and Tom Ford and with photographers Steven Klein and Mario Testino. His work has been featured in "Vogue," "Interview" and the "New York Times."
"I never intended to be a makeup artist," Deney admits. "It's something I fell into and happened to be good at. I love doing makeup, but music has always been a big part of my life, and I have never let go of my passion to sing."
This month, Deney is out with his new single, "Heart Drop." Written by Nisha Asnani and produced by Mher Filian, the dark, sinister jam is the second release from his upcoming "Sandcastle" EP. We spoke with Deney to learn more.
INTERVIEW
Can you believe summer is over?
It went too fast, the shortest summer ever.
How will you remember it?
The highlight of my summer was having my boyfriend finally back next to me after he spent five months overseas. It was the first time I cried happy tears! Life is good right now.
What was your summer jam?
Banks and her new album, "III." "Gimme" and "Godless" have been on repeat for weeks now. I'm obsessed.
We're obsessed with your new single, "Heart Drop."
I was hanging with Nisha [the songwriter], and we were talking about the best sexual experiences we have ever had. Somehow it turned into a writing session, and 30 minutes later, we had a song! She is simply brilliant.
Were you going for a particular sound?
Deney Adam: When it comes to my music, I am very indecisive. I'm always changing my mind trying to improve things, and it's never over.
How many versions of "Heart Drop" did you record?
Probably eight or nine. I still have a feeling I could have done it better.
The music video is getting a lot of attention. Can we discuss the box?
[laughs] That damn box! We had to move mountains to make it happen. You would think one rental warehouse in NYC would have a six-foot glass box available. Well, you would be wrong. We had to make it from scratch! It was definitely worth it.
You get all kinds of nekkid in that box!
[laughs] I wanted to create a catchy visual. Yes, I am naked throughout most of the video, but my goal was to be more artistic rather than just "another naked guy." I didn't want it to be merely sexual, and I think Mike [Ruiz, the video's director] did an amazing job in that sense.
What are you most looking forward to this fall?
I am looking forward to dropping the full EP and sharing more of my ideas and creativity with the world.
Deney Adam's "Heart Drop" is available on iTunes, Spotify and all digital platforms. Follow on Instagram @imdeneyadam