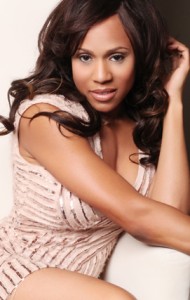 Deborah Cox has been busy lately. The diva famous for creating a unique fusion of R&B and dance started her own record label in 2008, called Deco Recording Group, so she wouldn't have to "take years dealing with lawyers and corporate issues" to release her music, she recently told Get Out!
It was a smart move. At the helm of her own career (her husband is her manager), she has launched herself to back into the spotlight. This summer she performed at the 2010 World Music Awards in Monaco, along with Jennifer Lopez, Ludacris, David Guetta and others, and headlined Pittsburgh and Cincinnati Prides.
Now Cox, who has topped the Billboard Dance/Club Play chart with eight different hits since 1995, is back in the studio recording her latest album, set to be released next year.
But it is Cox' return to Broadway that will excite her New York fans the most. Later this year she will move to New York to prepare for her starring role in "Josephine," the new musical about the life of risqué Vaudeville performer and civil rights advocate Josephine Baker, opening in early 2011. No stranger to the Broadway stage, Cox also starred in "Aida" in 2004.
"When I did 'Aida' it was a lot more about singing and acting, whereas Josephine Baker has a whole dance component as well," Cox said. "There is a lot of training involved, and so I'm sort of in the trenches really gathering info about her and doing my research about who she was as a woman, so I can really embody her spirit onstage."
Although she is Canadian, Cox, 36, currently lives in Florida with her husband and three children. Family life isn't always easy when mommy is a superstar, but she said spending time with her kids is the most important thing in her life. "I love traveling and doing shows, but I'm at a stage in my life now where I want to be in one place," she said. For that reason, Cox said she is excited to be returning to New York, where she expects to stay awhile.
Cox appeals to a wide range of people given her multifaceted musical style, but it is clear she considers the gay community among her biggest fans. "I can't really explain to people what the connection is between me and the gay audience," she said. "My gay fans have been extremely loyal and loving and have been on this tide with me for over 10 years, and have supported me and put these records in the #1 spot."
Pride season, when "momma has to be everywhere," is one of her busiest times of the year: "There's no party like a pride party," Cox said. "The energy is like no other—it's such an adrenaline."
Check out Deborah Cox' entire disography on iTunes or visit her website for more information. She is also a regular Tweeter.