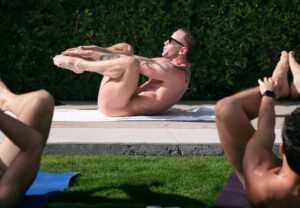 Dan Carter, the hands down dreamiest gay yoga instructor out there, will host a long weekend of uninhibited camaraderie under the hot desert sun from May 13-17.  His Naked Yoga and Hiking Retreat will take place at INNdulge Palm Springs and will feature yoga, hiking through the Palm Spring desert, pilates, Thai-massage, partner fitness classes and special workshops.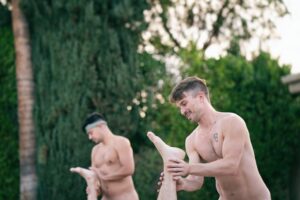 "As we finally begin to see the light from this dark year of isolation, it is important for men to reconnect with their bodies and spirits," says Carter from his home in Washington DC.  "A deeper understanding of self will enable us to steer through the distractions and obstacles of the past year and move more directly toward achieving our dreams and goals.
"Being naked is key because it helps peel away the outer layer most of us use to deceive ourselves and it encourages us to love who we truly are."
Health and safety will remain a priority at the retreat. In order to participate, all guests must provide proof of vaccination or get a COVID-19 test within 72 hours of the retreat.  All group events will be outdoors and temperatures will be taken.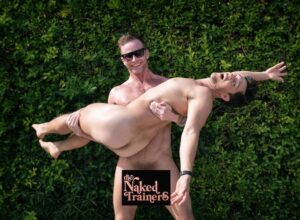 "It is a non-sexual weekend however intimacy and touch will be important bonding components to the weekend," Carter explains.  "A huge part of the experience will be building a real sense of family between the two dozen other men in attendance."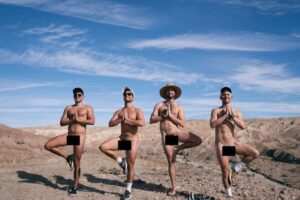 Activities are optional, so men can enjoy the retreat at their own pace.  "It will also be a judgment-free weekend," Carter makes clear.  "That means weight, fitness level, and anatomy size do not matter!"
And for those that want to venture outside of the weekend, there's plenty to do in Palm Springs: from the springs to the golf courses and spas, to hiking along the numerous hidden trails in the Coachella Valley.  There are also tons of gay bars, restaurants and nightclubs and the shopping cannot be beat, with major retailers in Downtown Palm Springs and on El Paseo Drive in Palm Desert.
NAKED YOGA AND HIKING RETREAT at INNdulge Palm Springs takes place Thursday May 13 – Monday, May 17.  Register now at https://danimalfitness.com/retreat.