New Kids on the Block member Danny Wood and Billboard's Country Artist to Watch Jessie Chris have collaborated on an emotional and touching anti-bullying duet titled "Bodyguard."
Inspired by country singer and anti-bullying activist Jessie Chris' music videos and anti-bullying speeches that she has given at schools, Wood composed and created a sensitive and compelling story performed together by the two. "I watched a music video and saw some anti-bullying speeches Jessie had given at schools," Wood says. "I just started writing notes down on a pad of paper. It went from a pad on my desk to my guitar, and it turned into this song."
The 21-year-old Chris has made it her mission to visit 100 schools across America to speak to kids about bullying, while healing from her own bullying issues. Coming from Massachusetts and desiring to become a country singer made her different than the rest, causing her to be bullied. She struggled with her own self confidence, and now finds strength in those experiences.
New Kids on the Block just released a brand-new anthemic song and video tributing boy bands, and celebrating their own 30 years of success, called "Boys in the Band." The video also features cameos from Bell Biv DeVoe, NSYNC's Lance Bass and Debbie Gibson.
Members Donnie Wahlberg, Joey McIntyre, Jonathan Knight, Jordan Knight and of course Danny Wood will embark on a massive "Mixed Tape" tour visiting 53 cities beginning May 2 and ending in Hollywood, Florida, July 14. Tickets can be purchased at ticketmaster.com.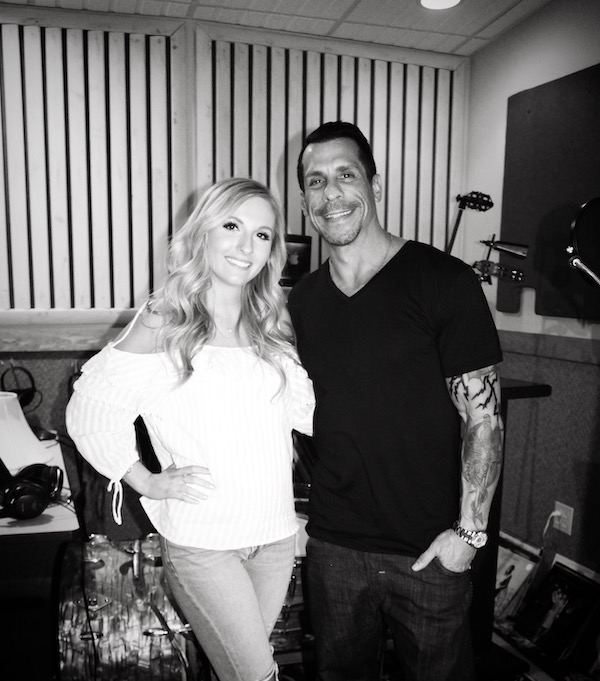 Danny, how did Jessie inspire you—actually, how did you even find her?
Danny: I know her manager, Jeff. He sent me a few of her songs and then links to watch her speak at the schools with her anti-bullying campaign. I was inspired; she's so young and talented and already giving back to kids like that, which was pretty fantastic. I thought, "Wow." I started writing down some notes, listening to her speak and wrote the song. We recorded it and then did a video the same day. So I'm really proud of it, and I hope that people enjoy it and that it helps some people.
Danny, did you feel that inspired that you felt compelled to create this song, and why?
Danny: Yeah, I mean, I watched her speak, and her speaking at the schools hit me personally. Obviously everyone has an experience being bullied. I mean, for me, it was when I was younger in school. But also I have three kids that are between the ages of 20 and 26, and I had to advise them with social media bullying and all of that. It hit home right away.
Jessie, what exactly have you been doing to combat bullying that inspired Danny to write this song?
Jessie: I've been visiting schools in my free time for about four years now just having the kids hear my story, because I dealt with bullying. I wrote a children's book about it, so I read my book, do some songs and hopefully help some kids who are struggling. About a year and a half ago I made a goal to visit 100 schools in one year. I completed that goal, and now I still visit schools when I have time. It's just something I like to do to help others when I have the time.
Jessie, do you feel that you were bullied as a child, and if so, how so?
Jessie: For me, a big reason why I was bullied was because I was a bit different. Growing up in Massachusetts I knew when I was little that I wanted to sing country music, and so kids in my school made fun of me for it. I got cyber bullied a lot. I used to even get pushed against the lockers just because I was different. It really took a toll on my self-confidence afterwards. So once I regained that self-confidence I felt that it was important to talk to these kids in school. I don't have an older sibling. I am the oldest sibling; I have two younger brothers. So I think some of these kids need kind of like an older sibling figure to share their story with and help them through it.
Danny, the idea of a "bodyguard" in regard to bullying is a genius idea. What prompted it?
Danny: I don't know exactly how that came to me, but looking back on writing this song, it's obvious that Jessie is a bodyguard to a lot of these kids. I mean, she is openly speaking about her experience, and that's the best way to get through to these kids, speaking from experience. Definitely she inspired it.
As a New Kid on the Block you have an influence with kids. On your tour that you will be beginning in May, have you had any plans to perform this song with Jessie during that time?
Danny: Probably not. The New Kids thing is a whole different world. This is my solo stuff, and I do it with Jessie, so I kind of keep them separate. We have to keep our show moving. People are there to see the New Kids—not to see me, but rather the whole group. So I'm going to keep the two things separate, and hopefully me and Jessie will be able to perform the song soon.
If I could ask you any question in the world, what would you want me to ask you?
Jessie: That's a cool question. Now I'm trying to think; that was a really thought-provoking question. I guess I would say, "What's your favorite color?" because nobody's asked me that. I would say pink.
OK, Danny, what's your favorite color?
Danny: I don't really have one.
If either one of you could make a statement to kids who are being bullied, what would you say?
Jessie: To the kids that are the bullies I would say that if there is something going on in your life that's making you angry or upset, you shouldn't take that out on other kids. Also, when you bully other kids you have no idea what is going on in their personal life, and you have no idea how much harder that bullying can make their life. So just be cautious of other people's feelings, and if you think about the golden rule we learn in kindergarten, to treat others the way you want to be treated, if we really just live by that, the world would be a totally different place.
Danny, what about to the kids that are being bullies?
Danny: I would first tell them that if it's in school or social media, I live by just posting and getting out. I don't read any of the comments. I kind of make it a one-way conversation, because it's a lot easier to deal with. At school I would tell them that school doesn't last forever, and they'll eventually be out, and all those bullies usually end up being not so successful. From my own experience, when I go back to Boston and run into people that I went to school with, if they were one of the bullies they are definitely not so successful. So what goes around comes around.
If you could have your ultimate stage fantasy, what would need to happen, and for Danny, you probably have had it already—so what was it?
Danny: For me already, anything I've ever dreamt of happened. We got to play Fenway Park twice, and for five guys from Boston that's the ultimate goal, to be able to play there. We did it a couple years ago, so I'm good. I don't have any fantasies or wish list or bucket list or anything like that. I've done it all.
Jessie: I would say for me just playing somewhere at home like Fenway Park or Gillette Stadium would just really be a dream come true, because that's where I grew up, going to concerts and wishing I could be on that stage. So I think my ultimate stage fantasy would be performing at Gillette Stadium with glitter and confetti everywhere.