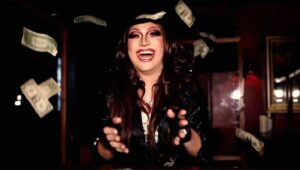 Brandon James Gwinn's "Cristal Conners," is a country-rock pop-infused ode to the character portrayed by Gena Gershon in 1995's infamous Showgirls film.  The song is a love letter to aggressive feminine fierceness; something BJG has been known to embody after a number of vodkas.
"As the song says, 'I try to be good but baby, I don't try too hard," he laughs.  As fabulous as Cristal is, she wreaks a lot of havoc.  It's a quality that Gwinn admits he can relate to.
Directed by Chris Ruetten and shot at NYC's legendary Stonewall Inn, the music video echoes the chaotic, queer joy of the single.   It is laugh out loud funny with Brandon made up as Cristal, courtesy of drag queen and make up-artist Chelsea Piers.
"Cristal Connors" is the first release from Brandon James Gwinn new BULLIT album.
"I started writing the album while on the nationwide tour for my first record, opening for drag star Trixie Mattel," Brandon explains. "It was at the tail end and I was reflecting on the amazing and somewhat unexpected experience of traveling the country and how it would soon be over. At the same time I found myself at the end of a serious relationship.  All that tumult made me look at where I was and where I was going."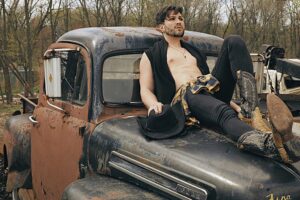 Much of the BULLIT album is darker than the piano-based-quirkiness of his previous work.   It is queer pop but also theatrical rock 'n roll.   It's about messy ends, and the rocky, mirky, often uncertain paths many of us travel in life before getting to what we celebrate as new beginnings.
"I want BULLIT to be fun when you need it to be, and a devastating feel-fest, if that's what you're after," Brandon says.  "Like life, the album's a journey where you deal with shit, but then look around and realize the darkness you were complaining about is sexy and dangerous.  You're older and maybe a little tired, but you came out on the other side learning a thing or two.  Sure, you made it by the skin of your teeth, while faking it just a little bit, but you smile because ultimately it doesn't matter how you got there. You got there."