Catching up with: Boudoir LeFleur
Our reigning GLAM winner for Entertainer of the Year reflects on a year of drag witchcraft, the super success of her coven the Assassins, and (maybe) passing the torch to a new Entertainer this year.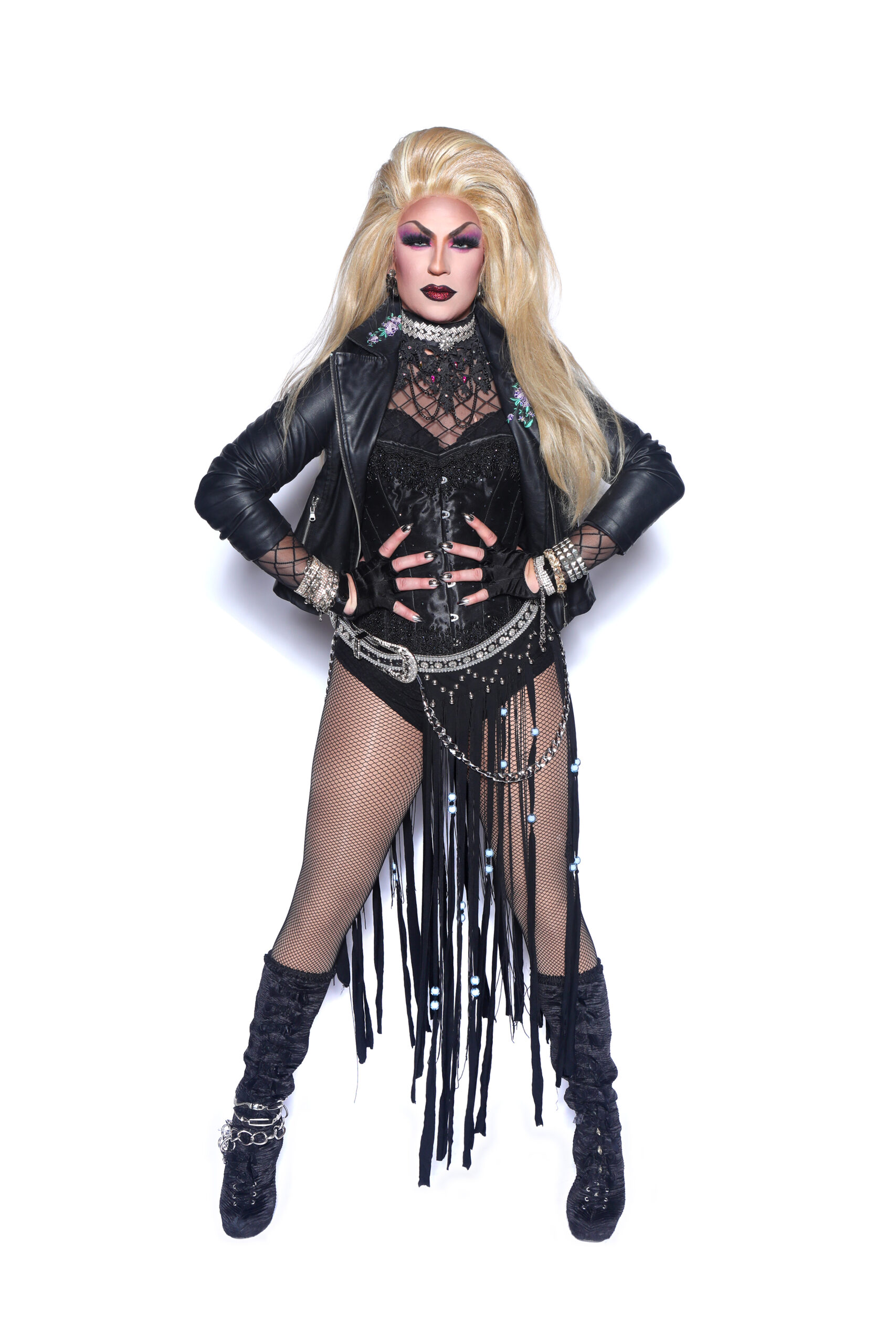 Interview >>>
Hello, my witch! How were the holidays for you?
Another season in the NYC nightlife? This year, the new variant made everything semi-wild at best.
The Assassins, aka the drag coven you and Kimmi Moore created that now includes Kamilla Kockman and Nick Gaga, have taken over the universe. What would you say the Assassins' "brand" of drag is these days?
We are dance-heavy, stomp the yard, no frills, old school fun, in leather, lace, chains, and very few rhinestones.
And what is it like being a sisterhood of four? Might there be more girls in the coven someday?
We are lucky to have this little family. Like all families, we have our ups and downs, but it's all about balance, and we have found a great balance between our very different personalities. For now, I think four is plenty.
In your opinion, what makes a "good" drag queen?
Sondheim wrote in Sunday in the Park with George, "Anything you do, let it come from you, then it will be new, give us more to see." No matter what the skill set, originality is what makes drag exciting.
You're with Jacklynn Hyde at Hardware early Saturday nights. The dynamic duo of Boudoir and Kimmi have shows together Tuesdays at Pieces and Wednesdays at Hardware. And on Fridays, all four Assassins slay at Playhouse. Do you all have a favorite group number?
My personal favorite is our "Little Mix Mix", a production number we often open our Playhouse show with.
Speaking of Little Mix, all the Assassins are nominated for "Best Video" in the GLAM Awards this year, thanks to your tribute to "Sweet Melody." What was it like making that video?
It was cold! The floor was hard! Showbiz is grueling! And I would do it again in a heartbeat!
And I love that promo you all shot, driving in that car on a desert road. Where was that and what's the story behind that shoot?
We shot that in Vegas! Well, we rented a 1960-something vintage Mustang and drove out to the desert and shot for about five hours on location during our recent mini vacation.
At the last live GLAM Awards, you won Entertainer of the Year and Best Dance Performer. You and Kimmi also won Best Group/Duo together. And you performed on the Sony Hall stage. What was that like?
I love Sony Hall! It's nice once in a while to get out of a bar and onto a nice, big, juicy stage.
The GLAMs return to Sony Hall on Jan 30th, hosted by Bob the Drag Queen. Besides Best Video, the Assassins are up for Best Group. You are once again nominated for Entertainer of the Year, and you and Kimmi are now both up for Best Dance Performer as well. It's likely to be another great night for The Assassins.
If Kimmi beats me, I'll be elated! She's definitely deserving and one of the best dancers I've ever been onstage with. I'm excited to wear a gown, see who gets what, and be with the Assassins family.
What else is coming up for you all?
We've got a few surprises in the works for 2022, and our new Haus Instagram:
@_assassinsnyc_
And finally…do you have New Years resolutions?
Never.