CARLY HUGHES: "THE CHRISTMAS EDITION"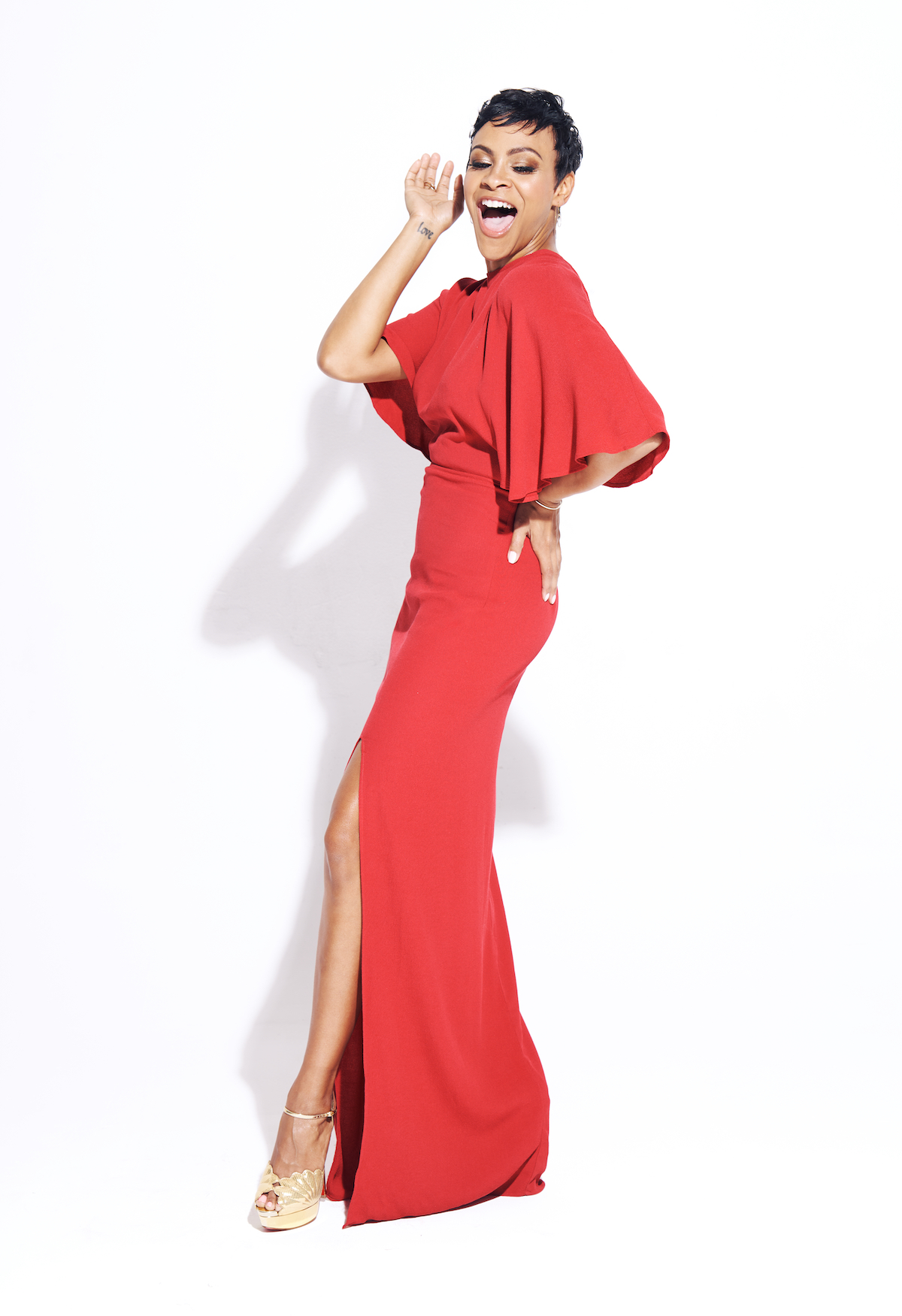 Carly Hughes, BEST KNOWN FOR HER WORK
ON ABC's hit comedy American Housewife, is set to star in a new holiday movie for Lifetime opposite Rob Mayes and Marie Osmond entitled The Christmas Edition. The movie will premiere
on November 15, 2020.
Carly will be featured in the film as a journalist who obtains the chance to run a newspaper in Alaska, where she falls in love with her new home and with the former owner's son, played by Rob Mayes. When the former owner wants the newspaper back,
Carly needs a Christmas miracle to keep it.
Hughes is no stranger to stardom, having appeared on Broadway in EIGHT shows, including Pippin, Chicago, BEAUTIFUL: THE CAROLE KING MUSICAL, The Book of Mormon, Ghost: The Musical, Ragtime, THE 25TH ANNUAL PUTNAM COUNTY SPELLING BEE and Dr. Seuss' How The Grinch Stole Christmas. aside from that, Carly also had a recurring role in the Netflix series Insatiable and the HBO series Curb Your Enthusiasm. She can also be seen in the new Netflix film Malibu Rescue: The Next Wave.
I had an entertaining conversation with Carly regarding her Christmas experience and her life's situations.
I'm excited about your new Lifetime Christmas movie.
Not as excited as me because I love Christmas. Everyone needs Christmas this year; it's been a rough year.
What is the premise of The Christmas Edition?
Like every Christmas movie, it's a love story. It's either a love story or a finding oneself…This one is both. It's about a young newspaper editor who is looking to move up in the business and the only way to do that is to take a risk, which is to go to Alaska and take this small newspaper out of the depths into some sort of prosperity. In doing so, she meets a love interest, but decides she doesn't have time for it because her life has been all business. While enjoying Christmas in this town, she finds the light in the newspaper and she finds that it just might be for her. It's a cute little story about keeping your independence and still being able to love someone.
Let's just say you had some kind of opportunity to do that in real life. Would you take the risk?
I would probably go and experience it, but I don't think I would stay there. I would feel like, "No, this is fun, so I'll come back next year." You know, what if I didn't do this for a living maybe. Opportunities are more endless when you're not confined to certain career paths. However, I would probably love to come back every year.
Was this actually filmed in Alaska?
Oh, baby, I wish! That would have made my heart so content. I think there was probably talk of it pre-covid, but it was actually shot in Utah, which is the exact opposite of Alaska. It was shot in August, when it was like 100° every day. There were a couple of scenes where I was wearing this cable knit sweater, a hat, a ski suit, fur boots and gloves and a scarf. We were supposed to be in Alaska, but it was 100°, and I'm not even kidding.
Is this movie different from anything that you've ever done on Broadway or on television?
Sometimes they all meld together, but this one I really enjoyed because first of all, it was my first Christmas movie, and since I am a Christmas-a-holic, it made me super, super happy. But it was also the first time I got to play a whimsical ingénue. My other roles have been about fierce, leading women coming into their own, and this one was a softer, demure ingénue that was still independent but light hearted.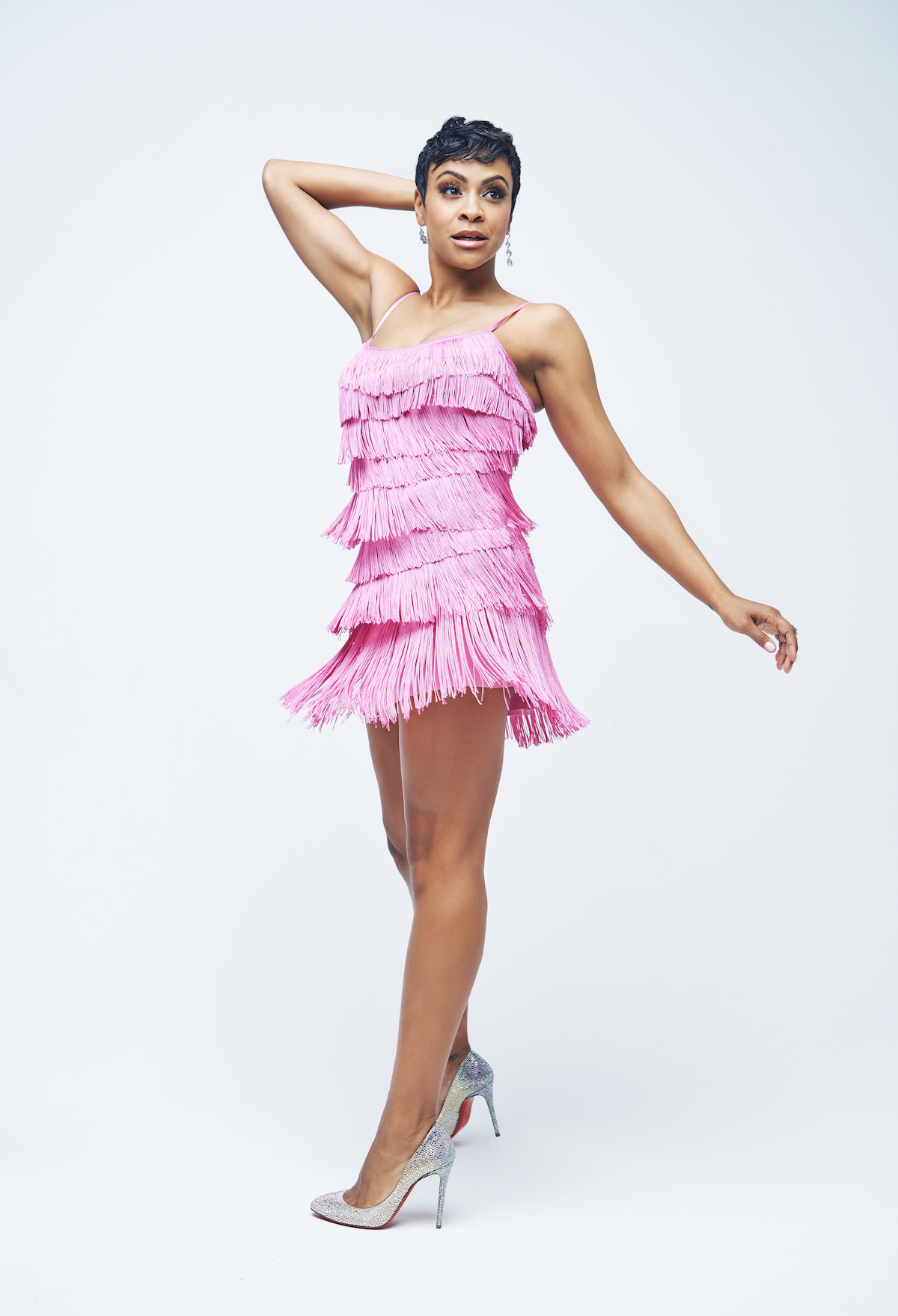 How did you like playing at being a journalist? I personally love it. [laughs]
It was amazing. I was real, real smart in the script. I actually liked that aspect–finding stories and thinking what to write. I think that's very cool. I don't know if I could do it for a living like you–I'd be worried that I wouldn't find enough interesting things–but that curiosity is a common ground for both of us. In a lot of career paths and jobs, it's that curiosity that keeps you going.
Was there a particular scene that you absolutely were in love with?
Yes, there are two. One scene–which is in every Christmas movie–is a Christmas party, and I was in love with it just because I got to wear this fierce sequined dress with a slit up the side. This was observing Christmas fashion, honey. In real life, I don't think I ever went to a Christmas party that dressed up. That was fun and fantastic. The other one I really loved was there was a scene where me and my costar, Rob, let our guards down for the first time and actually tried to give into the attraction. So it was fun to see that kind of playfulness around the Christmas tree and the big toy drive. Despite it being 100°, that scene really evoked the Christmas spirit.
How was Marie Osmond as a Christmas costar? I feel like she's been in many Christmas movies.
She's been around and has done lots of Christmas. Marie is great. She was only in a few scenes, but they were all with me, so that was great and we just got to laugh and sing Christmas songs on the side when we weren't filming. We tried not to giggle at each other. We had a lot of fun. She's very sweet.
I love behind the scenes stories. Do you have any other cool ones from the film?
It was really hard this year because of covid, but I guess the funny thing for me was because the whole crew had to wear masks, I still to this day don't know what they look like. It was weird because when on Broadway I knew the cast, the crew, the orchestra, and even all the people on the set of American Housewife, but to this day I still don't know who the crew was for the film. I might have seen two crew members without their masks on while they were eating, but I couldn't remember what they looked like afterwards because that was gone in a flash. The first day, the cameraman came to introduced himself to me. His name was Eiton, but because of the mask, it sounded like he said "A-Town" and so that is what I started calling him. He ended up liking that, so for the rest of the shoot, that's what I called him and then everyone else started calling him "A-Town." He said, "I like it, I'll keep it." They even changed it on the slate as well.
I really think it's so funny that you filmed it in Utah in 100 degree weather.
Thank god we had a medic on set. The medic is required now because of covid, but there was a moment where I almost fainted from the heat and I was really glad he was there.
It had to be strange and different filming during these crazy times. In what ways was it different than normal and what would have been different had it not been for this surreal situation?
Yes. We probably would've gone to Alaska and I would've seen everyone's faces. There would've just been more intimate moments and there would've been less fear all around because covid provides fear for everyone. We were tested every 72 hours, but just as with any test, there was always that fear that you wouldn't pass. Also, we were on lockdown and quarantining there, so we were only allowed to be picked up and brought to set. Right after that, we went back to our condos. So there was no visiting Utah or sightseeing–not that we had time–but we couldn't go anywhere, otherwise it would jeopardize the production.
As a Broadway person, what do you think about theater having gone dark?
It breaks my heart. Broadway is one of the pillars that hold New York up, and it has been for decades. It also holds up the majority of the people in New York, whether they are part of the crew, the music industry, the actors on stage or the people that live there who like to frequent theater. That is no longer an option, and unfortunately it won't be back anytime soon. It also takes away a source of income and a source of happiness. So I'm grateful to be doing what I do from this end, but my heart bleeds for my Broadway family because it's just not being at work, but also knowing there's no options, there's nothing. And you cannot do anything about it and it's scary. It's scary to witness from afar and support from afar.
A lot of artists think that this time, on a positive note, has brought out a lot of creativity. What's your viewpoint on that?
From the beginning, I've said that this is the time to find yourself or whatever that means for you. A lot of people luckily have been creative and have been finding other outlets, but at the same time, I have heavily advocated being whatever feels best for you. We have the time, but the pressure you put on yourself of being the next Oscar winner or the next So You Think You Can Dance star or the next Beethoven….that's just too much pressure. Right now, you have enough pressure waking up in the morning, finding a task and completing that task. So if creativity comes to you naturally, that's great, go with it, go creative, but if something is not coming to you and it doesn't for a while, that is also OK. Finding yourself means different things for different people right now. You just have to be open to the possibilities.