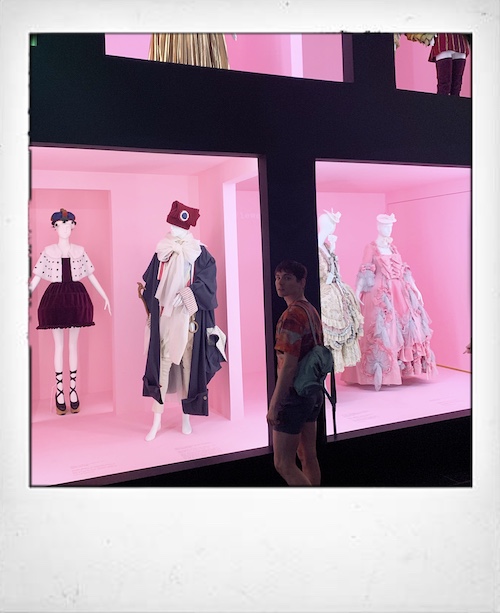 One hot summer morning, on the request of my friend Janis, several friends and I went to the Camp exhibit at The Met.

In seven years in New York, I'd not been to The Met (barbaric, I know), and I was excited to finally have the motivation to go. Janis has been caught in our endless weekend game nights for years, which isn't his first idea for a good time, so it was fun letting him take the lead.

Walking into a hot pink hallway, I was struck by the first statue, a bronze man about a foot tall from The J. Paul Getty Museum in Los Angeles. The statue, attributed to Petro Tacca, was sassier than me on a rough day, one hand on his hip, a sheet draped around the other. The statue bares full frontal, the smirk on his face saying, "I know I could easily cover up with this sheet, but what would be the fun in that?"

From the back (and I wasn't the only one looking) he showed off his rotund, perfectly round ass, left foot cocked to better showcase his assets. I felt like I had seen it before, and realized he was a dead ringer for Michael Walker, an Instagrammer marked as a "business" with 202K followers. His Instagram is filled mostly (but not entirely) with photos of him showing off his ass, just as Bronze Man did, with a prideful stance and the slightest of smirks. I wondered, is Walker's Instagram much more than another thirst trap? Are these selfies, perfectly composed and possibly Photoshopped, in some way contributing to art? In some way contributing to Camp?
(Or was I simply trying to justify the weekly #HumpDay posts of my past?)

Camp is, if you've tried to Google exactly what it means, hard to describe. I feel that Susan Sontag did it best in her essay "Notes on 'Camp,'" published in 1964, the essay which provided the framework for the exhibition: "Many things in the world have not been named; and many things, even if they have been named, have never been described. One of these is the sensibility—unmistakably modern, a variant of sophistication but hardly identical with it—that goes by the cult name of 'Camp.'" (If you find yourself lost on Google, just look up the entire essay—it's a fantastic read.)

She quotes Oscar Wilde, a King of Camp: "One should either be a work of art, or wear a work of art." I was glad I wore my Storm Ritter crop top and mint satin Prada backpack.

My favorite quote in the exhibition was from Mae West, 1971: "Camp is the kinda comedy where they imitate me."

This quote was in my favorite room, the biggest of the exhibition, which showcased the most beautiful Camp fashion. (My favorites include a full 3D merry-go-round dress by Manish Arora and a gold, silver and bronze tinsel dress by Maison Margiela.)
I'd suggest anyone make their way to The Met, if for nothing else than to decide what Camp means to them.