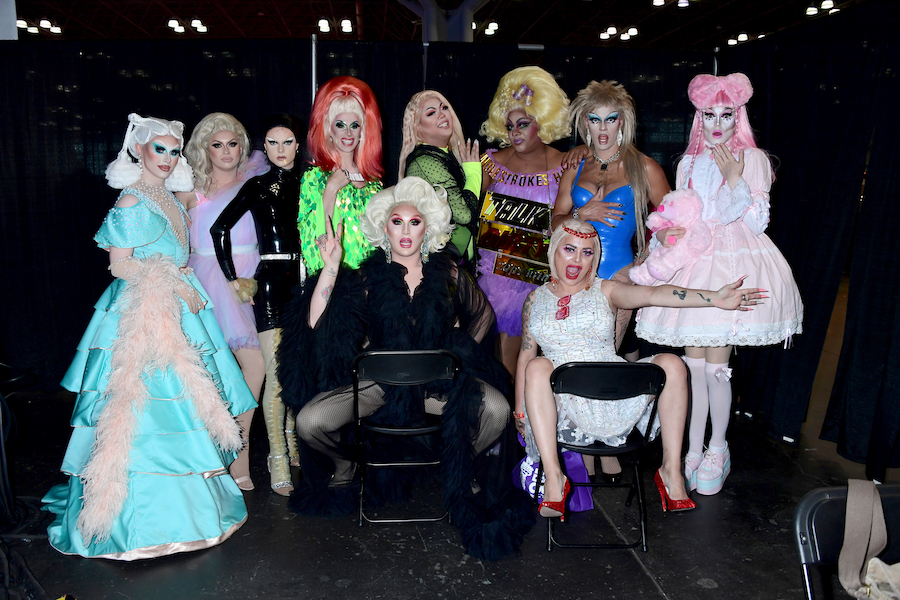 Introducing the ten competing queens: Baga Chipz, Blu Hydrangea, Crystal, Cheryl Hole, Divina De Campo, Gothy Kendoll, Sum Ting Wong, Scaredy Kat, The Vivienne, Vinegar Strokes.
On Thursday, October 3, drag history will be made according to the BBC when the first season of "RuPaul's Drag Race" will air in the U.K. "Drag Race" has changed pop-culture, altered reality show norms and positively magnified the importance of drag for the past 11 seasons in the U.S. The season will be available on the streaming platform WOW Presents Plus for those outside the U.K.
On July 16, it was Ru-vealed that the contestants would be announced at DragCon New York 2019, where we were given the first glimpse into the personas of the 10 contestants slated to compete in the inaugural episode of the U.K. version of "Drag Race."
"Each of the U.K. queens is so unique, so courageous and so special. I can't wait for the U.K. and the world to fall in love with them the same way I did," RuPaul said.
Crystal
Originally from Canada, now based in London, this queen considers herself more of a gender-bending oddity rather than a showgirl. She explains, "She stands for tearing down gender constructs using creativity, looks and fashion and crazy performances. I do aerial circus, I can crack a whip, put cigarettes out on my tongue—it's a freak show. It's unexpected. It's nothing you have ever seen before."
What is your main drag influence, whether it be another queen or hero?
For me it's like a superhero in the '80s.
Can you describe "Drag Race" in one word?
Terrifying.
Here it's customary when you perform in bars and clubs people give you tips. Does that happen in the U.K. as well?
No tips.
Which judge are you most scared of?
I think it's got to be Ru. She's the ultimate voice. You gotta impress Ru.
What was it like when you were first called to be on the very first U.K. "Drag Race"?
It was mental, and you have so little time. It's just instant panic. You have to go into your closet and throw out everything you've ever had, just burn it all, and start from scratch. I've got some nice new outfits, though.
Vinegar Strokes
A comedy queen hailing from London, she considers herself a mix between Tina Turner, Lizzo and Kate Slater. She has already shared the stage with Michelle Visage when performing at the West End. "It's great to be able to take drag from a small idea to the West End and hopefully behold that."
What do you think are the main differences between U.K. queens and U.S. queens?
Foreskin.
If you could describe "Drag Race" in one word, what would that be?
Camp.
Who influenced your drag?
Really unhinged women, like "Desperate Housewives."
Which judge are you most scared of?
It's Ru, but also Michelle. I've worked with her at the West End. I know her from that, and to be judged by her, it's kind of scary.
Divina De Campo
This Mancunian queen has appeared on "The Voice U.K.," "All Together Now," MTV's "A to Z Drag" and "Big Brother's Bit on the Side." She is probably the most well-known name competing. "She does a swan dive on TV, so I ran out into the audience and head butted some fixed seating. My eyes just exploded everywhere with blood, and I just carried on singing," she said.
Do you think there is a difference between the queens on the U.S. and the U.K. "Drag Race"?
It's how they all take it in. We are quite a different breed. There's a different sort of history to the American drag scene. There is a difference to what the U.K. audience is looking for than to the U.S.
Do you perform all over the U.K.?
I perform all over the world, babe.
Can you describe "Drag Race" in one word?
Not cute.
Scaredy Kat
Hailing from Wiltshire, she is the youngest contestant on the show. She is bisexual and first got into drag via a girlfriend, who performs drag under the name Pussy Cat. "My greatest strength is probably the fact that I'm terrified of everything. I also have OK makeup skills, I guess."
What is that difference between what the U.K. is looking for as opposed to the U.S.?
I think that there needs to be more polish. It's the attention.
What is the difference between the contestants of drag race in the U.K. in the U.S.?
We're ruder. People are quite polite here; you don't get offended about swearing. They aren't worried about saying "fuckin' shit."
Baga Chipz
London based, this queen has been featured in the reality series "Queens of London." She says that she bases her act on a young Princess Diana and the "Coronation Street" cast circa 1970. "My greatest strengths are my comedy and my wit. I'm a live performer, and I do my own material. I might not have the best outfits or makeup, but put me on a stage and I will entertain the absolute shit out of the room," she said.
Why do you think you were selected to be on the very first U.K. "Drag Race"?
Because I'm a bag of chips. Everybody loves a bag of chips. Like in America, chips are like crisps. In England, it's more like, hello fish and chips. So I'm the bag of chips with salt and vinegar. And the ketchup.
Are you also almost scared of Michelle Visage as a judge?
She's a pussy cat underneath that Michelle. As far as being scared, I take it on the chin. I say, well I'm going to listen to that, but if they are talking shop, I say no.
What are you most looking forward to after the show?
Loads of money! I'm just looking forward to watching and seeing what the other bitches have been saying about me behind my back.
Gothy Kendoll
Aside from doing to drag, this queen is also a DJ. She really does look like a gothy Ken doll in drag. Her fans say that her social media went suspiciously quiet in April when the show was rumored to have been filmed. "My drag is dark, contemporary, striking and unique, and everything that is cool and fresh about U.K. drag now," she said.
How about you, why do you think you were chosen?
I think because I show a different side of drag. A lot of "RuPaul's Drag Race" shows are pantomime and camp. Mine is more fashion-based.
Who are you most scared of as far as the judges go?
Michelle Visage.
What are you most looking forward to after the show?
Having a different experience after the show.
You seem shy.
Really? I don't think I'm very shy.
Blu Hydrangea
The only contestant from Ireland (Belfast), this queen is a quirky makeup artist. The fans expect her to slay the competition. "By day I am a makeup artist, and I think that will give me an edge on the competition, because I know that Michelle and Ru will be looking for someone that is polished. Well, put it together and I will wear that crown and look gorgeous, that's me," she said.
Where were you when you found out you were going to be on "Drag Race"?
I was in bed while you were out doing it.
You and Cheryl look like you are good friends?
Well, you will just have to tune into the show to find out. She doesn't wear earrings.
You are very colorful.
Like your hair, but I am rainbow from head to toe.
You two are going to be fun to watch.
We don't take ourselves seriously, we just have a good time. We're not there for the drama, but maybe there is a bit of drama. Who knows.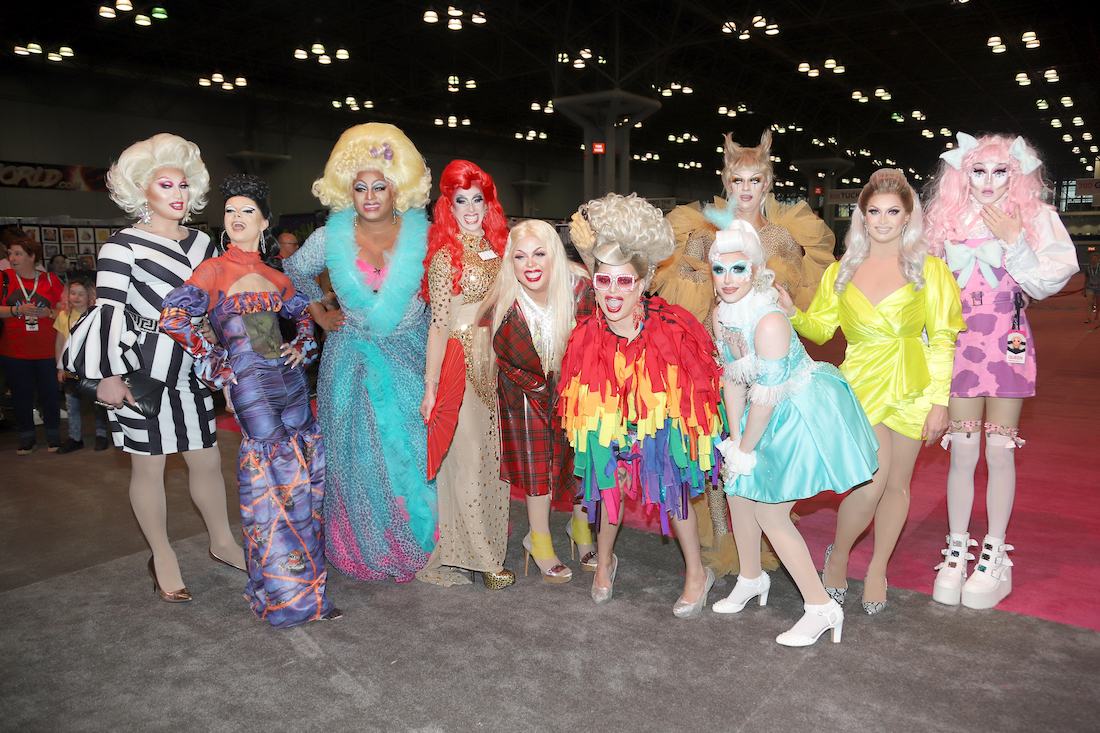 Cheryl Hole
Cheryl describes herself as the "dancing diva of Essex" and the Gemma Collins of drag. She bases her show on "X-Factor" and star Cheryl from Girls Aloud. "I am a lip-sync assassin, and I'd like to see any of these girls try and out lip-sync me as this is what I do," she said. "I'm quite well known for my death drop and dancing skills, so girl, you better watch out as I'm gonna bring the exclamation mark of the dance moves to the dance floor."
Who are you, and what did you do when you found out you would be on "RuPaul's Drag Race"?
I was sitting in a car all by myself, shaking.
Are you and Blu good friends?
I actually hate her. I do Blu, I just didn't have time today.
I'm really looking forward to seeing you two on "Drag Race."
It's going to be fabulous. It will be the campiest "Drag Race" anyone has ever seen. Camp is ridiculous, it's stupid. Tune in October 3.
Sum Ting Wong
"I'm here because I am a drag queen, not because I'm Asian. Asian is who I am, but it does not define who I am. I want to show you that I'm a queen like anyone else," she said. Her name reflects her British/Vietnamese heritage, but turned out to be a prank. She claims that in her 30 years of life, this is the first time she is doing something that she actually loves. This queen is from Birmingham.
Why did you want to be on "Drag Race"?
I'm a vocally talented queen who wants to break down racial stereotypes.
How long have you been doing drag?
I started five years ago.
The Vivienne
"I am The Vivienne, I'm 27 years old and I am from the gorgeous town of Liverpool," she said. "I am an engaged lady, and I live for my fiancé. And I'm here to win the crown of the first ever 'RuPaul's Drag Race U.K.,' so bring it on!" She is a self-proclaimed comedy master who does impressions of celebrities from all around the world. She has actually had past "Drag Race" experience and was previously crowned by RuPaul herself as the U.K. ambassador for "RuPaul's Drag Race."
I love your look.
I like to look fierce.
What are your strong points, talent wise?
I can sing, I look good and I'm funny.
DragRace UK
Will Premiere In US On @LogoTV Oct. 11th 8PM