Breeding An Erotic Gay Thriller
The Breeding aims to fuel an overdue dialogue on race relations in today's LGBTQ community.
Winner of the "Best Feature" award at The 2018 Harlem International Film Festival,  The Breeding centers round Thomas (Marcus Bellamy), a young artist whose obsession with a BDSM (bondage and discipline, sadism and masochism) leads to life altering consequences. Written by Dane Joseph, directed by Daniel Armando and executive produced by Dwight Allen O'Neal, the film explores the basic animalistic instincts of humans and how many of us are willing to do regrettable, unimaginable and typically uncharacteristic things in order to fulfill our primal needs.
"This film pushes boundaries and embraces controversy as it careens headfirst into its edgy subject matter," says Richard Ross, Co-President at Breaking Glass Pictures, the company distributing the film. "Armando and Joseph have crafted a compelling erotic thriller that feels both fresh and exciting."
"The idea for The Breeding came from an art piece on Harmen van den Bogaert, a slave master in the pre-Civil War era, accused of sodomy with his slave," explains Joseph. "The crime was punishable by death so master and slave fled and later died on the run, falling through a frozen lake. The artist envisioned their plight as a forbidden love story. I felt it to be a problematic interpretation and so I began research on master-slave relationships. It led to my discovering BDSM, where racially charged situations and language are used during cross cultural sexual encounters. My mind began to wonder how people of color could reconcile that sort of behavior, considering the horrific past from which the practice stems."
Joseph also says he began to question whether fetishes based on race dehumanize LGBTQ people of color and perpetuate harmful myths such as the black Mandingo.
"Sexual identity within the black and latino communities is a challenging subject to take on," reflects O'Neal. "It is the unique complexities, largely due to religion and tradition, that fascinate us at Novo Novus and drive our current stories."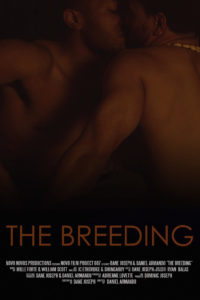 Novo Novus is an award winning multimedia company focused on producing film, web, and theatre content that highlights ethnic minorities within the LGBTQ community. Recent work includes three seasons of the pioneering hit comedy web series Drama Queenz, the award-winning Boys Like You, and the feature films Subways and Daddy's Boy. Other notable work includes the critically acclaimed docu-web series Fade In, about homeless LGBTQ youth in New York City, and the award-winning play Reflections in a Ditch.
Breaking Glass Pictures is a film distribution and media company that focuses on releasing unique and visionary independent films, inclusive of all genres, from around the world.
The Breeding is available now on DVD at fine distributors everywhere, and to buy/rent on the following platforms: iTunes, Amazon Instant, Google Play, Direct TV and On Demand through local cable providers.
For more information, visit http://novonovus.com.