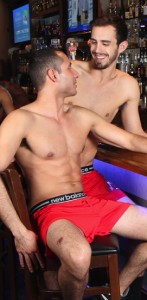 To most, the words gay and sports do not go together. However, these days gay life as we know it has changed. Welcome to our newest phenomenon, the gay sports bar. Ten years ago this would be absolutely unheard of; gays didn't get involved with sports, people said. We went to Broadway shows, opera and wine tastings. Times sure have changed.
Today many major cities have gay sports bars: Woofs in Atlanta, Nellies in Washington, Fritz in Boston, Crew Bar in Chicago, Roscoe's in Phoenix, Sidelines in Fort Lauderdale and our most recent addition to the gay sports bar fraternity, BoxersNYC in New York City. Pool tables, dart boards, beer pong, large screen HDTVs, an outdoor patio and some of the hottest bartenders ever created make Boxers one of the leading gay sports bars in the country.
Whether you are people watching, sport watching or just out for a good time, BoxersNYC has something for everyone. Offering one of the most unique spaces in New York City, Boxers is truly a melting pot for all of the different niches that make up our gay community. Next time you are up for something a bit different, give Boxers a visit at 20th St. just east of 6th Ave. You can also get more information at BoxersNYC.com. You won't be disappointed. The nice thing about sports bars, especially gay sports bars, is that they aren't just for sports.
You don't have to be a jock to enjoy your local gay sports bar; guys into sports have a natural outlet to go watch their favorite teams and guys into jocks can come hang with them as they watch their sports. Gay sports bars create a relaxed atmosphere for jocks and non-jocks alike. You aren't expected to know everything that is going on in any of the games; you can ask the hunk next to you for pointers. It's a great way to start a conversation with that hottie next to you.
Gay culture has evolved. We have had gay pro athletes in the NBA, NFL and Major League Baseball as well as other pro sports. Years ago there may have been a handful of sports leagues for gays. Today there is a gay league for just about any sport or activity imaginable. Here in New York alone, we have leagues for basketball, hockey, football, rugby, dodgeball, volleyball, bowling, softball and a plethora of others. What we have found is that the gay sports bar is a new melting pot for gay culture.
If you like sports there are plenty of games to watch with a beer and a Bud. Not into sports? That's fine too. Go to your local sports bar and enjoy the view of some of these well-built athletes. Today's new gay sports bars give us a bridge between mainstream gay culture and that taboo we grew up with that told us gays weren't supposed to be involved in sports.
Gay sports bars allow athletes and athletic supporters a comfort zone to be themselves as well as part of a new gay culture. The evolution of gay culture continues as more gay stereotypes continue to be obliterated. You can be gay, you can like sports. You can be a fashion designer and an athlete. Just be yourself.
– Ray Geerlof