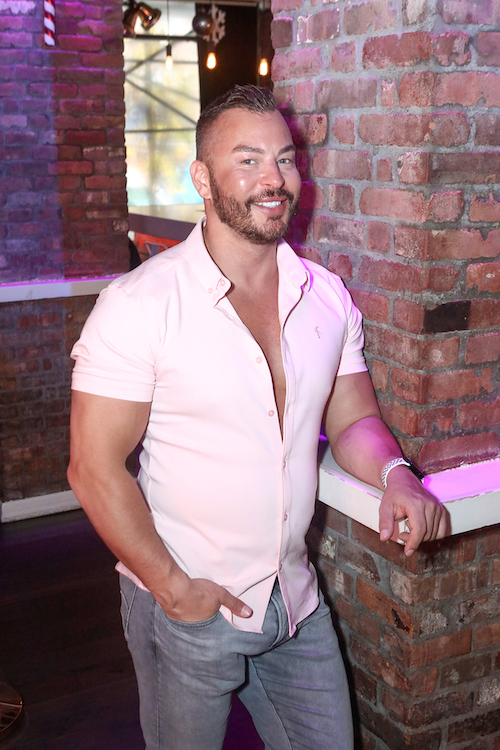 Co-owner  Ted Arenas has had phenomenal success of Rise Bar, so much so that he was able to expand. Get Out! Magazine was able to talk to Ted regarding the bar and their sister bar for the near future.
INTERVIEW
Hi Ted, Rise Bar has had tremendous success since its opening on Ninth Ave @ 56th St. You, Tracy and John Blair have even doubled the venue in size, which is really unheard of in the nightlife business—not to mention in NYC nightlife. It's an epic challenge to conquer. What were the reasons that you expanded your bar to double its size?
We had wanted to expand Rise or add another location for a while—especially after the community board rejected our first application for the Spot. Although we did eventually get approval for our sister bar, we remained vigilant for an opportunity to add a second bar and dance floor to Rise.
When COVID hit, the business next door to Rise vacated the space, so we annexed it. Undertaking this expansion during the pandemic was a huge risk, especially given how oversaturated Hell's Kitchen has become with LGBTQ+ nightlife venues. But we believe in our brand, and we wanted to grow our business by serving food and having more room to accommodate private parties, corporate events and other celebrations. 


What's your signature drink and why?
Our rotating seasonal menus have many delicious classic and specialty cocktails, but I'd have to say the Samurai Old Fashioned is especially good. It's made with Japanese whiskey and we use an orange oil spray to give it a flavorful zest of citrus. Its taste stands out and our customers love it!
What are your favorite food items on the menu? And tell us about your weekend brunch.
Our truffle fries are one of our most popular weekday orders, and our power bowl with grilled chicken and avocado pea hummus is a bartender fave because it is so healthy and tasty. And although our brunch menu is packed full of excellent choices, the chicken and waffles is definitely a fan favorite.
When hiring a bartender, what attributes do you look for?
First and foremost, we look for bartenders who are both experienced and personable, and it's critical that they demonstrate skill and expertise behind the bar. We try to select people that we think will interact well with customers and that can handle unpredictable situations and difficult behavior in a professional manner. Commitment to the job, punctuality and reliability are also attributes we emphasize in our selection process.
What's the most difficult part of your job, and what's the most fun for you?
One thing that really gets to me is that, when someone is too intoxicated to get into the bar (or is thrown out because of inappropriate or dangerous behavior), they're often quick to accuse us of wrongdoing instead of taking accountability for their behavior. And honestly, if a situation gets to the point where we have to take any sort of action against a customer, it's because they were doing something harmful, offensive, or dangerous to the people around them. We never like having to use disciplinary action, but we will always act quickly and as needed to ensure the safety and wellbeing of our other customers and our employees.
On a more positive note, I'd say the most rewarding part of my job is seeing people happy and enjoying and appreciating the positive atmosphere my employees and I work to create. I absolutely love hearing stories of how people met their partners at Rise and are now engaged or married. It's incredible to feel like a part of something that brings people together.
Why do you feel that patrons frequent your bar rather than other bars?
To be honest, I'm not sure that people frequent Rise and the Spot more than other local LGBTQ+ bars. But I do think one thing that sets us apart is how much pride we take in having friendly staff and going above and beyond to accommodate our customers, their needs, and their wishes. We really go out of our way to ensure that our patrons have a safe and welcoming environment whenever they're inside our walls.
Is there a favorite night or event for you, and why?
I love our drag brunches. They're fairly new, but the positive customer response to them has been overwhelming! Seeing how much people enjoy these shows and receiving their glowing feedback is so encouraging and makes me really happy.
What advice would you give to those who dream of having a career like yours?
Get ready to be on call 24/7, and know that sometimes stress from your job will keep you up at night. It's a big sacrifice, so you have to be sure you really love what you do if you're going to make that commitment. A lot of people see owners and managers hosting or giving out drink tickets, and they think based on this that the job is easy and mostly fun. But what you see in those moments is just the tiny tip of a huge iceberg. That "front-of-house" aspect of the job only accounts for a minority of what we do. The behind-the-scenes logistics of running a business are a lot less glamorous and a lot more tedious and time-consuming!
Could you give us an overview of your weekly entertainment lineup and happy hour specials and hours?
Our happy hour special is half-price drinks, and it runs daily from opening until 9 P.M. Our weekends are packed with shows! Brunch happens on both Saturday and Sunday, with two seatings each day. Izzy Uncut and Skye Walker host the Saturday brunch, while Holly Box-Springs and Egypt do Sundays. Then, on Sunday night, we have Playground Sundays with Chicky Gorgina and Jacklynn Hyde.
Our Monday night event is called Messy Mondays, and it's hosted by Pissi Myles and Jasmine Rice LaBeija. Tuesdays, we have Cut Throat Karaoke with Emily McNamara, and our Legend Wednesdays star Marti Gould Cummings, Pattaya Hart, Lexington Banks, and Bootsie LeFaris. But that's not all we have—for a complete list of our weekly shows, check out risebarnyc.com!
You and your co-owners have also recently added a sister bar to the Hell's Kitchen community. Would you like to speak about it and add anything else that we didn't cover? 
If you haven't yet checked out our sister bar, the Spot, please do so! It has a lot of special things in common with Rise, including a huge stage and amazing sound system. The Spot is not yet allowed to stay open until 4 A.M.. on weekends, but we recently received approval for a license change that includes those later operating hours. That change will most likely enter into force in spring 2023. Once that happens, we will hold a relaunch of our weekend events and start some exciting new things as well.