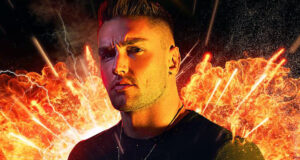 DJ Ben Bakson will be in Miami this Halloween to headline the Red Hot & Hell Party at M2.
He will take the opportunity to premiere his latest single, 'You Got Me', a song written by Sydney, Australia-based pop singer OMEO, who also provides the incredible vocals.  "'You Got Me' is about leaving the past behind and moving towards a happier, freer self," Bakson explains.  "It's about finding peace within and taking back your power."
Ben Bakson produced its radio edit and original club remix and arranged for additional remixes by some of his DJ friends including Dan Slater, GSP, Junyo, Orel Sabag, Phil Romano, and Mauro Mozart, who will be co-headlining the Red Hot & Hell Party with Bakson.
Ben Bakson grew up as an only child with two parents in a small village in south Germany where he enjoyed watching movies, listening to music and long days at the lake or sea with family and friends.  At 18 years old, he moved to Berlin to study Economics and after graduating, he landed a marketing job at a large firm.  It was only then that he began dabbling in music production.
His music style is commercial with hard, emotional, and energetic beats.  Vocals are important to Ben as he believes that they are the soul of every song. In addition to his original compositions, he is noted for re-working famous songs from the 80s and 90s, as he did recently with Cutting Crew's "(I Just) Died in your Arms".  "It's fun to recreate past hits with fresh vocalists and modern, driving melodies," Ben Bakson says.
Ben Bakson has been touring the world.  His recent parties have been in Sao Paulo, San Francisco, NYC and San Diego.
"I love opening my sets with 'You Got Me' because it's the best feeling in the world to see crowds enjoying music I have made," he says.
Ben Bakson's "You Got Me" featuring OMEO is available now on Apple Music, Spotify and all platforms.   The Red Hot & Hell Party takes place Saturday, October 29 at M2 (1235 Washington Avenue, Miami).  Dress code: sinful outfits.  Tickets available here.