Ever dream of owning and operating your own bed and breakfast?  Now you can!  One of America's most successful gay resorts is on the selling block.  INNdulge Palm Springs is available for sale for a cool 10.8 million dollars.
Built in 1958, INNdulge is an award-winning mid-century jewel.  Located in the heart of Warm Sands, the hotel surrounds one of the largest pool courtyards in the city. The lush landscaping features immaculately landscaped lawns and walkways with large modern figure sculptures by artist Mavis McClure, all framed by incredible views of the San Jacinto Mountains.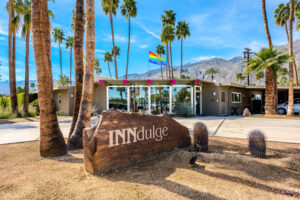 Current owners Jon Jackson and his partner Sandy purchased the property on a whim ten years ago.  "We never thought about owning a hotel until we learned the iconic INNdulge resort in Palm Springs was for sale," Jackson explains.   Just as they went into the venture with no intention to buy, they're stepping aside before they are motivated to sell.  "If it wasn't for a call from our broker, we would never have considered leaving so soon."
They are opting to take advantage of the current rise in interest for hotel and Inn properties.   With the sudden downturn of retail and office spaces brought on by the pandemic, many commercial investors view lodging properties as safer bets.  "Our broker called us and said that if we were thinking of selling INNdulge in the next five years, we should sell it now," continues Jackson.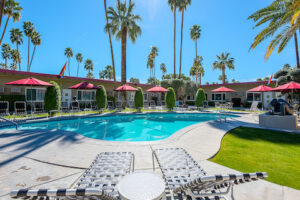 Their one stipulation is that the buyer intend to maintain INNdulge as a gay resort.  "We've spent the last ten years improving the property into a luxury gay resort," Jackson says.  "We've built a strong clientele who have come to rely on Palm Springs and INNdulge as their yearly vacation destination.  We care too much for them to let a new buyer take away the magical place they all know and love."
Palm Springs has been the desert playground for gay men and women since the 1920s.  It became especially popular in the 1950s when stars like Rock Hudson and Tab Hunter made Palm Springs their second home.  It is now a vintage resort town, popular for its midcentury-modern architecture.  Nearly half the city's residents are gay. There's plenty to do, from the springs to the golf courses and spas. There are also tons of bars, restaurants and nightclubs that cater to the large gay crowds.
"It's going to be hard to hand the keys over to the next keeper," reflects Jackson.  He will miss the many events he has hosted from gay weddings to birthdays, reunions, and the inn's annual Thanksgiving, Christmas and Easter celebrations.   "But it will be exciting to see how they carve out the next chapter of INNdulge Palm Springs."
Listing information is available at https://www.loopnet.com/Listing/601-S-Grenfall-Rd-Palm-Springs-CA/20790881/.  Visit http://inndulge.com.