Real-life NYC public school teacher Sally Schwab is pulling triple stage duty this spring, continuing her roles in off-Broadway's The Marvelous Wonderettes and NEWSical the Musical and now starring in her own show, Adventures in Babysitting.
Written with and directed by three-time Drama Desk nominee Tom D'Angora, Adventures in Babysitting is a revised version of the production Schwab first premiered at the Laurie Beechman Theatre in 2013.   The show recounts Schwab's true life tales of navigating her way through endless auditions while paying her dues working odd gigs, including what would become her go-to survival job: raising NYC's most colorful children.
Monday night's opening went off without a hitch, though Schwab admits to having the typical opening night jitters.  "When you do your own show, there's no character to hide behind," she explained after the show.  "It's just you putting yourself out there and that definitely made my stomach do some flips."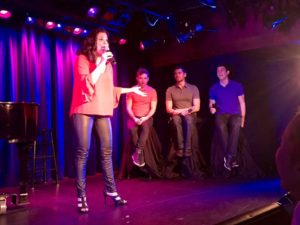 Still, after a four year hiatus, she said it was incredible to be back on the Beechman stage. "I am so happy the Beechman wanted to have the show back for a mini-run.  Their risotto balls!  Have you tried them?  They can't be beat!"
The new Adventures in Babysitting is a bit different from the original.  "We changed some of the numbers that we felt needed updating. We also added some new fun songs that help set the right tone for the show."
The biggest change, however, are the three new back-up boys on stage with Schwab.  "The boys from the original production have either left New York or changed careers," Schwab explained.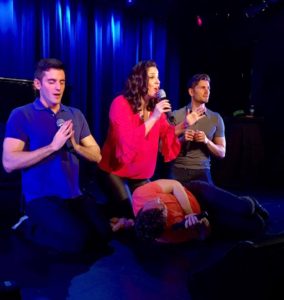 Joining Schwab in the new production are Alex Ringler (Broadway's West Side Story), Dylan Thompson (NEWSical the Musical) and Gregory Sullivan (Naked Boys Singing!).
In addition to being exceptional eye-candy, the boys are extremely talented performers. Their vocals knocked the socks off Monday's premiere audience and their giant personalities proved the perfect match to Schwab's.  The crowd particularly enjoyed watching Schwab as she desperately tried to keep a straight face during the boys' funny antics.
Music direction is by eight-time MAC Award winner and Bistro Award winner Tracy Stark.  The limited run of Adventures in Babysitting continues Monday, April 17 at 9:30pm at the Laurie Beechman Theatre.  The final show is Monday, May 1 at 7pm.  Tickets available here or call 212-695-6909.