By Dustin Fitzharris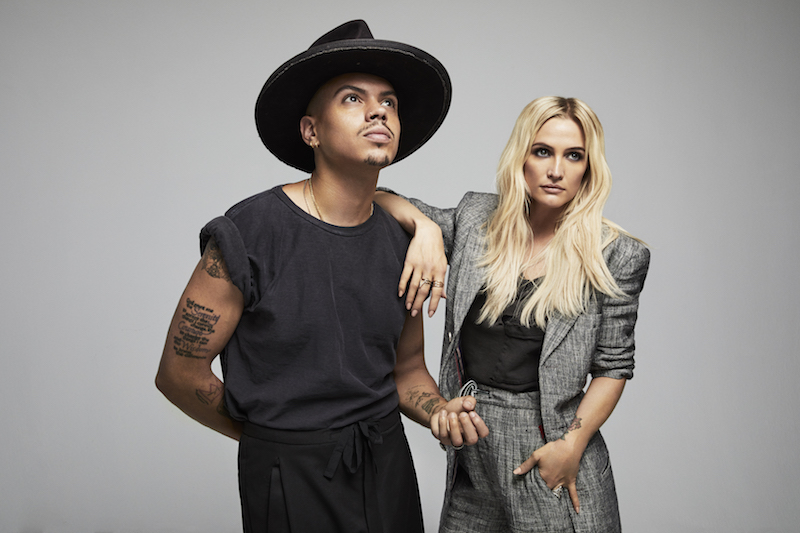 America has fallen in love with Ashlee Simpson and Evan Ross. Since September, when their docu-series "Ashlee + Evan" premiered on E!, the couple has invited viewers to share in their journey of love, family and recording music together for the first time.
Their infectious songs and delicious blend of pop, rock and soul has struck a chord with listeners. Ashlee and Evan's debut single "I Do" became an instant hit. It entered Billboard's Pop Digital Song Sales chart at #6 and went to #2 on the iTunes Pop Chart. Other songs followed, including the seductive and sexy "Paris" and the R&B, disco-infused "Tonic."
Ashlee and Evan are no strangers to success. Ashlee became one of the biggest names in pop music in 2004 when she released her debut album "Autobiography." It sold over five million copies worldwide and produced the monster hit "Pieces of Me." Evan, whose mother is the legendary Diana Ross, made his mark in television and film. Since his debut in the film "ATL," he's gone on to have starring roles in "Pride" and "The Hunger Games," on television in "90210" and most recently in the hit music drama "Star."
In October, Ashlee and Evan released their much-anticipated, six-song EP. It contained previously released recordings that have been featured on their television series, as well as one new song called "Home." In January, they will launch their first tour together in New York City at the Bowery Ballroom.
When you spend time talking with Ashlee and Evan, it's easy to see why they're so much in love. Not only are they fun, chill and magnetic, they are also passionate about their work and have an equal desire to share it with people in their lives.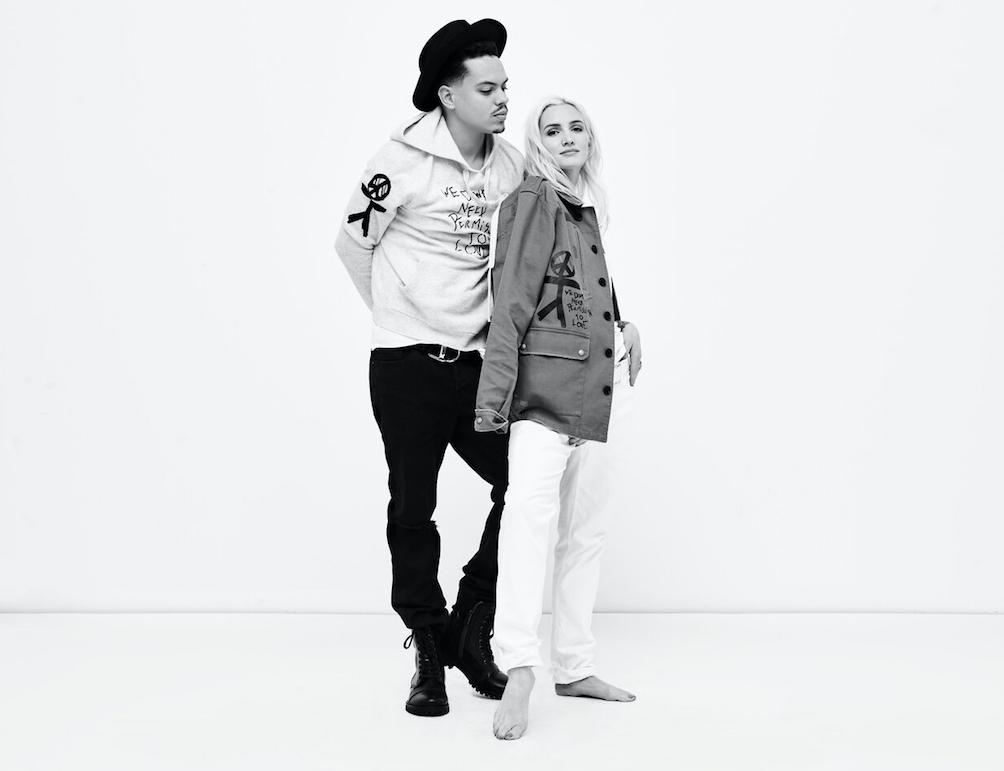 The music you're making seems so organic and natural. Was making music together something you had envisioned, or did the idea come with time?
Ashlee: Music was always one of the things that connected us from the beginning. We liked our voices together, and as time went on, we thought it was something that we wanted to share.
Evan: I remember I was in the studio recording, and Ashlee kept joining in and humming along. I finally said, "Do you want to sing with me?"
Your first single, "I Do," really connected with people. What does the song mean to you?
Evan: It's a message of love. You can sing it to anyone you love—a parent to a child or from one lover to another. It's so good and universal.
Ashlee: Yeah, it's really a trust thing. It's a lyrical commitment to someone you love.

How would you describe the music you've made?
Evan: They're conversations of love, and love is good.
Ashlee: The music is how we think about love. No love is perfect or whatever, but it's beautiful, and we want our music to reflect that.
Evan: And I have always loved duets. I grew up listening to them. I loved Sonny & Cher and of course my mom and Marvin Gaye.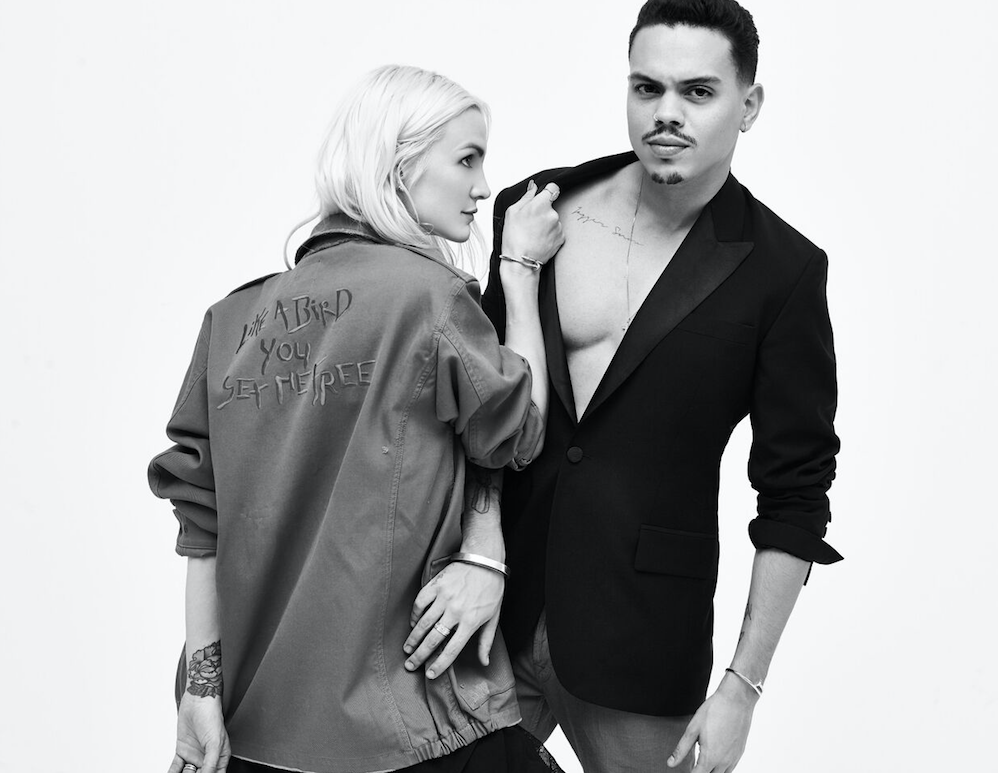 Speaking of your mom, Evan, what does she think of the music you two have created?
Evan: She's so supportive. She actually came up with a melody that we ended up writing a song to. She's good with melodies.
Ashlee: That was really fun. Mama D is super cool, and she has helped me.
How so?
Ashlee: I feel like with her you know she's got your back and is on your team. That's refreshing and so nice. She told me not to rush a comeback until I was ready and felt it was right. From the first time I met her, she was warm. She's an incredible mother. We have a really good connection.
Evan, what's one of the best pieces of advice your mother has given you?
Evan: Trust my instincts and gut. She's inspiring. I remember as kid she used to tell my brother and me before we left for school, "Make a new friend today." She's about spreading love. That's something I've learned from her. I think having love in your life is the most important.

In addition to your television series and recording career, you two have also created a unisex clothing line for Zadig & Voltaire named Jagger Snow, after your daughter. Why was making gender-free clothing important to you?
Ashlee: We've always shared clothes. Evan has such great taste. When we first started dating I suddenly had a new wardrobe, because I was always in his closet!
Evan: And I was often borrowing her vintage pieces, anything from her t-shirts to her kimonos. You have to wear what's comfortable for you and not base it on gender. As my mom always told me, "You set the trends; you don't follow them." As a kid I was always allowed to wear what I wanted.

Ashlee, you have a very loyal fan base, but particularly in the LGBT community. What do you attribute that to?
Ashlee: I've never looked at my fans by their sexuality, just as I don't look at clothing as for men or women. I have amazing fans who have stood by me. I think all of us have grown up together and have faced different degrees of adversity and have had struggles we've had to rise above. I've learned that in the tough moments you become stronger. I've also learned to stand up for myself and to keep fighting. I believe the LGBT community has always been at the forefront of that message. But above all, I believe in love and that love is love.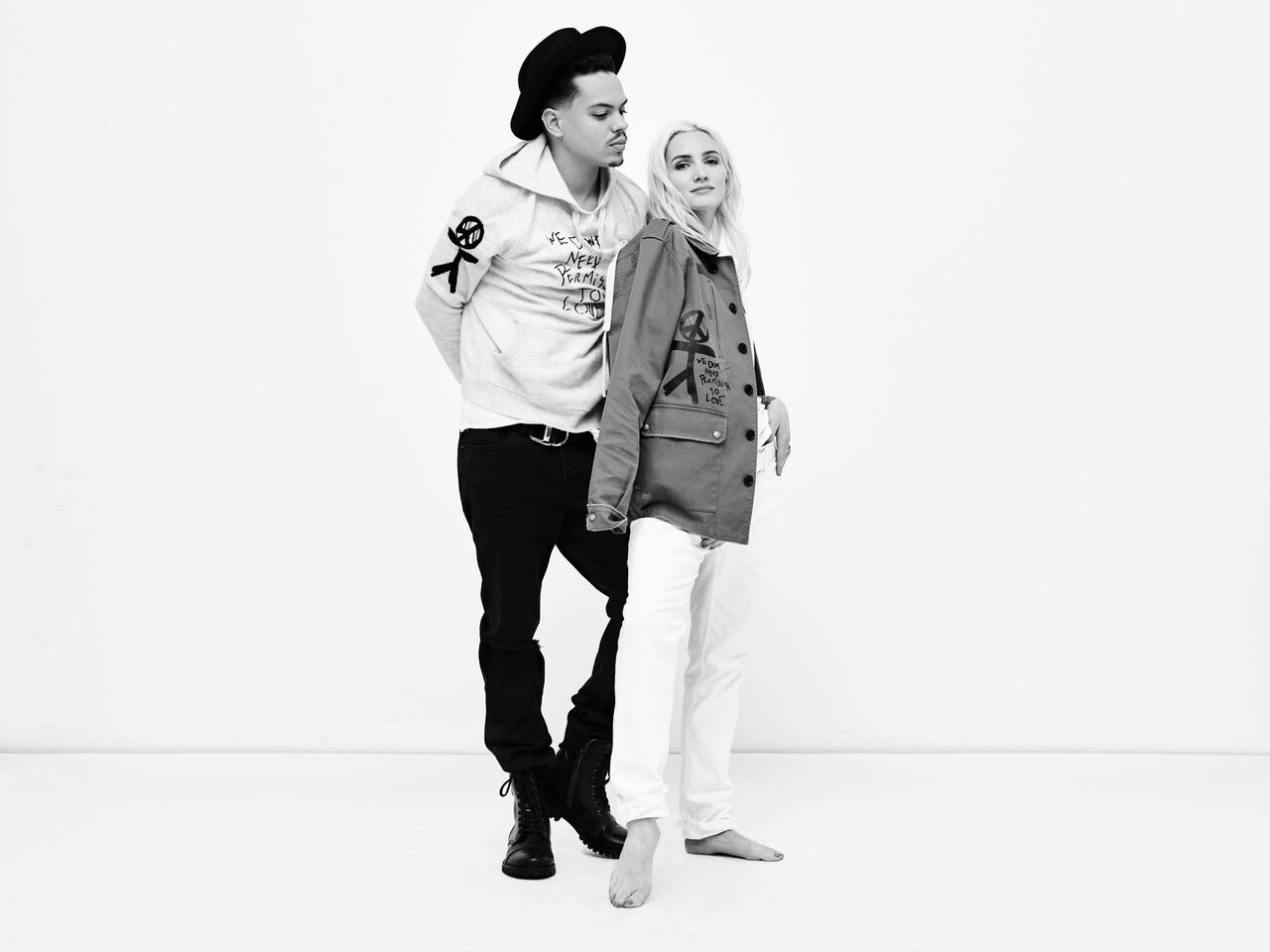 How did the idea for the series "Ashlee + Evan" come about?
Evan: At first it was just for us to document us making music together for the first time. As time went on, we wanted people to really get to know us. There's nothing scripted about the show. It's real—how we work, live and love.
When you watched the finished episodes, what were your thoughts?
Ashlee: There's a lot of vulnerability in the show and with us. We put ourselves out there, and I feel we were totally honest. I have my good friends on the show, and I got to work with my husband and my family. That's the best.
Evan: You do give up a certain amount of privacy when you do a show like this, but we wanted to let people in on this journey. At the end of the day, when the cameras stop rolling, it's us alone with each other traveling together on this beautiful path.
Family is so important in your lives. Any thoughts on expanding your family?
Evan: That's up to her, but I'd like five more kids!
Ashlee: And I say, "Slow down! Take it one day at a time!" My main goal right now is finding that balance between career and motherhood.
Ashlee, will you be returning to your pop and rock roots in the future?
Ashlee: Yes! Whenever I have the chance to rock out, it feels so good and like home to me. Now I'll be adding a little more soul into my sound.
What lasting message do you want audiences to take away from the songs on the new EP?
Evan: Surround yourself with love and good energy.
Ashlee: And have fun!
Ashlee and Evan's EP is now available.
https://ashleeandevan.lnk.to/EP
ASHLEE & EVAN LIVE
BOWERY BALLROOM
JANUARY 7, 2019 NYC
www.ticketfly.com/purchase/event/1777046
GA $25 ADMISSION