All-Star Jimbo Is Brings the Circus to Town This Christmas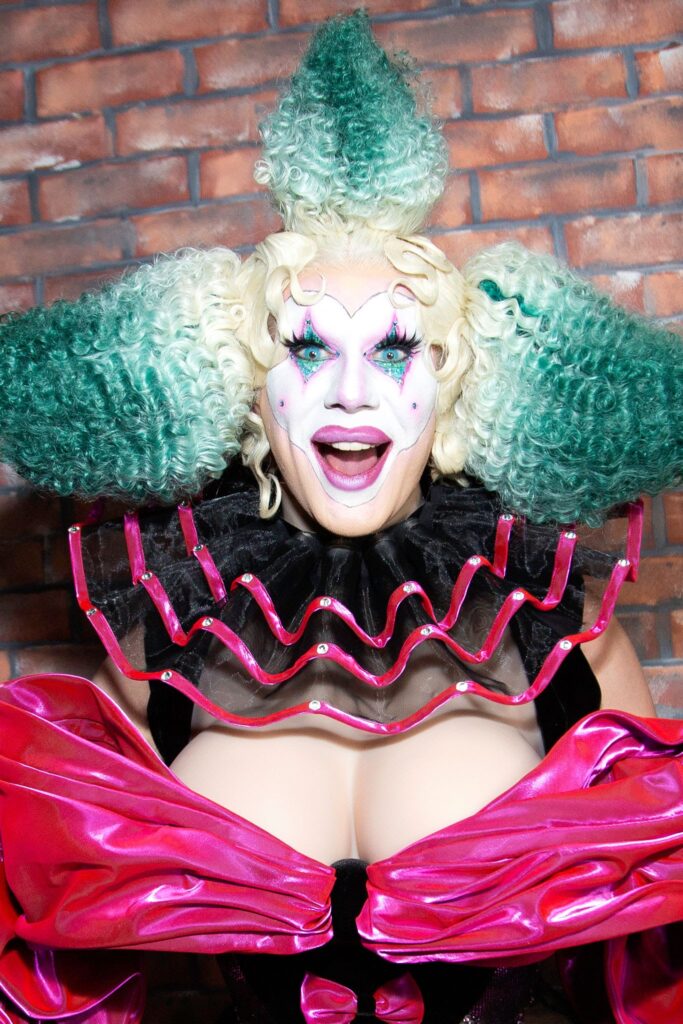 Current reigning RuPaul's Drag Race All-Star and Canadian Clown Queen Jimbo is coming back to NYC soon enough! 
Hello, Jimbo. Thanks for finding time in this super busy Jimbo era to chat with little old us! As Drag Race's newly crowned All-Star, you've been traveling quite a bit recently. Have you had any favorite experiences touring, or have you discovered any new favorite cities or venues?
Hello! Thank you, Thotyssey! I've been bouncing, twirling and creaming my way through Canada, US, UK and Europe! My favorite night was my crowning for All Stars Season 8 in New York with the legendary Susanne Bartsch and my sister Kandy Muse! My family came, and it was magic!
By the way, your pregnant baloney ghost haunts my dreams, but leaves me wanting more! Is (s)he someone that you created long before Drag Race or was that the time we all saw her debut?
I got my start performing as a clown in a Victoria-based theater troupe, Atomic Vaudeville. I was known for creating unique costumes and funny characters, so they asked me to create a Casper-like character for a Scooby Doo sketch. Casper the Baloney Ghost was born! I've always thought baloney was a funny food and a good prop, so I became a professional baloney juggler, smuggler and slinger.
Tell us more about your experiences performing in New York, if you will.
I've always loved the energy, excitement and scale of New York! I brought my giant light-up rainbow to World Pride in 2019 with my partner and brothers. More recently, I performed in NYC at 3 Dollar Bill–the night of my crowning! It was sold out and electric. It was one of the best nights of my life, and I loved that it was in one of the most magical cities in the world!
Later in the year, you'll be part of Murray & Peter's "A Drag Queen Christmas" tour, which will stop at the State Theater in New Brunswick, N.J. on November 21st at 8pm! Are you a Christmas-loving queen or not so much?
I love touring with my sisters on "A Drag Queen Christmas." We have so much fun on the road, spreading Christmas joy and feeling the fantasy. Christmas has been a hit-and-miss in my life; there is so much pressure and expectation. I love that I'm able to take what I like from Christmas and create my own traditions. I guess I'm a Chrissy Missy Sissy after all.
And finally: When someone builds an actual, physical Drag Hall of Fame, will you donate your three-times-a-charm Drag Race "confessional" patriotic look or do you need to save it for the next few All-Stars Winner seasons? Or maybe save it for All Stars: Earth, if we ever encounter intergalactic drag queens?
My lucky shirt!? I would definitely hang it in the All-Stars Hall Of Fame! "On loan from the House Of JIMBO," of course. If I ever compete again, I think I would have a little hammer beside the glass case that says "Break Glass In Case of All-Winners." And I would happily compete in Star Trek: Drag Race, too. Beam me up, Mama Ru!
Jimbo's IG:
@jimbothedragclown