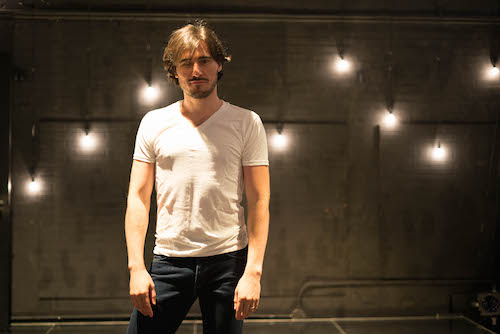 Three years ago, I fell in love; it nearly destroyed my marriage. Last year, that experience, which caused me and my husband a great deal of pain, inspired me to write my first play, Afterglow, which opened off-Broadway at the beginning of summer.
If you've heard anything about Afterglow, it's most likely that the play features a lot of nudity. This is not simply a gimmick. As the director and playwright, I felt that to tell a story that is so much about sex and sexuality while simultaneously being ashamed of showing sex and sexuality felt completely disingenuous to the play. It is intended to be a sex-positive piece, highlighting the value of communication within all types of relationships. The show is an exploration of a lot of the issues queer men are facing in our quest for true connection.
The play opens moments after a threesome. Josh and Alex, a married couple in an open relationship, have invited Darius into their bed one night. When a new intimate connection begins to form, all three men must come to terms with their individual definitions of love, loyalty and trust as futures are questioned, relationships are shaken and commitments are challenged.
Though it does explore the issue, the play does not take a stance on monogamy versus non-monogamy. The conversation needs to be about whether or not monogamy is important to the individual members of a relationship, even if it takes them to an uncomfortable place. Personally, I am a huge supporter of non-monogamy: My husband and I have been together for almost nine years, open for the past four, and our marriage is the strongest it's ever been. Ultimately, as long as people are being honest and aren't hurting each other, they should be able to design their relationships however they see fit.
The piece is, innately, queer, but not exclusively. You won't find any of the traditionally gay tropes in Afterglow; there is no mention of HIV/AIDS, coming out, discrimination or even sexual identity (the characters are, obviously, men who have sex with men, but no one ever mentions being gay or bi or queer or whatever – they just exist). While these stories are such an important part of our queer collective history, we should be able to tell other stories as well.
Afterglow is intended to be a universally accessible piece told through a queer experience. There is no "inside joke" here that straight audiences won't get; the experience discussed here is, simply, a human one, designed to encourage discussion.
So, I encourage you to find a friend, a lover, a spouse, a family member, whoever, and come share an hour and a half with us at The Davenport Theatre in Hell's Kitchen, and, when it's over, go sit somewhere and have a talk.
In closing: Come for the dick; stay for the drama.
Afterglow by S. Asher Gelman is currently playing at The Loft at the Davenport Theatre at 354 West 45th St. Tickets are available at afterglowtheplay.com.
Mati Gelman's photography can be found on Instagram (@matigelman).