Get Out! Magazine is the gay magazine serving the NYC / NJ areas with the best value in advertising. Get Out! was started in 2009 and has blossomed to NYC's nightlife magazine featuring content from the hottest gay and gay-friendly spots. Each (free) issue highlights the area's bars, nightclubs, restaurants, spas and other businesses and is delivered to more than 500 locations in all the gay populated areas. The print distribution is 72,000 bi-weekly with an average readership of 100.000. Get Out! arrives to the street on the 5th and 20th of every month.
The issue is also published on our website, getoutmag.com, which has an average of 300,000 monthly visitors from all over the world and growing.
Each issue includes a theme or current event cover with a local personality or a national celebrity, headline stories of upcoming events, featured personalities and businesses, photos, Where To Go? listing of the area's bars and clubs and much more in a 5.5×8.5" format in vibrate colors with high-quality printing and paper.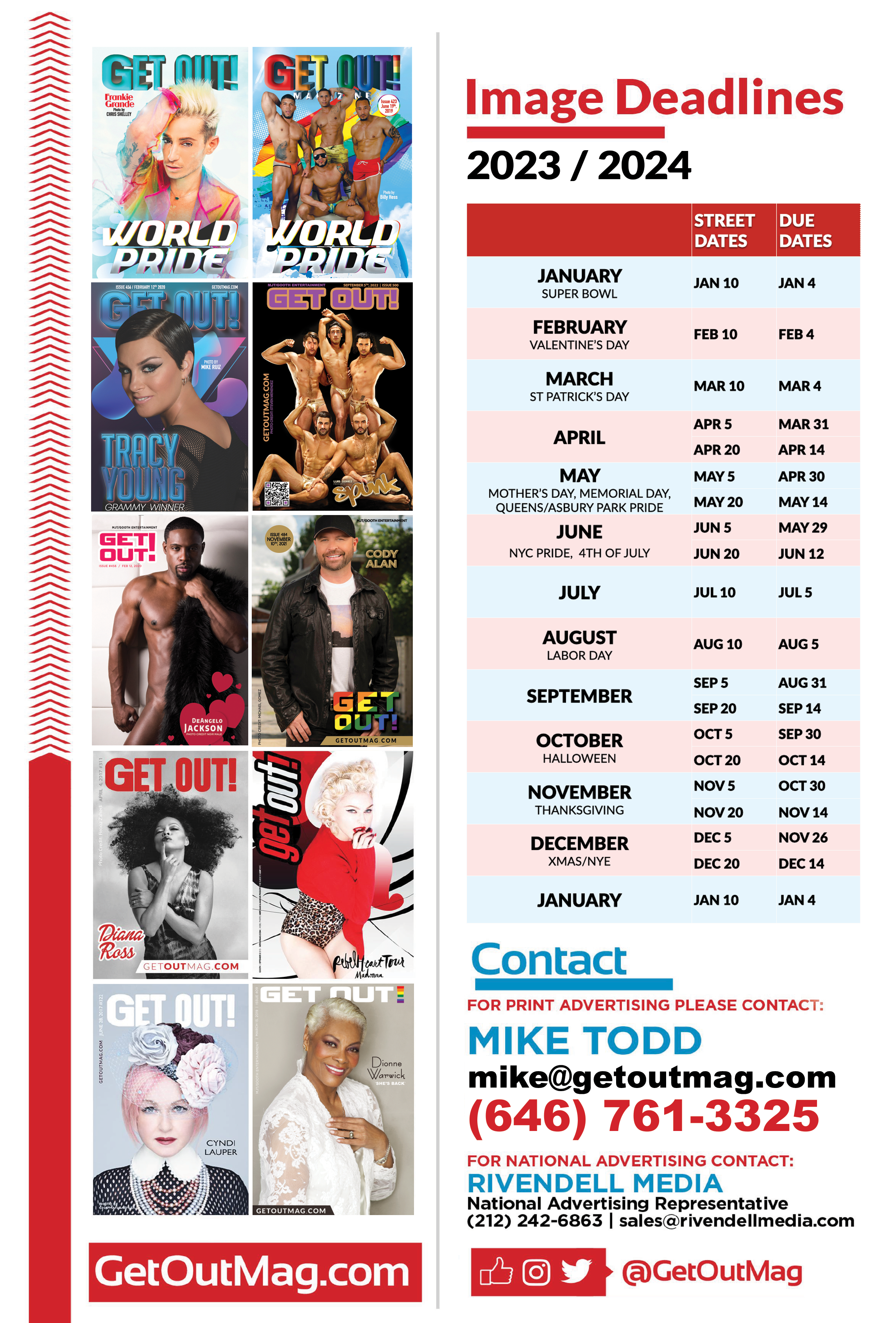 PLEASE E-MAIL, TEXT OR CALL
FOR SPECIALS & DEALS THIS MONTH!

---
SIZES
Double Page
Live: W= 10.75" x H= 8.25" | Trim: W= 11" x H= 8.5"
Bleed: W= 11.25" x H= 8.75"
Full Page
Live:  W= 4.885" x H= 7.885" | Trim: W= 5.5" x H= 8.5"
Bleed: W= 5.75" x H= 8.75"
SUBMITTING MATERIAL
We require all ads to be submitted as a high resolution CMYK PDF or JPG at 300 dpi.
Click here to download – Double Spread
Click here to download – Full Page
Click here to download – Half Page
Click here to download – Half Page
Click here to download – Quarter Page 
GET OUT! ONLINE

Featuring digital editions of our print magazine, feature stories, a directory of New York City's gay venues, video content and much more. Our website is the top destination on the Web covering gay NYC nightlife. We have thousands of followers on our social media accounts, where we promote our advertisers at no extra charge.
Banner
300 pixels (Width) x 250 pixels (Height) @ 72 dpi.
Send files to: MIKE TODD / [email protected]
(646) 761-3325