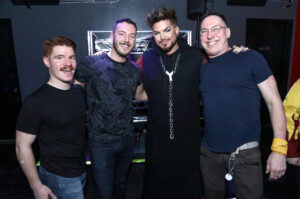 Is there anything more fun and glittering than a drag show? There is…a drag show with the dazzling and brilliant Adam Lambert playing judge at the iconic promoter Daniel Nardicio's new bar "RED EYE" at 355 West 41st. in the heart of New York City. Promoting his new album "HIGH DRAMA" Adam Lambert adorned in man gown and guy liner celebrated his seat in the Red Eye space while the Queens each did a number from one of his songs on his new album with phenomenal sound system of the new venue enhancing the evening.
Daniel Nardicio is one of the hardest working, and most creative party promoters ever within the New York Nightlife and the fiery Fire Island frenzy, from the infamous Ice Palace Underwear party to the Pines Sandra Bernhard appearance and everything in between. His new space "RED EYE" has the essence of mystery, the dazzle of drag, the uniqueness of New York, the coziness of good friends, the sound of an arena and most important the atmospheric vibrations of fun and fabulous. You can never be great at anything unless you love it. Daniel loves what he does and what he is so much so that people can't take their eyes off him.
Congratulations to Grammy nominated, global superstar Adam Lambert on his release of HIGH DRAMA via BMG, and his announcement of his international tour. HIGH DRAMA features a catalog of songs previously released including "Holding Out for a Hero", "Ordinary World", "Chandelier", and others showcased with his own creativity and his once in a lifetime voice. "His album marks the next chapter in his solo career and the very sweet and fan and fun-loving artist definitely deserves all the success he's had and more to come. "Music is a higher revelation than all wisdom and philosophy. Music is the electrical soil in which the spirit lives, thinks and invents"…. Ludwig van Beethoven.
The event was exciting, entertaining, entrancing, exuberant and effervescent. Daniel was an awesome host and Adam an over the top and beyond special guest. The collective effervescence cheered the night…. The best of luck to Daniel Nardicio, Samuel Benedict, Taylor Shubert and Adam in their new endeavors…..
Photo Credits Billy Hess, Wilsonmodels, and Koitz